Female domination may just be a fantasy, but as far as the internet is concerned, it might as well be a reality. And we're not talking about men's rights activists crying misandry. Female domination, or femdom for short, is an immensely popular kink that can be seen in hentai manga, clips on ManyVids, OnlyFans pages, erotica websites, and even VR porn games.
But what exactly does it mean to be a femdom, and why is it so appealing to submissives? Read on for the inside scoop on the internet's fascination with women who love to dominate.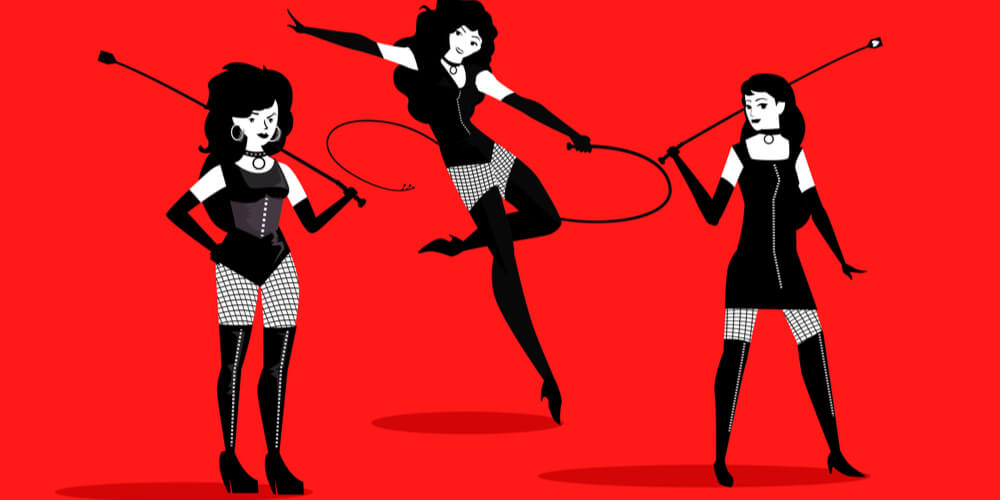 What is a femdom?
There's no better source on female domination than going to the dominatrixes themselves. New York City-based dominatrix Empress Wu describes femdom as a term to "indicate that there is a femme-presenting dominant in the kink scene," or a Domination/submission (D/s) role-play. Female domination is often seen in conjunction with some of the most common BDSM kinks, like impact play, bondage, humiliation, or any other scenario that emphasizes the domme's power.
"Related kinks include female supremacy (idealizing a world in which women ruled and men drooled/are lesser citizens) and goddess worship (bodily worship and praise of the dominant's feminine nature)," Wu said.
"Femdom" can be used as a short-hand to describe the domme herself, such as a sex worker who calls herself a "femdom." On sites like Twitter and ManyVids, "femdom" is also used as a porn category for pictures, videos, or stories that focus on a domme's presence as a dominant figure. Los Angeles domme Goddess Nyx calls "femdom" a "pretty large umbrella term" that includes women who enjoy "cruelly, strictly, sensually, or softly" domming, "as long as someone is submitting to her and her female power."
"A lot of people who hear 'femdom' think of the heavy rubber Mistress holding a whip and dragging crawling men around on leashes (which is absolutely fun, don't get me wrong), but it can also be a Goddess in her robe, surrounded by devoted supplicants who bring her food and rub her feet. And then 100 things beyond that," Goddess Nyx told the Daily Dot. "Femdom simply puts women in a position of power and establishes a space for people to worship and lift them up."
Female domination's popularity stems partly from its root kink: D/s. Submission can fulfill erotic desires to serve, please, or submit for its own sake. Meanwhile, for dommes, the power exchange with her submissive can be thrilling. Nyx says she's always been interested and even aroused by power exchanges, and that professional dominatrix work has only helped her feel more self-confident and empowered.
"I have always had a loud voice and held my own space, and I find I thrive in positions where I lead. It felt very natural to bring this power into my sexual life and relationships," Nyx explained. "While the work I do is not inherently sexual in nature, all of my personal relationships have some aspects of femdom in them."
Femdom is a popular kink among straight cis men, although female domination isn't exclusive to just heterosexuality. In fact, many professional dominants are queer sex workers who see female submissives or members of the leatherdyke community.
Wu, who is queer herself, stresses that both kink and queer sex grant queer women the ability to "reexamine what the endgame is" in sex, straying away from heteronormative fixations around penetration and ejaculation. This opens "a whole plane of possibilities for pleasure and intimacy," she said, and is one way her queer clients generally differ from the cishet men that see her.
"Once you've let go of what you think kink and sex are supposed to be, what's possible?" Wu told the Daily Dot. "And I think queer people do this more than others."
READ MORE: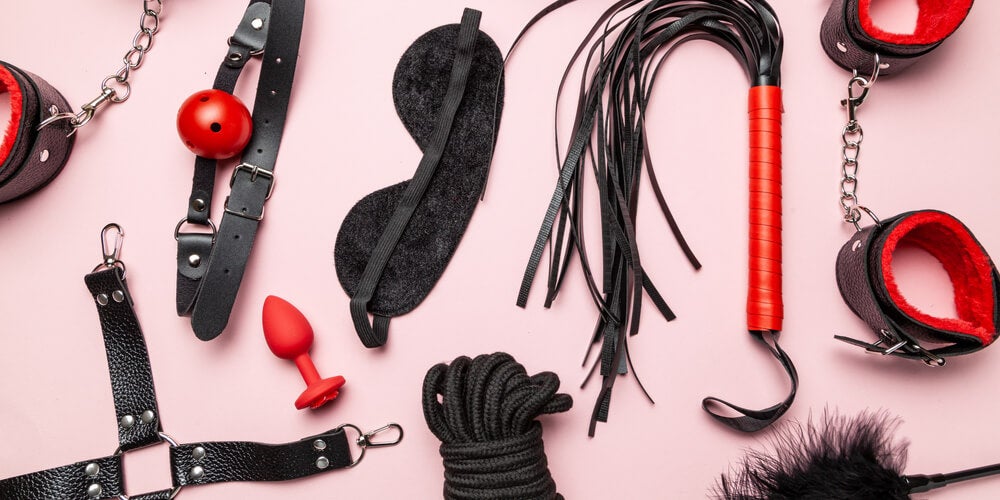 What happens during a femdom session?
Since female domination encompasses a wide range of scenes, kinks, and erotic fantasies, no two femdom sessions are exactly alike. The only common trait is that every femdom scene has a woman and/or femme person as a dominant.
As a general rule of thumb, a professional femdom session usually involves a screening and negotiation process. In an ideal scenario, a client will seek out a femdom who caters to the erotic experiences they're looking for, such as pet play or a medical role-play. The client may then receive directions to continue their screening process. This may involve communicating with a dungeon manager or grabbing coffee and further discussing a potential femdom session.
If the client and their dominant proceed, the client will book a session, pay in advance prior to the session's start, and proceed to begin the negotiated scene. The client may need to sign legal paperwork before play. In many cases, dominants do not provide full-service encounters to avoid prostitution charges and will thus avoid direct sexual contact with their clients, such as oral or vaginal sex.
The dominatrix sign-up process may sound intense, but it's all for the femdom's safety. Both Goddess Nyx and Empress Wu stress men can be pushy, entitled, or otherwise difficult to work with. But queer clients, they say, are much more likely to follow the rules and treat their dommes with respect. Many queer dommes cherish the opportunity to give back to their own community, too.
"The main difference I can spot is that the majority of cis men that reach out [to] me unknowingly fetishize submission but are not actually submissive," Wu said. "On the other hand, the queer clients that have reached out to me have done thorough research on my booking and in-session protocol, what I enjoy, and where my interests lie."
For newcomers looking for a professional dominatrix, seeking out the local kink community is a great start. Wu suggests checking out parties and conventions. Goddess Nyx recommends using Tryst, Twitter, or Instagram to seek out professional doms. Just remember to do your homework on proper BDSM safety, be prepared to learn as you go, and take it at the pace that's right for you. After all, per Wu, the right long-term play partners will come as you go.
If you're interested in becoming a femdom yourself, consider doing some research about the dommes in your area, reaching out for advice, or booking some time with a pro. Just remember, you're seeking out career advice from a professional, so pay them for their hard work.
"And if you have the cash, I HIGHLY recommend booking a session with someone!" Wu said. "For queer clients interested in seeking out a pro-domme: Please don't be afraid. We want to hurt you so bad (but in a hot way)."
Editor's note: This article is regularly updated for relevance.