If somebody starved a dog you love, burned her with cigarettes, and damaged her body with too many pregnancies, you'd be understanding, right? You'd be able to politely and publicly update the person on how the dog is doing without the slightest hint of resentment.
Nope—at least if you're anything like me. Dogs are often better than people in that way. They can be neglected and abused, and yet they'll still offer humans their unfaltering affection. It's people who hold a grudge.
But the exception seems to be one family that had the grace to write a compassionate open letter on Craigslist to the previous owner of their dog, Cathy.
"Although it's unlikely you'll ever see this note, I just wanted you to know that I have your dog and she is doing great."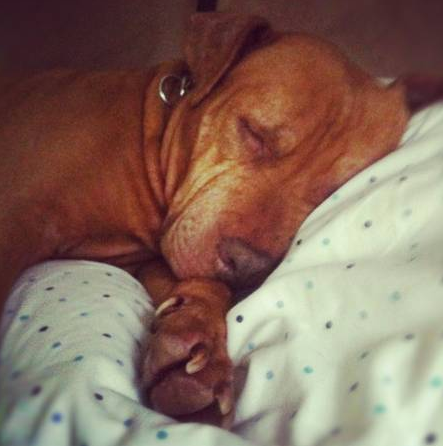 Three years ago Cathy was seized by animal control after her owner was evicted from a New York City apartment. She ended up at a kill shelter where she was briefly held for a cruelty investigation before being dumped on death row. Her odds of adoption weren't good—not only was Cathy dangerously thin and suffering from skin infections, she's a pitbull. Long-held stereotypes against the breed make them among the most difficult to adopt out.
But Cathy was fortunate. A family that likes older dogs found her and warmed to her lopsided face. They gave her the home she deserved.
"She gained weight and recovered from her skin issues. Her coat shines now and you can't see the little round cigarette burn marks any more. We spayed her (her hormones were really out of whack from all the litters she had). She has been wonderful with my young daughter, and our other two dogs. And it turns out she loves to swim! She loves fetch too."
This letter stands out not just because of the family's remarkable lack of anger about Cathy's former life. It's proof that sometimes there really are happy endings for the sad, neglected dogs we see in shelters and in ASPCA ads. It's evidence that even an old, sick, overbred pitbull can be brought back from the brink to live out the rest of her years in comfort, happiness, and safety. Cathy just needed a chance.
"She is truly an ambassador for her breed, even people who don't like pits will stop and pat her as she happily wags her tail. She loves to sleep in sunbeams, and is so happy to go on walks or swims she just wags her tail with every step. She is sleeping next to me as I type this, grunting with joy. In fact, she sleeps on my bed every night. Your dog is an awesome dog. We love her so much. The past three years we've had with her have brought us (and her) so much happiness."
In the letter, the family asked only for more information about Cathy's original name and her approximate age, in the unlikely circumstance that her former owner sees the post. That, and for prayers as Cathy undergoes surgery for mammary cancer, likely brought on by the overbreeding.
"Luckily my vet caught it early, so I am hoping Cathy can spend many more happy years with us. She really is the best dog."
Photos via Craigslist