As Superstorm Sandy made her presence felt on the U.S. East Coast Monday evening, false news inevitably spread on Twitter.
In addition to a deluge of old or manipulated images purported to be legitimate instances of Sandy's destruction, reports of flooding at the New York Stock Exchange (NYSE) and intentional blackouts in Manhattan. What's particularly notable is that much of this fake news was spread by one particular person, @ComfortablySmug.
The pseudonymous user is one of several Manhattan professionals with a large following who opt not to use their full names on Twitter in order to keep their work life separate from their personal thoughts, according to BuzzFeed. While @ComfortablySmug, who has more than 6,100 followers, apparently has friends at Business Insider and BuzzFeed, he did not show any remorse in propagating patently incorrect facts about Sandy's impact.
He suggested Sunday that power supplier Con Edison would deliberately shut down power early Monday ahead of expected surges, a claim ConEd later debunked: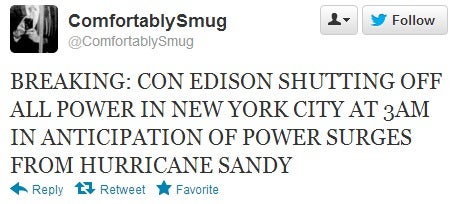 In tweets Monday evening, @ComfortablySmug claimed the floodwater had seeped into the NYSE trading floor and retweeted a report that Coney Island Hospital was on fire.


As fast as false news spread, others ferreted out the facts from the fluff. After a screengrab of a flood-free trading floor circulated on Twitter NYSE dispelled the flooding rumors, but not before CNN reported the story. The Coney Island fire report was also snuffed out.
Some of @ComfortablySmug's tweets checked out, such as this image of a flooded Hoboken, N.J., PATH station which was verified by the Atlantic's Alexis Madrigal:
Perhaps the most disturbing of @ComfortablySmug's tweets from Monday was the suggestion that riots would take place in the theatre district, which could have drawn onlookers to the scene at the risk of their own safety out of curiosity.
As quickly as erroneous reports and false news are stamped out, such missives can spread quickly on Twitter and Facebook without those who saw the initial message becoming aware of them being debunked. That could lead to some people being imperiled unnecessarily.
During times of crisis, it's always worth double- and triple-checking rumors before sharing them with your friends and followers.
UPDATE: BuzzFeed's Jack Stuef claims that the man behind @ComfortablySmug is hedge fund analyst Shashank Tripathi, also a camapign manager for Republican congress candidate Christopher R. Wight.
Photo via @GHTT_/Twitter