Fake Twitter accounts alleging to be local antifascism (or Antifa) chapters tweeted they vandalized numerous soldiers' graves this weekend, as part of a Memorial Day "destroy hate" campaign. According to BuzzFeed News' debunking of the accounts, the crimes are untrue.
The publication reports that Twitter has seen a recent spike in Antifa imposters, created to mock and discredit actual Antifa protesters by tweeting about hoax campaigns and offensive comments. Memorial Day presented another opportunity for the fake accounts to discredit Antifa by sharing photos of destroyed soldier's headstones and white cross memorials, vandalized with spray paint or pushed down.
Several of the tweets sent out for alleged Antifa chapters in Beverly Hills, Berkeley, Mar-a-Lago, and northern New Jersey included photos from other previously reported news stories dating back as far as 2004, and were not related to Antifa campaigns or recent crimes.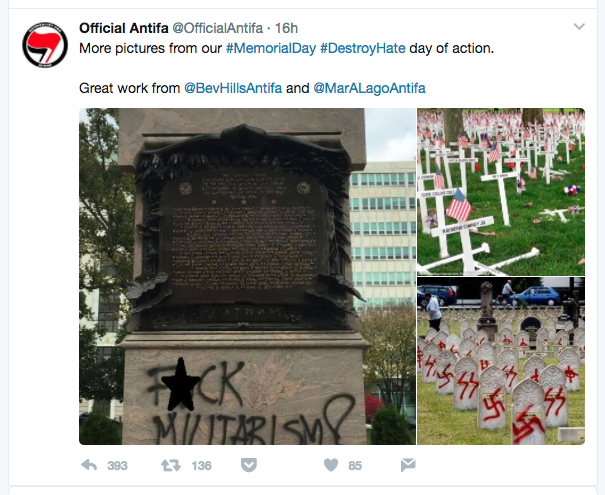 However, despite the invalidity of these Memorial Day attack claims, many of the replies to tweets take the allegations seriously. Alt-right media personality Jack Posobiec shared one of the tweets on his own Twitter account, as did MicroChip, a Trump supporter that BuzzFeed News reports controls a large network of Twitter bots.
Read the full BuzzFeed News debunking here.