Facebook has agreed to pay $10 million to settle a lawsuit accusing the social network giant of violating users' rights to control their own identities.
The lawsuit was brought by five Facebook users who alleged that their names and photos were wrongfully used to promote "Sponsored Stories" they "liked" on the site.
Thanks to their "likes," these sponsored stories—which can promote anything from fast food giants to Passion Natural Water-Based Lubricant—showed up on their friends' news feeds with their name and profile picture. For example, this notification popped up in my news feed late last week after my cousin "liked" a McDonald's sponsored story: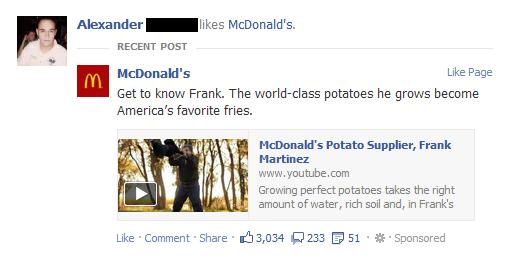 Facebook founder and CEO Mark Zuckerberg praised the "Sponsored Stories" feature, calling it the "Holy Grail" of advertising, Reuters reported. The same sentiment was echoed by Facebook's chief operating officer Sheryl Sandberg who said in the lawsuit that the feature "was at least twice and up to three times the value of a standard Facebook.com ad without a friend endorsement."
According to a BBC documentary released last year, a person who "liked" a brand on Facebook essentially gave that company the right to use their name and photo to endorse them, reported the Telegraph.
The $10 million will be donated to charity. Yet despite losing that cash, Facebook's "Sponsored Stories" continue to fill up this writer's news feed. And while Facebook's stock price is down 20 percent since its initial public offering, don't expect them to disappear anytime soon.
Photo by owenwbrown