Even with the best intentions, everyone eventually says or posts something dumb on Facebook. With 1.32 billion people using the site every day, the chances of making a legendary mistake are exponentially higher. At least there's always a captive audience waiting to laugh when you screw up.
Don't worry. No matter what you've done it's probably not as bad as these cringeworthy Facebook fails.
The 20 best Facebook fails of all time
1) When Facebook fails itself
While some Facebook users have made complete asses of themselves, either through laziness or hubris, it's important to remember that sometimes it's Facebook that fails. Imgur user jamoheehoo posted this photo only to discover Facebook had a racist blind spot in its facial recognition. We're most impressed that facial recognition thought the subject was capable of cloning himself.
2) Celebrity grandma
Everyone embellishes aspects of their life. Maybe you say you came in second in a high school race or had more dates than you did. The way to sneak a lie past someone is to be clever, so if you're going to brag about your Grandmother's military service make sure none of your friends saw her in combat on ABC television.
3) God is a comedian
This modern-day Lott made the crucial mistake of bragging about being under the protection of the almighty. God may appreciate your dedication, but he's a comedian, and apparently, it was time to test out a new set on this believer's car. Hopefully, God sent free AAA their way.
4) Beware your DM inbox
The problem with scumbags is they spend their days looking for opportunities to be scumbags. This user learned the hard way while trying to inspire her feed. Men, under no circumstances should you ever send a dick pic to someone you're not already in some kind of relationship with. And even if you're in a relationship, never send one that isn't asked for.
5) God bless the Swiss
This meme has circulated Facebook and the email forwards of particularly talkative uncles for years, but never has it been shut down so brutally than by Drew Shekler. Shekler, a Swiss citizen, explained exactly what makes Switzerland different from us. The world he describes sounds incredible.
6) No one is more savage than your mother
They say a lawyer should never ask a question in court they don't know the answer to, but the same can be said for people whose parents are on Facebook. Being embarrassed by a parent is nothing new for most children, but few experience the WWE-level body-slamming from their mom quite like this particular offspring. They'll be feeling this burn well into Thanksgiving.

READ MORE:
7) F you Mark "Zuckinberg"
When making an argument online, take a moment to think about what you're saying. Screaming, "I hate Facebook" on Facebook is the social media equivalent of the old joke where the guy says "Doctor, it hurts when I do this." At some point, you have just to stop doing it.
8) Grammar is hard
As any English major can attest, our society's refusal to learn the difference between their, there, and they're is a travesty. Thankfully this little angel has a Mom who is getting her started early. Is it too late to start a GoFundMe for this kid's teacher?
9) The Lord works in mysterious ways
It's ironic that this Facebook user quoted Luke 1:37, since that passage recounts the story of Mary being told by an angel that she would immaculately conceive. According to this newly smitten Facebook user, God really comes through. Provided you find a website that lets you complete your order.
10) Mother knows best
There are Facebook posts that could easily be taught in schools, similar to the Scared Straight program. This is one of them. Scientifically accurate? No. Concerning? Yes.
11) Look twice before you meltdown
Sometimes it pays to take a deep breath and think before you hit send. Are you looking at a graphic picture of a man's finger sized penis, or did you just misidentify a vacation Magic Eye? Thankfully for us, this Facebook user did not take that deep breath.
12) Someone please teach dad how Facebook works
It can be annoying teaching your parents how to use Facebook, but just remember: Every lesson you give them is a chance to never accidentally find out your Dad is a creep. That feeling is priceless.
13) Confidence is all you need, take it from me
People don't give the power of positive thinking enough credit, but there is such a thing as too much positivity. Sure, everyone appreciates a pep talk, but if you're on your third go with the exam, perhaps don't tell your friends that they'll be okay if they took the same approach as you.
READ MORE:
14) When your Aunt says she needs a good "plowing"
One of the greatest gifts the internet has given us is innocent parents, aunts, uncles, and grandparents who have no idea why what they're saying is hysterical. Thank god someone finally plowed them good.
15) This buzzkill isn't getting any pizza
Everyone faces personal tragedies in life. It's heartbreaking but universal. The question is what we do when we face these tragedies. Do we take a step back and try to make the world a better place, or do we get online and ruin silly pizza games?
16) Points for creative problem solving
Not everyone can get booked on Maury. When the producers let you down, the ability to tag people on Facebook will always be there for you.
17) Your loving parents
Part of growing up is accepting that your parents are just like any two people in a relationship. If they aren't married and are out there dating, you just have to hope they do it with grace and dignity. If that's not an option, maybe you should show them how to make their Facebook profile private to spare you moments like this.
18) Christians don't believe in the Zodiac Killer
Politics rarely brings out the best in people, but occasionally it leads to the best silly Facebook moments. Amanda knows what she believes in, both when it comes to a Republican candidate and her faith. We hope she's not a cop, or else this nation may never find out what happened in the '70s.
Facebook Marketplace posts seldom represent humanity at its best, but this example (from Florida, of course) really tugs at the heartstrings. Some folks want to sell used DVDs, but this Florida resident is just looking for a friend. This isn't what Lord Zuckerberg had in mind when the company launched Marketplace, but it's pretty sweet.
20) Are you Vegan?
You need to be careful preaching on Facebook. Someday you might say something offensive like "Hmmmm yummie, pizza…" on your feed, and open up Pandora's Box. The first plague… is David.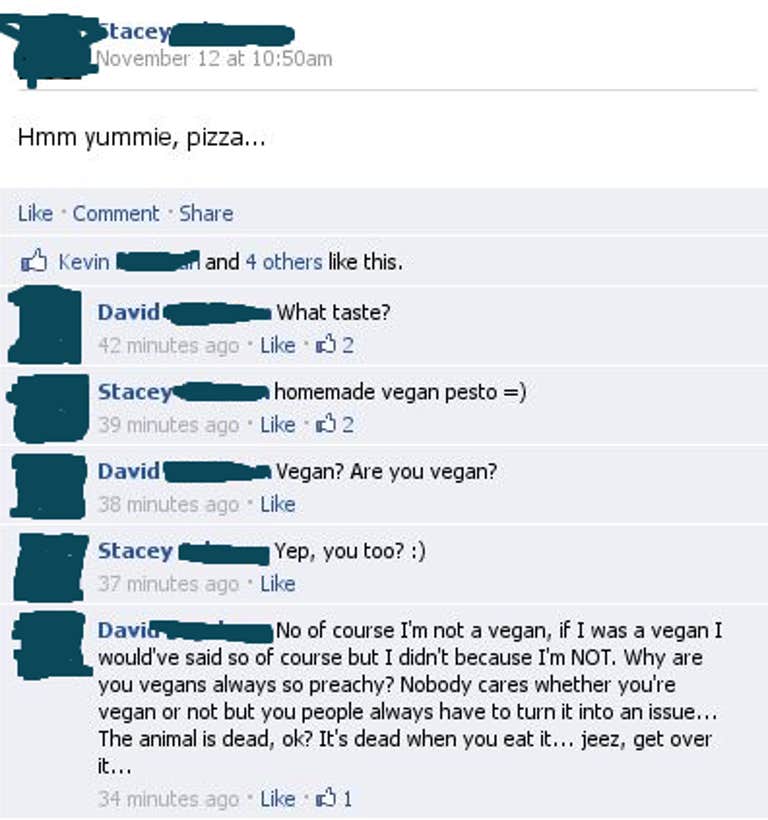 Editor's note: This article is regularly updated for relevance.