A day after his son fatally shot himself, Michigan dad Brian Holbrook defended the Second Amendment on Facebook. "This country was built on" guns, he argued.
Dundee police say 3-year-old Damon found a loaded gun in an unlocked case on a bedroom closet floor Sunday afternoon. He accidentally shot himself in the head and died soon after. 
The licenced gun belongs to Joshua Michael Greenhill, a friend whose family was staying with Holbrook. Greenhill, 30, was charged with careless discharge causing injury or death. More charges may follow, according to WXYZ. He said he'd placed the gun in the case after getting back from work. Within five minutes, Damon had pulled the trigger.
Yet plant operator Holbrook's support for guns is unwavering. He wrote a note on Facebook Monday describing his family's "living nightmare" while urging gun owners to exercise proper safety.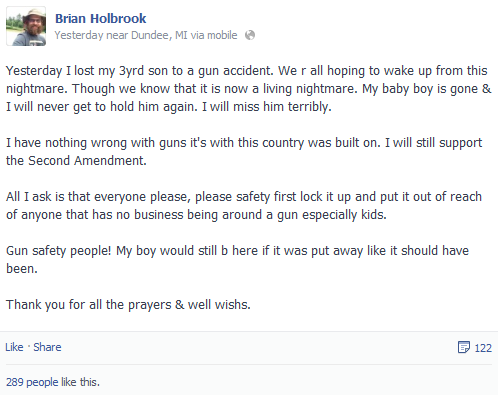 His previous update was equally heartbreaking. "If somebody can get ahold of Jessica I need her to call ASAP! It's an emergency," Holbrook wrote Sunday.
H/T Gawker | Photo via Brian Holbrook/Facebook