This article contains graphic content that may be NSFW.
It's well-established that thanks to tube sites like Redtube and Pornhub, it's near impossible to find someone who still pays for online porn. But there's one place in the world where fans are ostensibly willing to pony up for their fap material, where they're so enamored with adult starlets that they're willing to shell out $40 just to take a photo with them: That place is EXXXOTICA.
Held in Atlantic City, Fort Lauderdale, Chicago, and Edison, New Jersey, the quasi-annual convention is one of the largest sex industry conventions in the country, where fans, performers, sex toy companies, and anti-porn evangelical Christians can all hawk their wares under one roof. For porn stars, it's an opportunity to connect with others in the industry and self-promote; for fans, it's a chance to meet the men and women whose faces and bodies have launched a thousand embarrassing keyboard malfunctions.
Curious to see what it was like, I ventured out to Edison, New Jersey last weekend to attend Exxxotica with my friend Alex, a freelance photographer, actor, and casual adult film aficionado. We braved the hour-long New Jersey Transit to meet the brave souls still trying to make money off porn, and the precious few who were still willing to pay for it.
___
 
1:20pm. At the train station, we meet our first fans: Baldwin, Pat, and Gio, a feral-looking freelance journalist who covers Exxxotica every year for his website. He says it hasn't changed much since its inception: "There's fewer companies setting up booths, maybe, 'cause it's so expensive," he says.
He describes Exxxotica as a relatively tame affair. "It's a very mixed crowd, very couples-friendly," he says. "If you're expecting a giant orgy, you'll be very disappointed." The way Gio talks about it, Exxxotica sounds like Yom Kippur.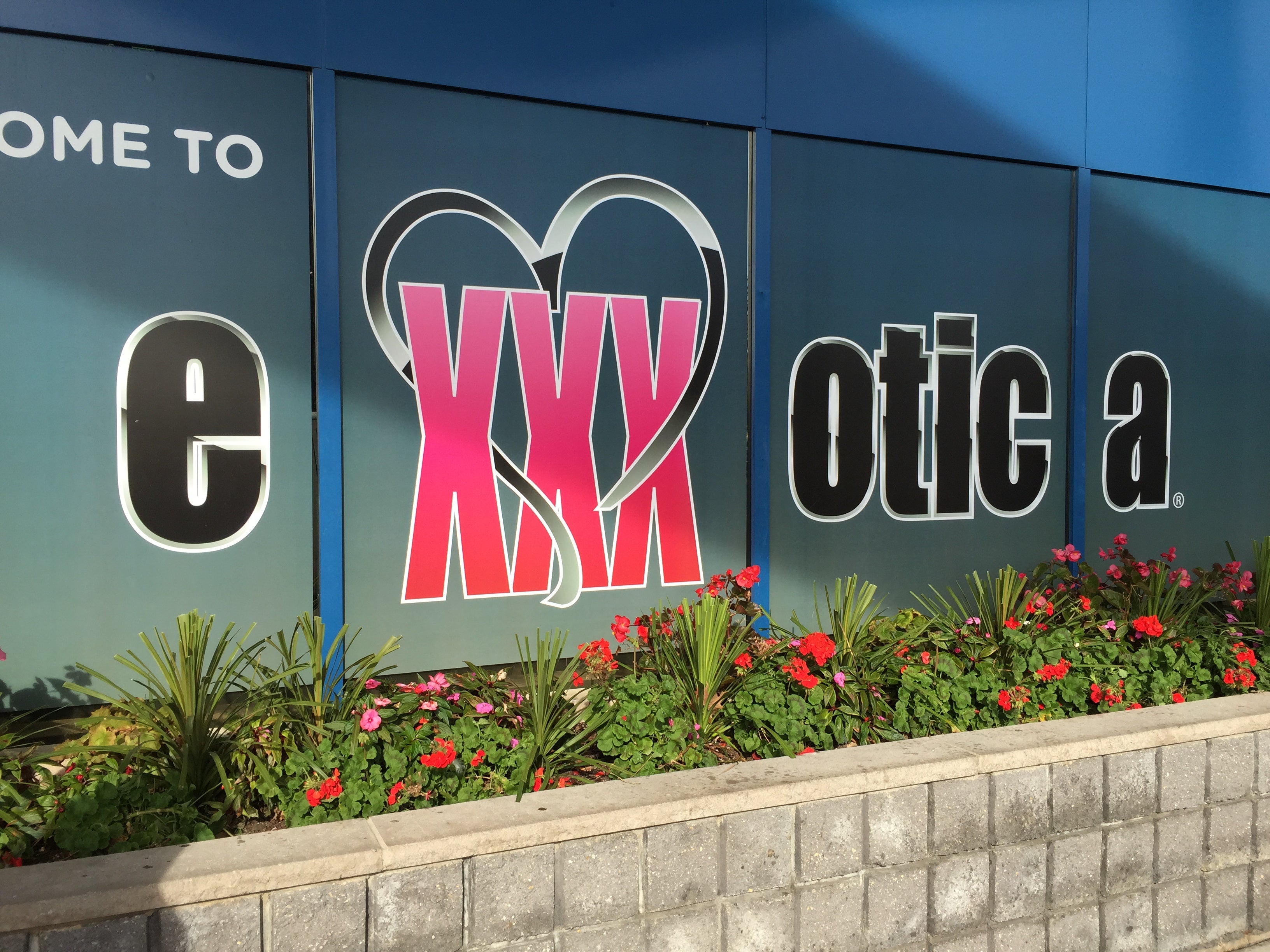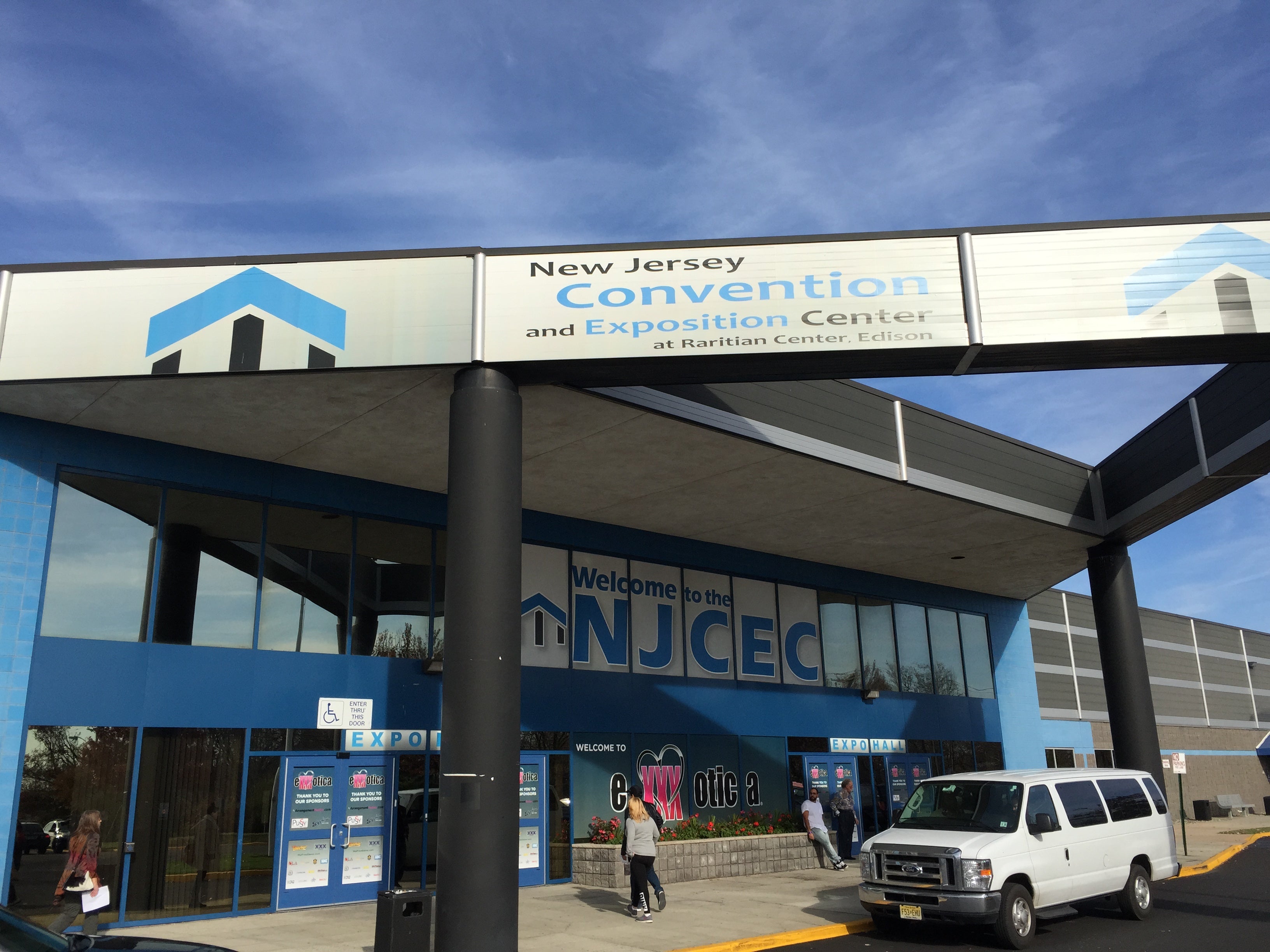 1:35. After riding with our cab driver—who claims never to have seen porn but is familiar with the inner workings of the adult industry, a trope that will become a running theme among civilians at Exxxotica—Alex and I arrive at the New Jersey Expo Center, a monstrous blue-and-white edifice that looks like what would happen if a 1940s-era Fascist architect was asked to design a hockey rink.
After obtaining our press badges, we enter the enormous room and are immediately greeted by two bored young women in lingerie lounging on a giant bed with a giant teddy bear. One of them says she is a go-go dancer who is studying actuarial science at Temple University. "Like Ben Stiller's character in Duplex," I offer. She nods politely.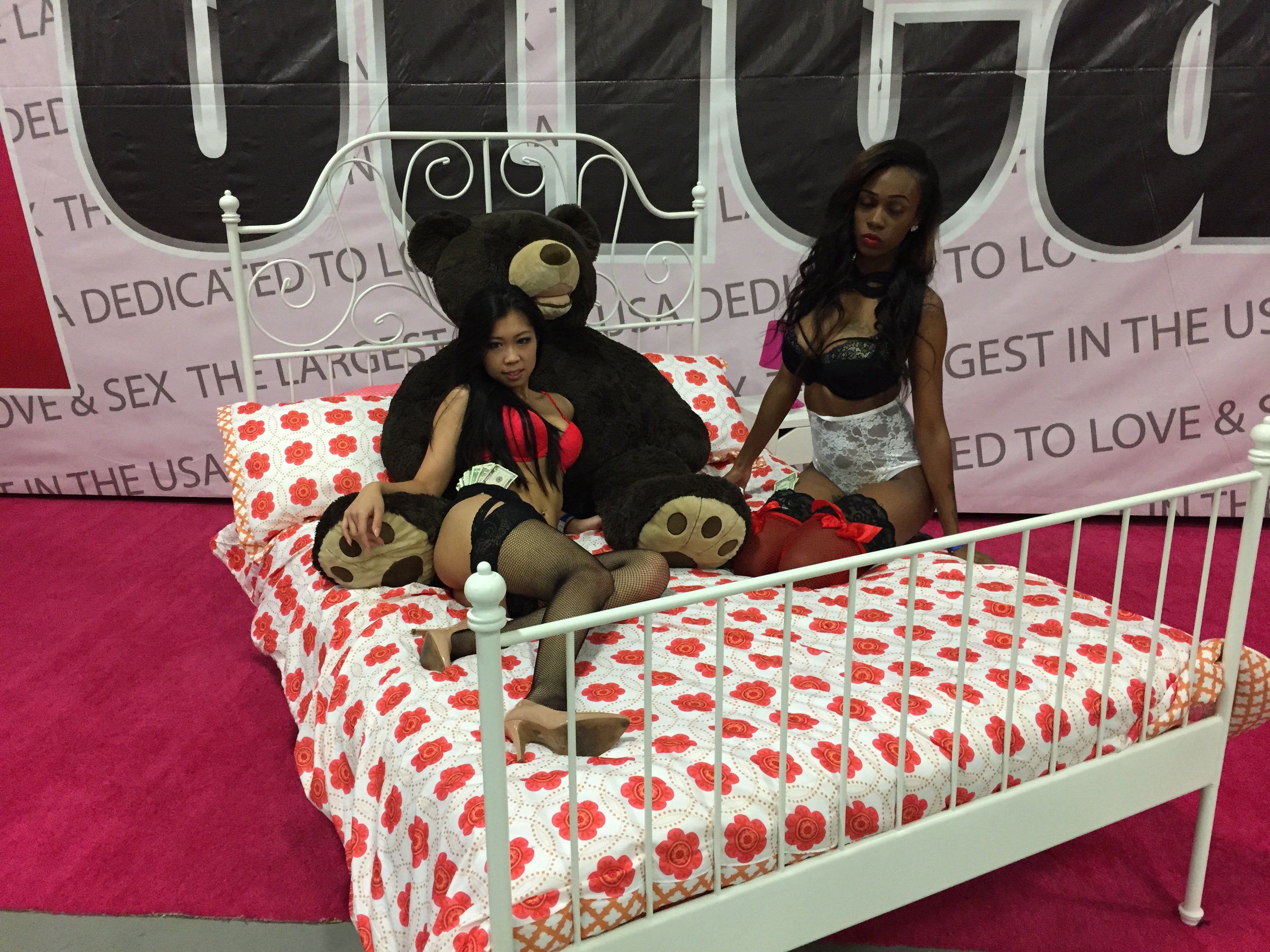 Later, I look up Ben Stiller on IMDB and realize he actually played an actuary in Along Came Polly. The moral of the story: I am a terrible journalist, and Temple should give their actuarial science students more money.
1:40. Contrary to Gio's warnings, Exxxotica does actually look like a giant orgy; while nudity is not allowed in the bulding due to zoning laws, women are in various states of undress, vamping with fans in compromising poses. There do seem to be a lot of women in attendence, however, the vast majority of whom are inexplicably wearing 1980s heavy metal T-shirts.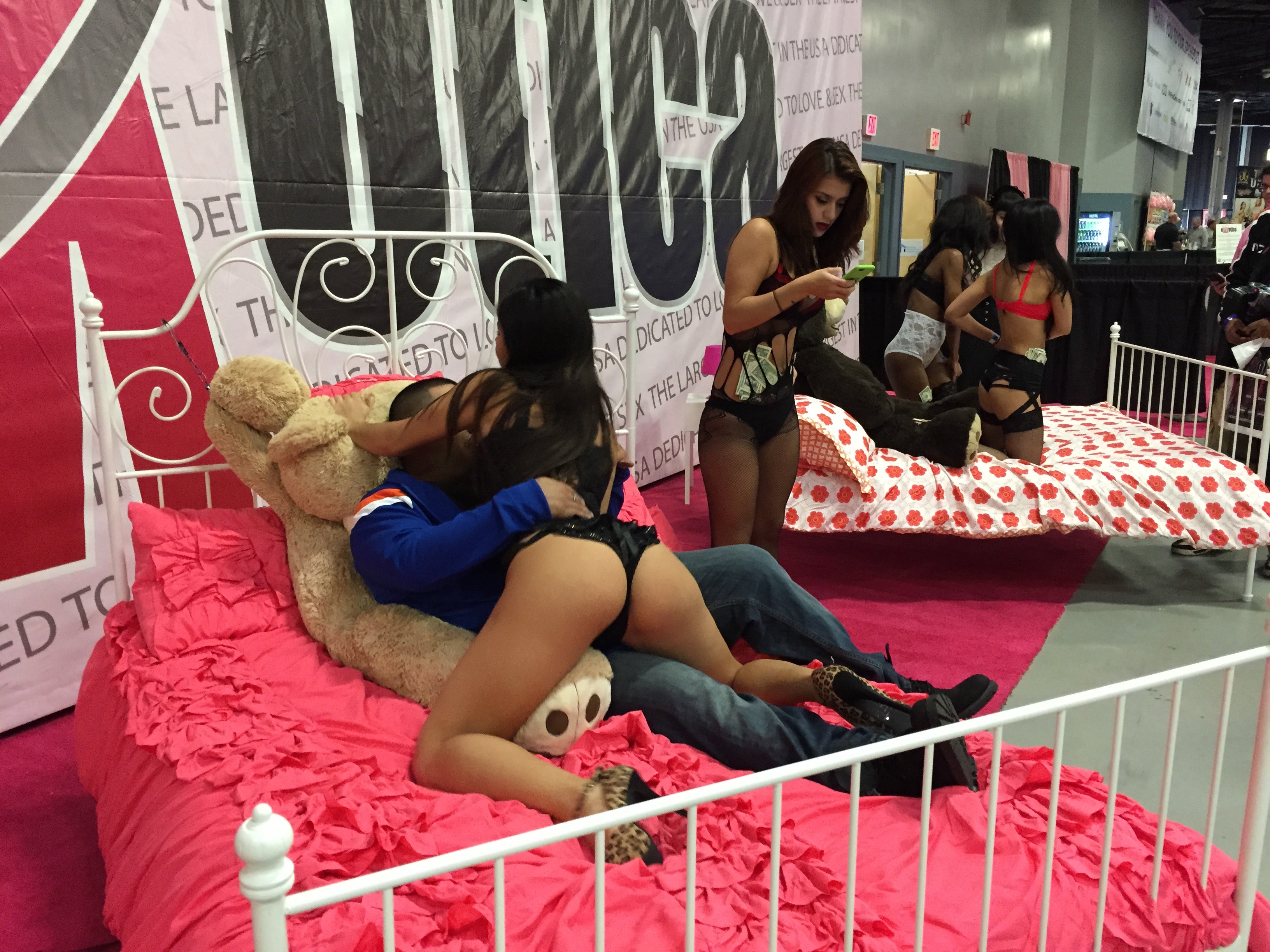 1:45. I meet Natasha Starr, a lithe blonde star with a heavy Eastern European who, with her twin sister Natalia, is selling Pussy Juice Lube, a brand of lubricant that she claim is made from "100 percent natural" porn stars' vaginal juices. (It's combined with a water-based lube, and sent to testing facilities to screen for STIs and infections.)
"They send you a kit with a dildo and a sponge," she explains. "So you use it and the sponge gets wet, if your vagina gets wet. Then you pull it out and separate the dildo from the sponge, and squeeze it into a cup. And then you fill up the cup."
"That sounds pretty labor-intensive," I say.
"When I did it, it was 15 minutes, 20 minutes," she says. "Not bad."
Pussy Juice Lube is not just an opportunity for porn stars to make cash on the side in the post-Pornhub, post-piracy era. If you're a lady hoping to make a few extra bucks, the company also offers you the opportunity to package and sell your own vaginal juice, which are categorized on the site according to ethnicity, which Natasha ticks off: "Latin, Albanian, Asian."
Pussy Juice Lube's owner, a man who introduces himself as Sydney, says there's no difference between the various fluids. But he's very excited about the branding possibilities for his product. "You can package and sell your own bottle and you can sell it like Mary Kay, like those women who go door-to-door selling makeup," he explains. 
1:55. I venture over to the novelty products section. While sex toys have struggled with piracy in various forms, the industry hasn't suffered as much as the porn industry has in the wake of online piracy, so I'm surprised that the area is relatively empty.
I meet some nice middle-aged ladies selling Bubble Love, a bubble bath machine that uses water jets to help ladies masturbate. I'm curious about the gadget until the lady tells me it costs $250, or approximately $250 more than the cost of an orgasm from an actual water jet. All things considered, Pussy Juice Lube seems like a much better investment.

2:15. All of the female performers are seated at booths arranged in concentric circles. Porn stars Stoya, Kayden Kross, and Alexis Texas are in the center, surrounded by throngs of fans.
I also chat with Belle Knox, aka the Duke porn star, looking slightly anxious and a few years shy of 19 in no makeup and a tight white bandage dress, and Sydney Leathers, the woman who brought down the mayoral ambitions of NYC candidate Anthony Weiner, who's there shopping her own series of Weiner-themed adult DVDs.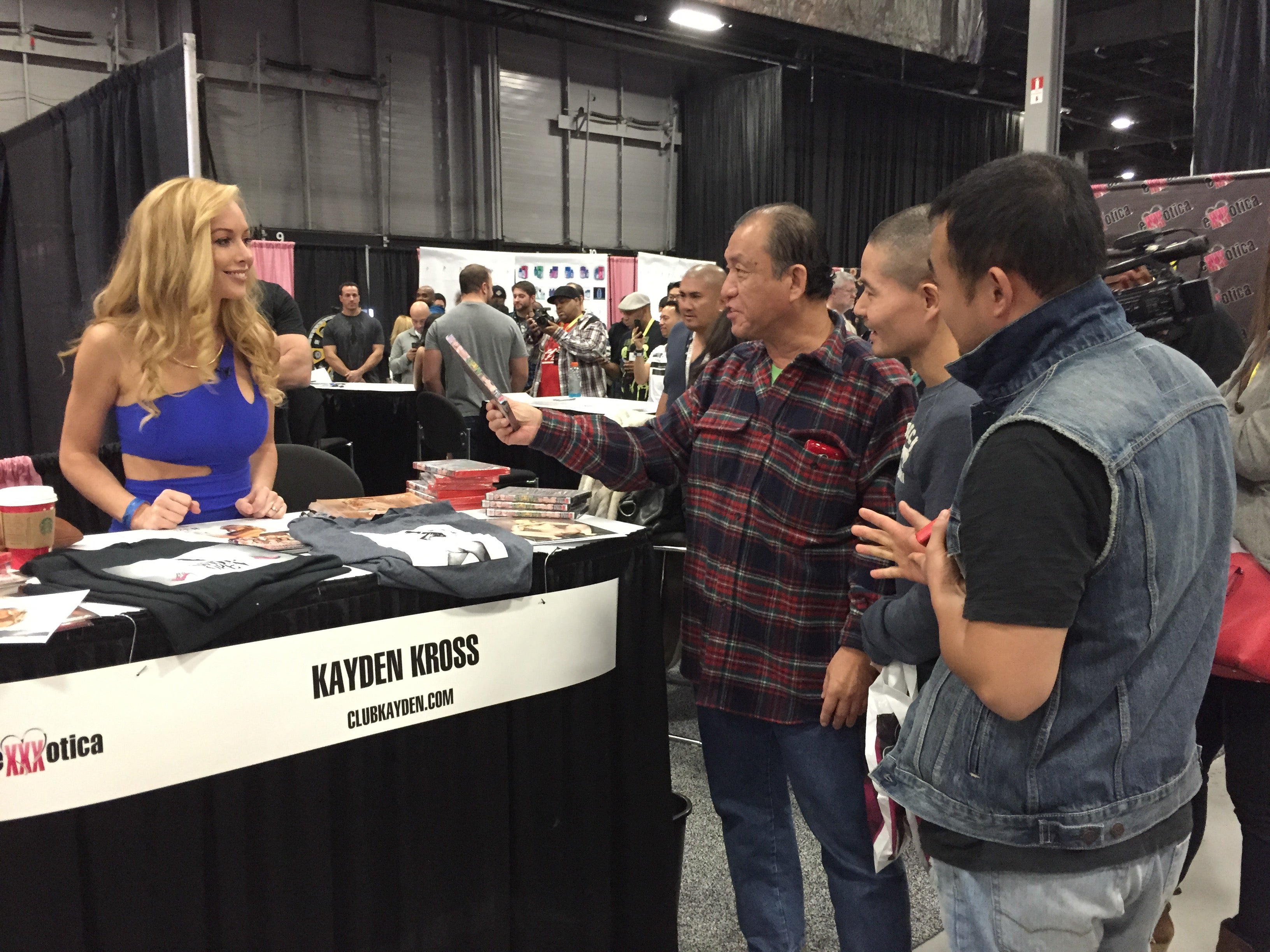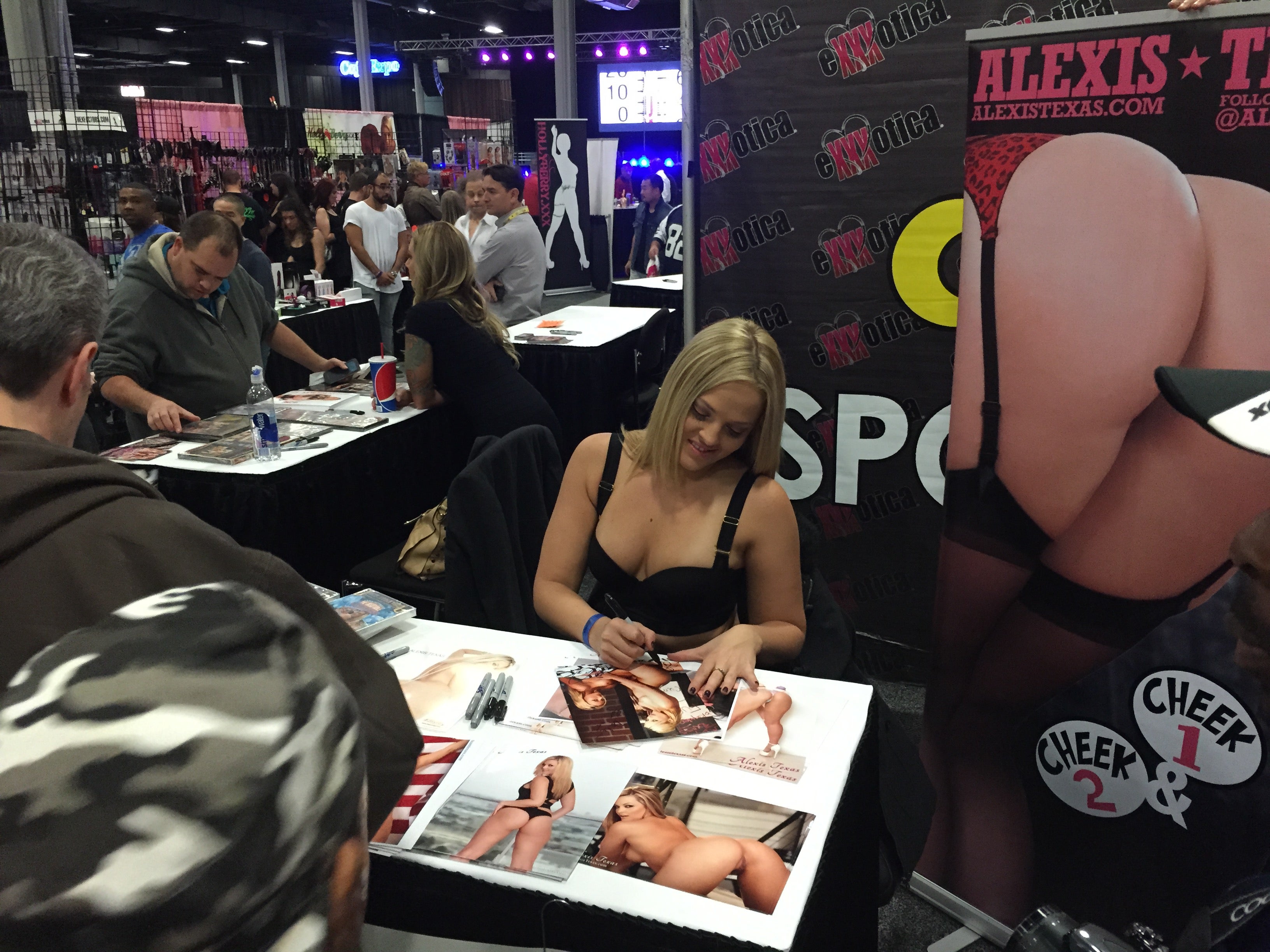 I also bump into Tasha Reign, the star of the My Little Pony-inspired porn Tasha's Pony Tales, who's just graduated from UCLA with a degree in gender studies. Her 8×5 posters and DVDs are spread out in front of her like a fan.
Reign is an outspoken anti-piracy advocate, so I ask her if any fans have come up to her to tell her they enjoyed her work on Pornhub or Redtube. She says it only happened once the day before. "I'm always like, 'Oh, great, buy a movie!'" she says chirpily. "I dunno if they get it." She says it's less likely to happen at a fan convention at Exxxotica, where hardcore fans are much more respectful than, say, on Twitter.
"A lot of girls come here, and they don't make any money or sell anything at their booths," she explains. "They just come here for promotion, so if you meet your fans they'll say, 'Oh, I like that girl, I'm gonna come here and request her on all the websites I have memberships to.' You go [to Exxxotica] to stay relevant, because these guys here, they're the ones who are buying our porn."

After graduating from college, Tasha celebrated by taking herself on a European vacation. When she came back, she was concerned she wouldn't be able to find work, even though she was only gone for a month or two. "Our industry has a very short attention span. When you leave people don't care," she says. "So when I came back, I was like, 'Why am I not booked solid?'" Although she says she's working regularly now, when I later spot a fan toting one of Tasha's DVDs, I can't say I don't feel a pang of relief for her.
2:30. I run into two fans, Ian and Angel, two cousins from Staten Island who are attending their very first Exxxotica. Angel doesn't want to be photographed, because he says he's playing hooky from work to attend Exxxotica. Like many of the other Exxxotica attendees I meet, Angel says he doesn't watch porn, but Ian is more forthcoming: He says he watches lots of Asian fetish porn, and he's particularly excited to meet Asa Akira and Jenna Haze. (I don't have the heart to tell him Haze has been retired for years.)
When I ask him how he watches porn, he says he mostly watches on the free sites like Pornhub and xHamster. I ask him if he'd ever consider paying. "If it were Asa, maybe," he says. "Or Jenna." Angel laughs. "Dude," he says to me, almost conspiratorially "I just look up search terms. I don't even know who any of these women are."
2:45. I reconnect with Alex, who is brimming with excitement over seeing dick-shaped hot dogs, and we run into Evan Stone, the legendary male woodsman; unlike the other performers, who are stationed at booths, he's walking around and clowning around with fans. Stone is wearing 20-year-old spandex zebra print pants from his strip club days. This is his fifth Exxxotica: "They thought they were hiring Ron Jeremy, then they fucked up and I was already here," he says. (Jeremy is appearing later that night.)
Stone is an established performer—during his two-decade career, he's appeared in more than 1,500 adult films. Even if you know nothing about porn, you've likely seen his name or face on talk shows or HBO late-night specials. If anyone should be faring well in the era of tube sites, it should be him. And he says he's doing pretty well.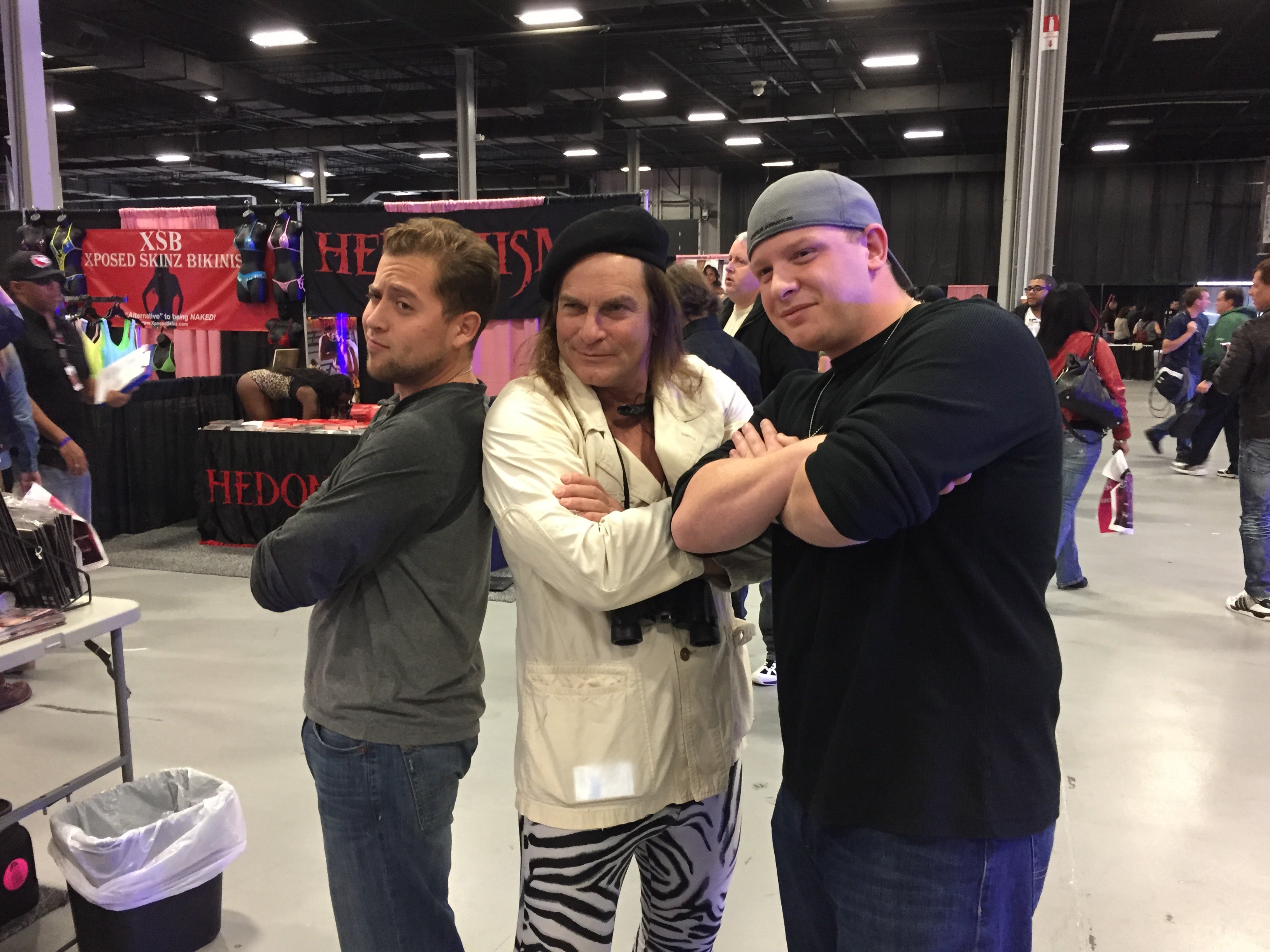 "You gotta not want to steal from someone," he says of his fans. "You gotta look at that guy and say, 'Oh, Evan Stone? Nah, I don't wanna steal from him.'" I ask him why he thinks he's engendered so much loyalty from his fans, when so many other adult performers are struggling to make a solid income. "I don't take myself too seriously," he says. Looking at his zebra-print Spandex, it's hard to disagree with him.
2:45. Alex wants to get footage of Stone's seminar on "how to please a woman like a porn star," so I stay behind and talk to Edward Mansfield, one of the cofounders of Titcoin, a cryptocurrency intended solely for the adult industry. At first, Mansfield is wary about talking to me because the Daily Dot published an op-ed critical of Titcoin a few months ago. But he warms up when I ask him a question that he's clearly thought about a lot: Why invent a cryptocurrency for buying porn, when no one is buying porn at all anymore?
"Well, first of all, if no one's paying for porn, then there's no reason for something like this to be happening," he says. "Fans spend 40 bucks to come here just to get a star's autograph. People are still obviously paying for porn."
In addition to hardcore fans, he notes that fans of niche or fetish porn are more likely to pay for that type of content on websites, as it's probably not widely available on a mainstream tube site like Pornhub. When I see the enormous crowds assembled around the BDSM Pleasure Dungeon, where a crew of masked bondage experts are tying up Exxxotica attendees and models with red rope, I concede he might have a point.
3:00. Evan Stone's seminar is held at the same time as a seminar about webcamming, the virtual sex industry that's slowly taking over the traditional porn industry. Currently, many adult performers are turning to other forms of revenue, such as camming and escorting, to supplement their income; in fact, most, if not all, of the performers at Exxxotica appear on cam at least occasionally for their fans.
Despite the popularity of webcamming, however, the seminar, which is led by a female representative from the cam platform Chaturbate, is poorly attended. I listen to her talk about the importance of building an appropriate URL for your cam site before going to Evan Stone's seminar, where he's sitting on the edge of the stage, waving his legs like a 14-year-old, and enthusiastically extolling the merits of eating pussy.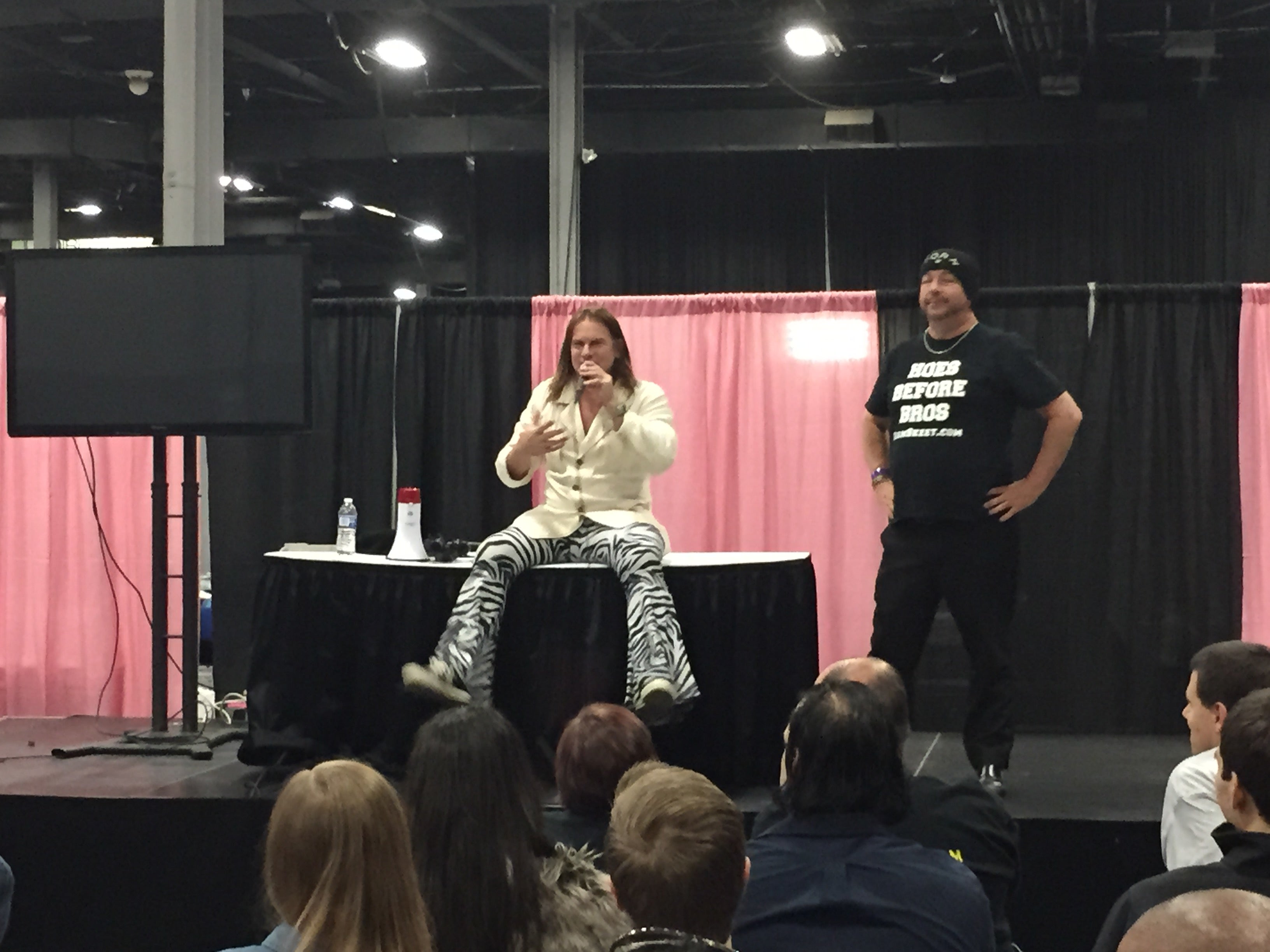 3:30. When Alex and I talked to Stone earlier that day, he mentioned that he was buddies with a preacher from the XXX Church, a non-profit Christian organization that's co-sponsoring Exxxotica and seeks to help porn stars and those who claim to be suffering from porn addiction. He says they don't proselytize, but rather, "are just there to help out if you need anything."
In these trying times, where performers evidently have to fly across the country on their own dime and sell their vaginal fluids to make ends meet, I figured the XXX Church might be doing pretty good business.  So for our last stop at Exxxotica, we head to the XXX Church's booth, where a group of fresh-faced youths are printing free T-shirts for attendees.
At the XXX Church, I'm told to speak to Dave, a lanky fellow who owns his own screen-printing business in Seattle; he has crinkly brown eyes and broad shoulders and is quite possibly the best-looking evangelical Christian I've ever met. Dave was inspired to join the XXX church after struggling with porn addiction during his marriage. "We just help [the porn stars] out and help them get back on their feet if they want to leave the business," he says. "We tell them we're here if they need anything."
For the most part, the people taking advantage of XXX Church's services aren't the porn stars, but ironically, the porn fans who spent $40 to go to the convention. Dave says that yesterday, a man arrived at the booth asking for prayer to help him stop looking at porn. "He prayed with us, and then he left," he says. "People start crying in our booth. They accept Jesus right there. It's crazy." "Wow, if piracy doesn't kill the adult industry, then Jesus likely will," I think, in spite of myself.
Among the porn performers themselves, Dave says the response at Exxxotica is mixed: "Some people hate us, and some people love us," he says.
"Is it possible they find you guys patronizing, because you're offering them help when they're not asking for any?" I say.
"We try not to condemn people or be patronizing," Dave says. "We just want to say we're here for them." And they are, in a way. Dave says the XXX Church passes out snacks and bottles of water to performers while they're working, and they even set up a break room for them at the expo. "If they didn't have that room, they would just go to the bathroom to change and do their makeup," he says. I want to ask him so many questions—for instance, if God created the  body, and the body is beautiful, what's the church's stance on Pussy Juice Lube?—but Alex has to get back to the city, so we bid Dave and the Expo adieu.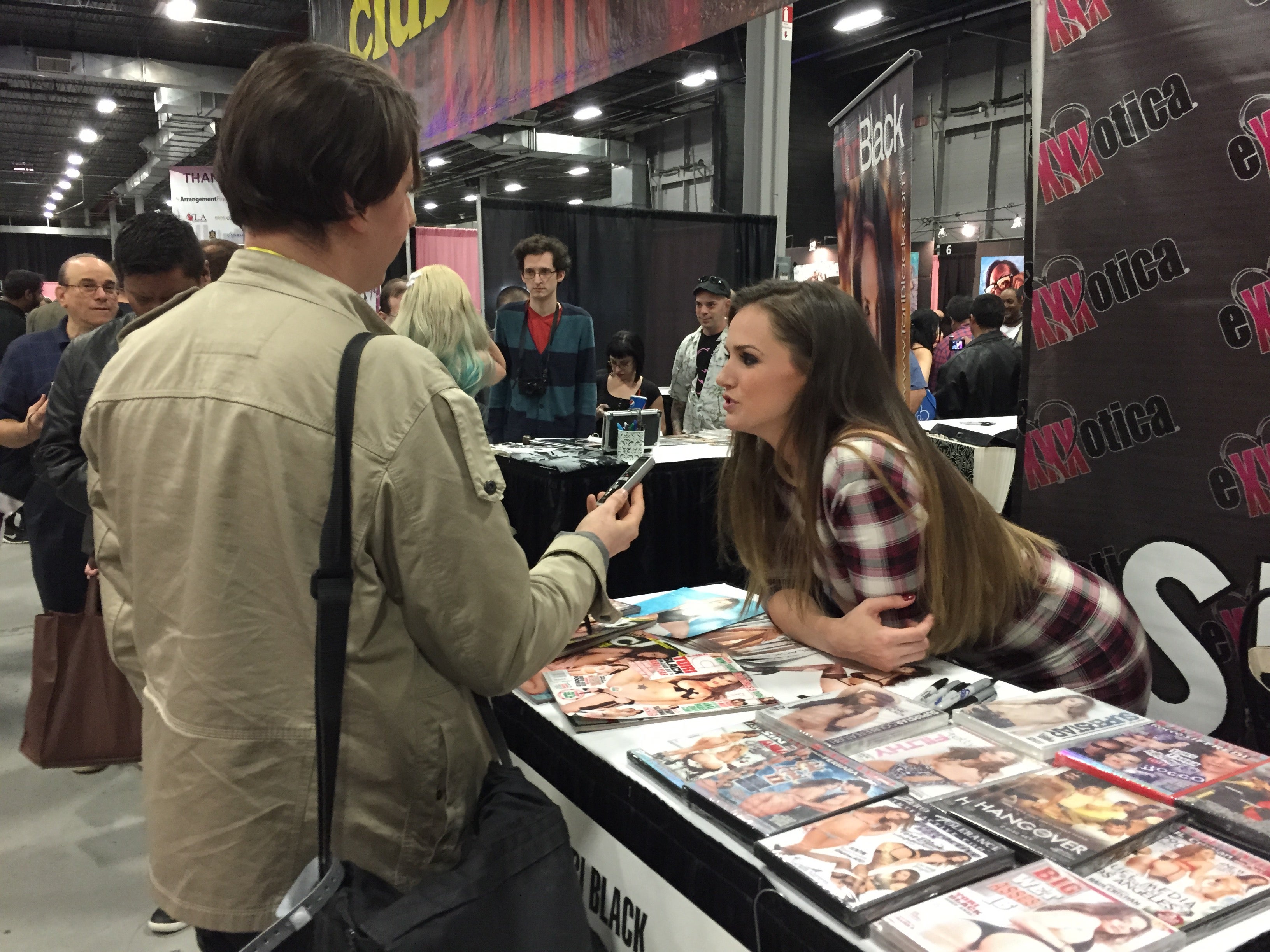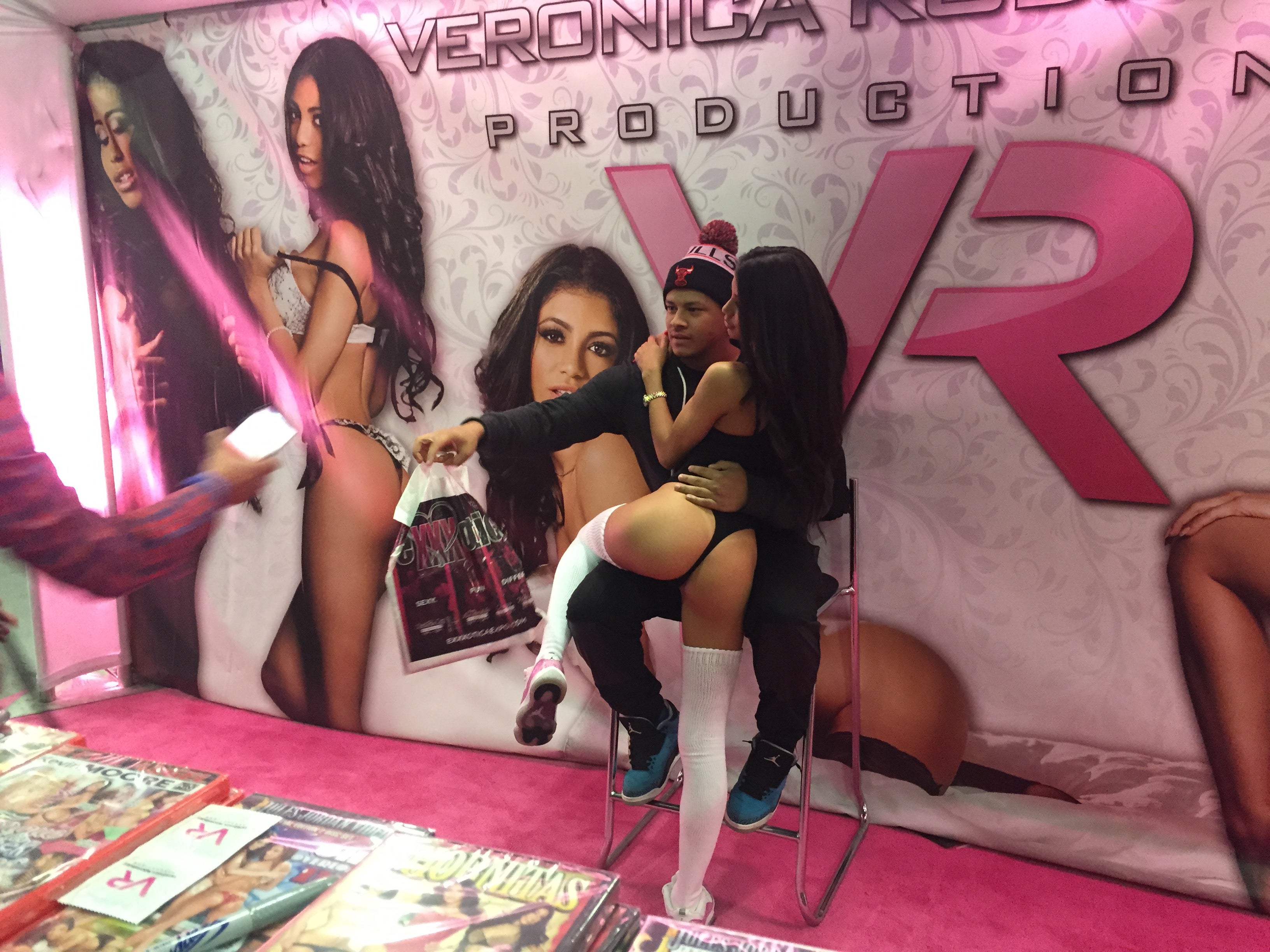 4:15. In the cab, Alex is trying to untangle his thoughts about the convention. Although he's pretty aggressively masculine in most respects, he's also one of the most sensitive people I've ever met, so I'm not surprised to hear that his experience there affected him.
"Those girls were just parading around, being shown off like objects," he said. "It was depressing in a way. It was like—"
"A circus," our previously silent cab driver chimed in.
"Yeah, kinda," says Alex. "Kinda like a circus."
At the train station, I tell Alex I didn't think his classification of Exxxotica as a circus was very fair. I deliver my standard sex-positivity shpiel, the same speech that I give to anyone who, upon finding out what I write about for a living, claims that pornography is disgusting or degrading to women—that women have the right to do what they want with their bodies, that sex is not something to be ashamed of, that sex work and the adult industry are businesses like any other and that the men and women who participate in it shouldn't be fetishized. I say the things he objects to about Exxxotica— the stilettos, the fake tits, the fans grab-assing performers, and the generally cartoonish approach to sexuality—are products of a culture that's simultaneously obsessed with and horrified by sex.
"If sex weren't so stigmatized in our culture," I say, feeling a bit like an automaton, "people would have more respect for sex workers and we'd have healthier outlets for sexual self-expression. The problem isn't porn or Exxxotica, but the way we view sex in general."
Alex nods. "Yeah," he says, "but wasn't there something about it that just made you sad?" I think about the men and women who sit at booths all day to politely chat with fans, in the hopes that maybe they'll forge a connection that'll convince them to subscribe to their websites; in the hopes that they'll think of them as real people with real problems who need to pay real bills, rather than bouncing and panting images on a screen. And I admit that Alex might have a point about Exxxotica. Maybe it did make me a little sad. But not for the same reasons.
Photos by Alex Cook/Ej Dickson