A prominent transgender artist who creates NSFW work has been banned from global online marketplace Etsy, and advocates say the ban is discriminatory.
The artist, Aggy (@stwawbwewymilk), reached prominence earlier this year for her comic on trauma, Puppy Milk. Aggy tweeted on Saturday that
A screenshot of Etsy's email about the ban on Aggy's shop was shared on social media by Gretchen Felker-Martin (@scumbelievable), who contacted Etsy via Twitter to contest the ban.
Felker-Martin asserts that the ban is "unfair and unsubstantiated" and that it flies in the face of the marketplace's treatment of others selling NSFW art on the store.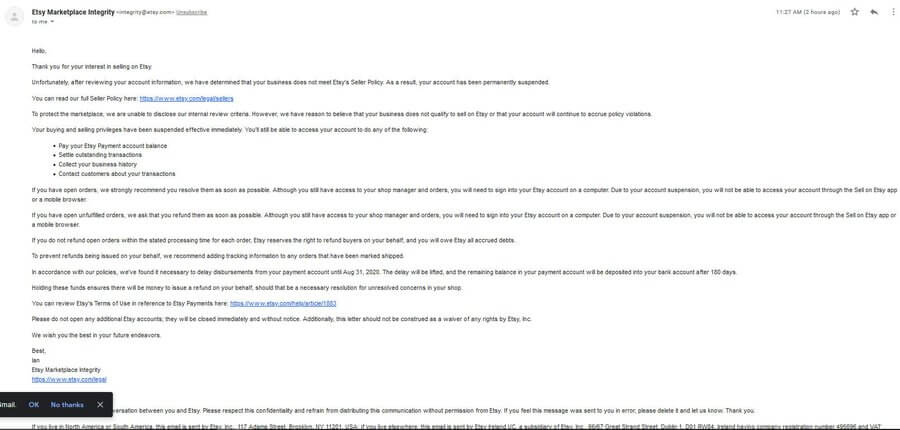 The screenshot of the email informing Aggy of her Etsy ban states specifically that the marketplace is "unable to disclose" the review criteria that led to her store being pulled from sale. It mentions policy violations but nothing further.
Felker-Martin did not immediately respond to the Daily Dot's request for comment.
In its policies for sellers, Etsy bans "pornography of any sort," including "depictions of human genitalia, sexual activity or content, profane language, sexual wellness items, violent images … and explicit types or representations of taxidermy." The site also requires that sellers tag "mature" items depicting non-pornographic sexual content.
Still, there is a glut of adult content currently available on the marketplace. Search results for items such as "bondage art" and "NSFW" garner well over 6,000 items in total, ranging from works containing teasing captions to full-on, explicit nudity.
Felker-Martin's tweet above, as well as others who have taken to Twitter to decry the Etsy ban on Aggy's work, have intimated that her storefront has been taken down because she is trans.
The Daily Dot has contacted Etsy for comment on the circumstances surrounding the removal of Aggy's work from their marketplace but has yet to receive a response.
READ MORE: