When you're in a new relationship —or, really, in any stage of a relationship—communication is extremely important. But it's in those early stages of a new love that emoji use has now replaced flirting or sexting. Is it healthy for a couple to use only emoji for a month?  
WNYC has the story of how one couple survived a month using only emoji to communicate via text. WNYC senior producer Alex Goldmark and his girlfriend Liza have been dating for two years and cohabitate, and they wanted to see what positive effects this emoji-only pact might produce. The episode actually aired earlier this year, but was re-aired this week.
Goldmark relates that he's "not a good visual thinker," which gives this experiment a nice balance, since Liza is good with visuals. That gap also allows for things to be misinterpreted. (They could also use "stickers" and all apps that include emoji.) It's interesting to see how they gravitated to certain emoji to represent themselves in everyday-task situations, like the grocery store or happy hour. It's also interesting how they developed a sport of twin-speak that only they came to understand.
There were, of course, misunderstandings, like when Alex and Liza were supposed to meet up for drinks, but Liza ran into a friend who'd just had a death in the family, and tried to tell Alex not to come.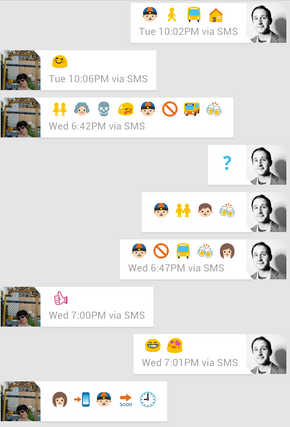 True to the name, emoji were great for expressing emotion or feeling, but not so good for making or breaking plans, or navigating complex issues. Liza and Alex made it out relatively unscathed, but could you and your significant other essentially use modern-day cave paintings to communicate? If so, you should probably put a ring on it. 
H/T Business Insider | Photo via Intel Free Press/Flickr (CC BY-SA 2.0)