We crawl the web so you don't have to.
Sign up for the Daily Dot newsletter to get the best and worst of the internet in your inbox every day.
Hello fellow citizens of the internet! Andrew here. Welcome to today's edition of web_crawlr.

Happy Friday! Our top stories today are about: How people are mocking Gov. Ron DeSantis for his "forced smile" during the recent Republican presidential debate, a car owner getting revenge on two random people who were eating pizza on the hood of his car, how a Fox News reporter was humiliated by Seattle residents, and a woman asking why people order DoorDash if they have cars.
After that, I've got a Today in Tech column for you. And since it's Friday, that means it's time for our weekly news quiz! Just scroll down below to answer the question. If you guess correctly, you might win a "Crawl Into Fall" shirt.
See you tomorrow!

— A.W.
---
Today's top stories
Florida Gov. Ron DeSantis (R) was mocked by his opponents for his "forced smile" during the second Republican presidential debate.
One TikToker spotted two random people eating pizza on the hood of his car. So he got revenge on them.
A Fox News broadcast discussing crime in Seattle has gone viral after a reporter for the conservative outlet was ruthlessly mocked by the city's residents.
In a video with over 390,000 views, a woman asked: "How do people DoorDash food when they have a car?"
---
We crawl the web so you don't have to. Sign up to receive web_crawlr, a daily newsletter from the Daily Dot, in your inbox each day.
---
Take our weekly news quiz!
Are you the most online reader of web_crawlr?

Prove it by answering our question of the week! The answer can be found somewhere in one of our newsletters from this week.

If you answer correctly, you'll be entered to win our brand new "Crawl Into Fall" shirt, and we'll shout out five people who won the shirt!
A woman who was mad about her biscuits order drove her car into a fast food chain. What fast food chain was it?
Think you know the answer? Sign up for web_crawlr so you can answer next week's question!
---
Today In Tech
By Andrew Wyrich
Newsletter Editor
FTC sues Amazon for allegedly illegally maintaining a monopoly
In each edition of web_crawlr we have exclusive original content every day. Occasionally, our Newsletter Editor Andrew Wyrich looks at the tech news of the week that matters to you in his "Today in Tech" column. If you want to read columns like this before everyone else, subscribe to web_crawlr to get your daily scoop of internet culture delivered straight to your inbox.
---
Crawling the web
Here is what else is happening across the 'net.
Here's how employers are finding out about your previous job history.
Here's a look at the enduring success of the KFC Famous Bowl, which was called a "failure pile in a sadness bowl."
A worker claims she was hired at McDonald's and was asked just one question during the job interview.
Maybe it's time to change your "go-to drink" at the bar to champagne or prosecco to get more bang for your buck.
A restaurant worker revealed how she dealt with a customer who didn't understand that two four-ounce containers are equal to eight ounces.
Hulu vs Netflix. Who is winning the streaming wars? This side-by-side comparison can help you decide.*
Eating affordably amid ongoing uncertainty in the U.S. economy has become somewhat of an art form, so its no wonder that people are into this Chili's customer who got a large meal for just $6.
This Target customer has gone viral on TikTok after exposing a discrepancy between shelf and register prices at one of the stores, sparking outrage among customers.
From the Daily Dot archive: Why some mommy vloggers are taking their kids out of the spotlight.
*The Daily Dot may receive a commission in connection with purchases of products or services featured here.
---
Before you go
A mom named Gabby who took her baby to Hobby Lobby for a fall photo shoot has gone viral for sharing her free family portrait hack.
Gaby's video is captioned, "Why pay for a photo shoot when you can just go to Hobby Lobby?" Her hack is to use Hobby Lobby's fall displays for free photos instead of paying for professional photos with the same type of background.
In the clip, Gaby shows three photos of her daughter in front of two separate holiday displays. She follows up the pictures with a "behind the scenes" clip of the photo shoot to show viewers how easy the process is.
Commenters loved the "hack" and some said they have even done it themselves.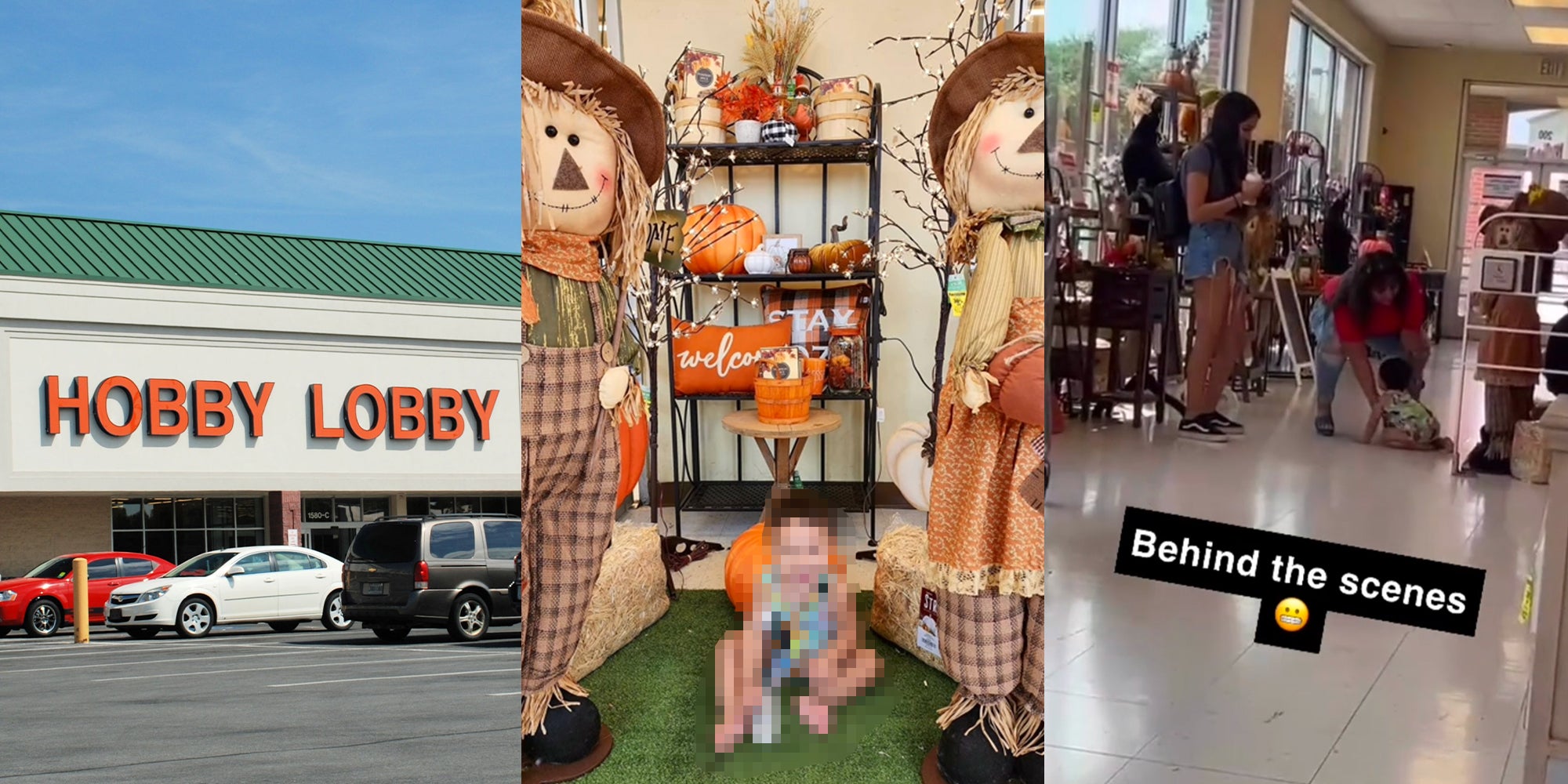 ---
Now Playing: "HYPERPOWER!" by Nine Inch Nails