The claim that the Cracker Barrel logo features a whip and that the chain is named after a barrel of whips went viral on Tuesday, sparking a debate among Twitter users.
"Did y'all know this?" user @DomoDaDonn wrote in response to a post that reads: "Cracker was a slang term for whip. That's why blacks called whites crackers, from the crack of the whip. A cracker barrel is a barrel that held the whips for sale at the country store. You see the whip going from the R to the K? Racism in your face!!"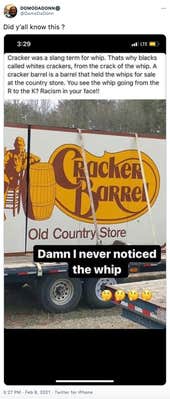 Needless to say, people were shook at the apparent revelation and took the opportunity to remark on the vibes they get from the restaurant. "It makes sense though," one said. "I feel like anytime I walked in there I was expecting to get sold out of the gift shop … just slave vibes all around."
Another called it the "Jim Crow-themed Applebees."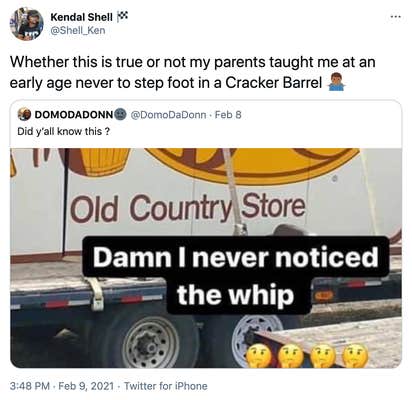 While the claim seemed plausible for many, it's mostly false, according to Snopes, which debunked it on Tuesday. This is not the first time the claim has made its rounds, and it was first debunked in 2011. "Cracker"—when used to describe poor white people—does come from "whip-cracker," someone who cracks a whip. However, cracker barrels were literally just a place to store dry crackers prior to the invention of machine packaging in the 1800s.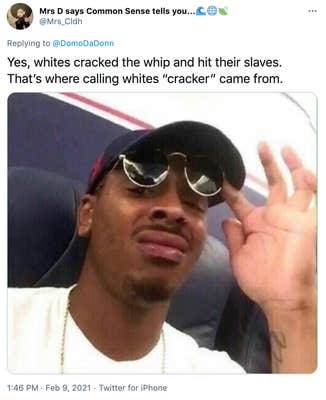 Back then, people would also gossip and socialize at the barrels, to the point where the "cracker barrel man" was a well-known folk character—someone who hung around the store all day, offering opinions and wisecracks.
And some Twitter users pointed this out. "I mean, Cracker Barrel is racist as shit, but this isn't true. General stores sold soda crackers in barrels," one said.

While the claim may not be true, it reignited the discussion on how the restaurant makes its customers of color, specifically Black customers, feel.
"Cracker barrels actually held soda crackers, but there's no denying that the servers treat guests of color differently," a Twitter user said. "I called a server out about it when she was giving us (we are Caucasian) while a couple and their child nearby had been waiting ages."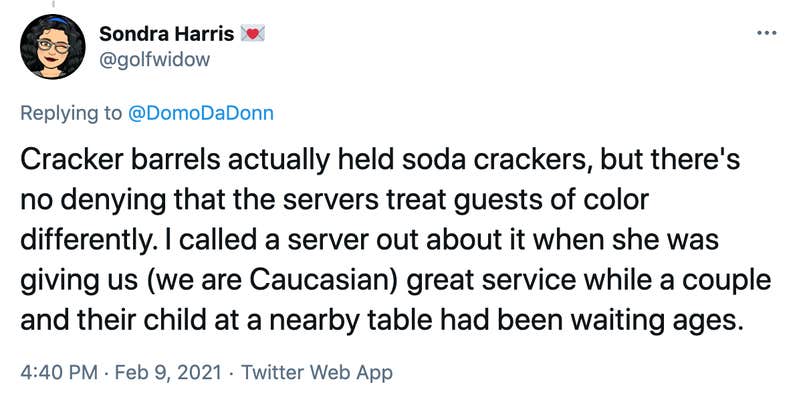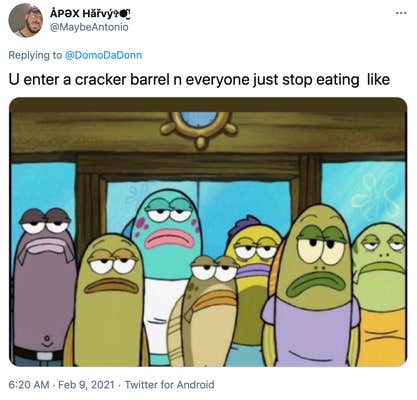 ---
Today's top stories