"It's Zeki!"
Inside the Grand Atrium at the Sheraton DFW Airport Hotel in Irving, Texas, a small group quickly gathered around the afternoon's star.
"Zeki!"
They took photos, complemented her coat, and asked to pick her up. This adoration was all for a sleek grey and white therapy cat named Zeki, who seemed fairly unphased by the paw-parazzi.
Zeki, and her fans, were there for the 20th annual Cat Writers' Association Conference, a gathering place for journalists, editors, authors, artists, photographers, and advocates. Cat fandom is so integral to the Internet, and yet, this conference was not like other fandom conventions. There were no references to cat memes or videos. No nods to Grumpy Cat,  Lil Bub, or cats wearing tights, though a few attendees did wear cat ears. These were old-school cat fanciers.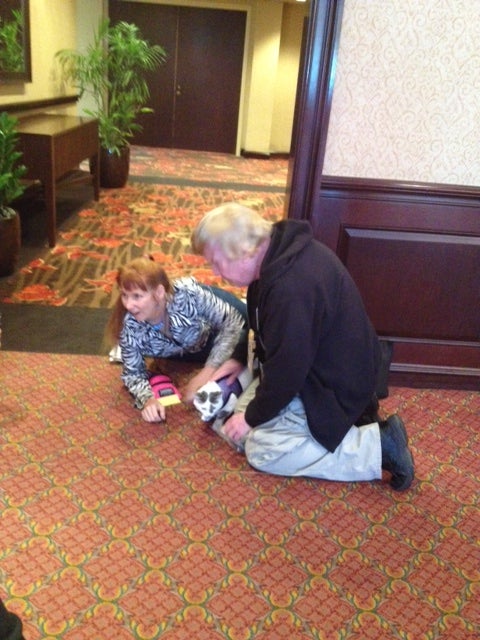 Photo of Ziki by Audra Schroeder
Appropriately, the theme of this year's conference was "Reinventing yourself for the digital age." Austin author Paris Permenter lead a panel on how to utilize Twitter, for those who've maybe never used it. The takeaway: Don't use more than three hashtags in a tweet.
The panel "Doing It All…Without Pulling Your Hair Out!" offered blogger tips for time management. One woman held a cat on her lap during the talk, as others browsed cat blogs on their laptops. Two women conversed about their love of Maine Coons. The attendees, who were almost all women, seemed to know each other. (This community also really loves puns.)
Author and blogger Deb Barnes, dressed head to toe in animal print, gave advice on how to have a life and keep a blog:
"We're in control. We don't have to do as much as we do. We just get caught in that trap."
It's certainly interesting to see a community attempting to transition. Cats are such an integral part of the modern Internet, from lolcat memes to the cute images someone in your contact list undoubtedly forwards you, that it's easy to forget that there's an entire generation of pet owners still adapting to life online.
Elsewhere, a panel of editors from publications like Cat Fancy and Cat Talk discussed what they need from writers. Lonnie Hull DuPont, executive editor of publishing house Revell, emphasized what's not wanted in the inspirational novel market: prolonged stories of animals dying. "If they'll cry, they'll buy," DuPont added, "but not in this case."
Same goes for Internet videos: People want heartwarming. Within the feline genre, there seems to be a bit of overlap with romance and mystery genres. A look through Goodreads provides a wealth of cat literature, though a recent study showed eBooks' growth has leveled out, which means new models will soon emerge. This is a niche market, but it's not as sensational as, say, dinosaur erotica.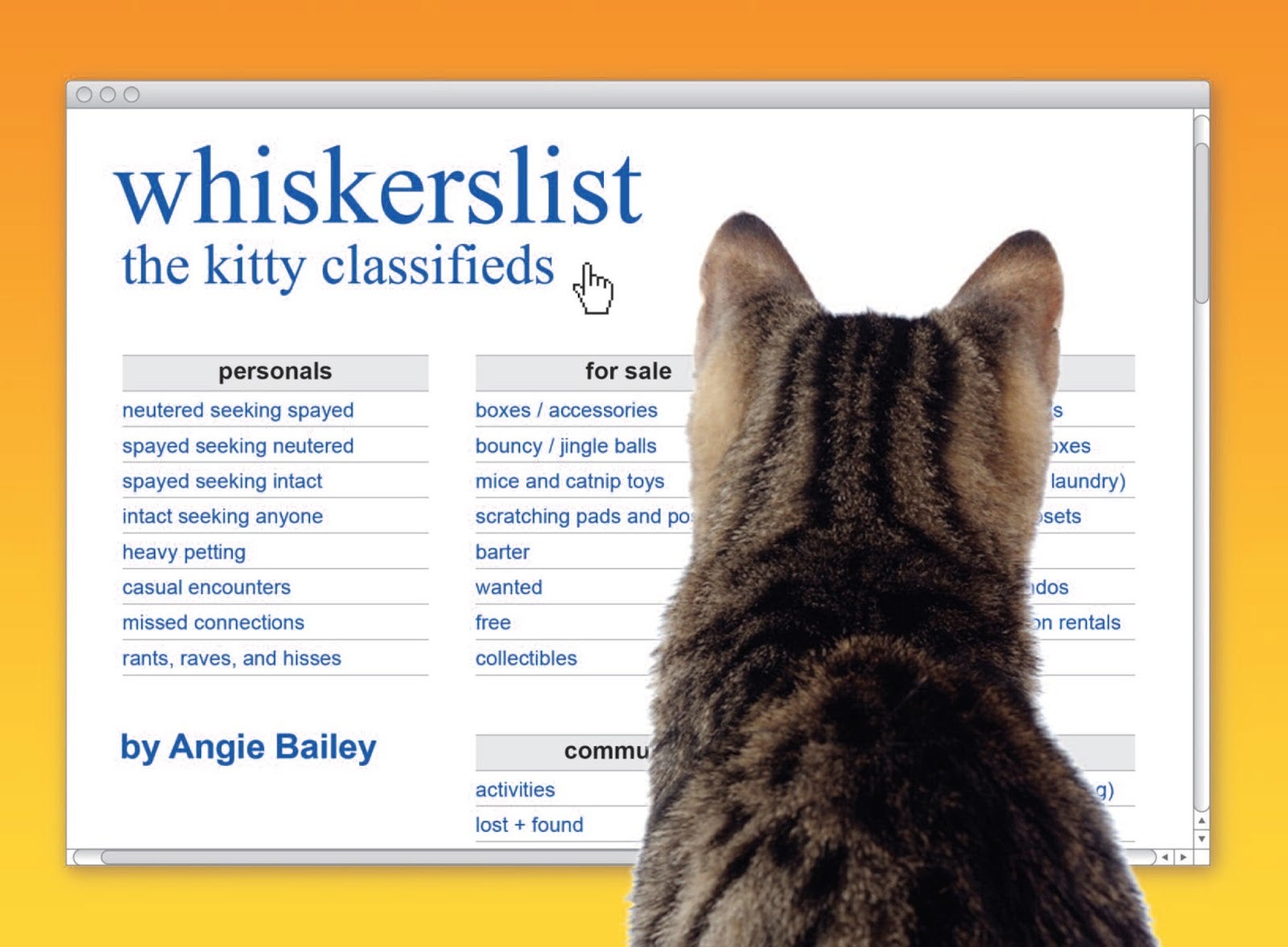 If inspiration is the right arm of the cat-blogging scene, humor is the left. Angie Bailey runs the blog Catladyland and penned the book Whiskerlist: The Kitty Classifieds, a Craigslist parody. Her blog has flourished online.
"I feel like I reinvent myself in small ways all the time, but it's always in response to what my audience wants, and most importantly, what I want," she says. "I think most successful writers do that."
Amy Shojai is CWA's cofounder and also just released her first eBook "thriller," titled Lost and Found. Via email, Shojai explained that reinvention is imperative for old-school writers:
"Because I write nonfiction pet information, once the Internet made so much pet content information available for free, publishers no longer could sell books; the market shrank, and so did my income. But rather than throw in the furry towel, I reinvented myself by becoming an eBook author. First, I updated and re-published my backlist books, and eventually released original titles myself, selling across all print, ebook, and audio channels while earning a 70 percent royalty. That's about seven times higher than my NYC book contracts ever garnered."
She also sees cat videos as part of communicating now:
"I think new technology has reduced our attention span, which makes the videos, memes, Pinterest much more palatable. More than 60 percent of U.S. households have a cat or a dog, so it's a universal conversation-starter, something the majority have in common, and gives [us] a common language."
Later in the evening, Shojai and Frank Steele's theatrical production, "Strays, the Musical," debuted at the conference. It was a bit surreal, taking in a handful of adults channeling Cats in an airport hotel conference room, but it did illustrate a point of view. Rather than a community making memes and videos to brand their muse, these writers were attempting to channel the cats.
Photo via Tommy Hemmert Olesen/Flickr