As we've previously reported, the Internet loves to hate Casey Anthony. The not-guilty verdict handed down this week turned spectacle into outrage, and spawned a flood of image macro reactions ranging from darkly funny to downright disturbing.
So what's an acquitted murder suspect do next? According to Radar Online Anthony, who faced charges related to the disappearance of her two-year-old daughter, Caylee Anthony, in 2008, has been offered a cool million to face the very vocal audience of The Jerry Springer Show.
Turning to Twitter for a pulse check on public opinion, Anthony is just as notable post-verdict as she was pre-trial.
One Twitter fan used the platform to reach out to an unrelated celebrity for some justice. Tom Murray (@Nhtom) directed his message at Jenny McCarthy, asking her to help spread an email campaign to express disapproval to NBCUniversal and the show's producers.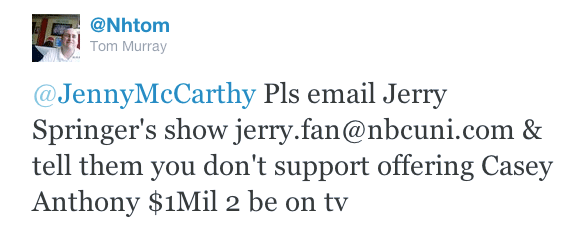 A popular Twitter hashtag on the day of the verdict, #caseyanthonyrotinhell, resurfaced after AOL's PopEater gossip blog reported on the story.
"This just burns me up, look at the smug look on her face!" wrote @sueviola — according to her Twitter bio, a self-proclaimed lover of "Yarn • Books • Music • Art • Coffee • Chocolate" residing in Connecticut — reacting to the picture of a smiling post-sentencing Casey featured in the story.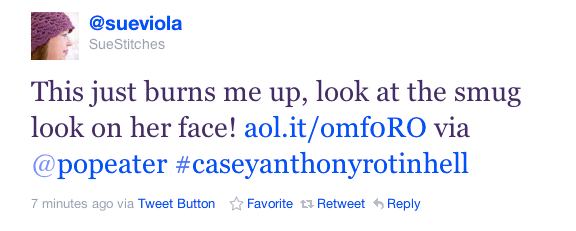 But is Anthony really going on Springer? All the outrage may be for naught if this tweet from entertainment show Showbiz Tonight proves true. Quoting an unnamed representative, "The Jerry Springer show has not made any monetary offer to Casey Anthony and her family to appear on the program. Nor will we."