TikTok user @rockefeller.o, also known as Lala, had a pointed response for a woman who thought her work uniform was too distracting for the woman's husband, as reported by the Mirror.
"Girl, f*ck you," she captioned her video.
Lala said she received the complaint while she was on the clock.
"I had a lady complain today because my work uniform was a 'distraction' to her husband," she wrote.
In the video, @rockefeller.o shows off her uniform—a collared Burger King shirt and black jeans—which a customer said was "distracting" to her husband. Then, the creator of the video turns to show her rear and captions the moment of the video with, "I guess I'll leave my ass at home next time," both middle fingers extended.
Commenters on the platform loved her response and, in some cases, were jealous of the asset that apparently prompted this customer's comment.
"I can take care of it while you at work," @kendra._.zamora wrote.

The creator, Lala, wasn't opposed to the idea, joking that the asset could be borrowed while she was at work at Burger King, as long as it was returned.
"Yeah baby, just bring it back before I get home," Lala wrote.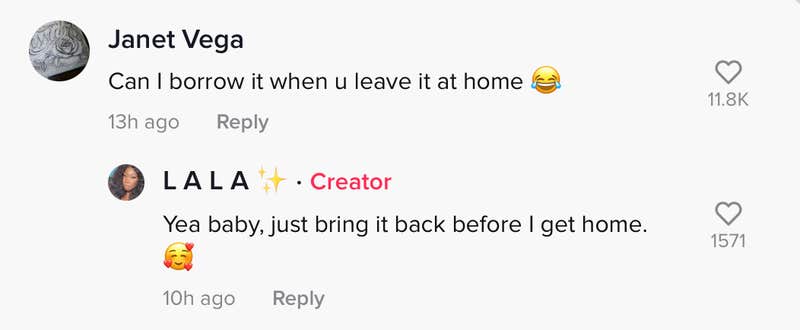 An alternative to leaving her rear at home was presented by user @h0tr0db0b: Leave the man at home.
"Maybe her husband should stay at home," @h0tr0db0b wrote.

Some wondered whether she had a license to "carry all that."
"I'm do you have a license to carry all that?" user @userjeromie_m3264 wrote.
---
Today's top stories
H/T Mirror