Three weeks after posting a plea to Facebook looking to find her birth mother, 27-year-old Katheryn Deprill finally found her.
Deprill became known as the "Burger King Baby" after she posted a photo to Facebook March 2, claiming she was looking for her birth mother, who gave birth to her on Sept. 15, 1986, and subsequently abandoned her in a Burger King bathroom in Allentown, Pa., when she was only hours old. She asked followers to share her photo in hopes that her mother might see it.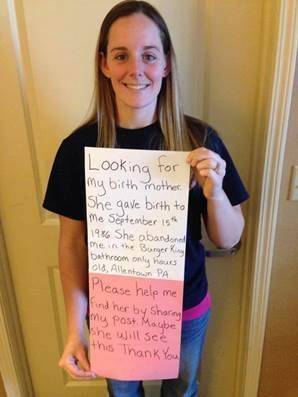 The photo was shared more than 30,000 times on Facebook and Twitter, and on Monday, Deprill finally stood face to face with her birth mother, after the woman approached Allentown attorney John Waldron on March 13, and asked for advice on how to reunite with her daughter. He arranged a meeting with the two in his office.
Deprill is now married with children of her own. Her birth mother, who did not want to be identified, had remained living near Allentown. She told Waldron that she was raped at age 16 while on a family vacation abroad. Scared and ashamed, she hid the pregnancy from her parents. She claimed she left Deprill where she knew she'd be found.
Deprill told the Morning Caller that she has "literally not wiped the smile off my face. I never in a million years thought I'd find her." The two plan to meet again, and start a relationship.
Illustration by Jason Reed