While the Internet was loosing its mind over some dude's Kickstarter for potato salad, others were busy affecting actual change in the world. Enter Quinn Callender, an adorable 7-year-old from British Columbia with humble ambitions to help his friend who suffers from cerebral palsy. 
When Quinn learned that his classmate and fellow Beaver Scout, Brayden Grozdanich, had a chance at walking without the assistance of leg braces through expensive surgery in the U.S., he knew what he had to do.
"When I got home, I wanted to tell my mommy and daddy that I wanted to do a lemonade stand to help raise money to help him," Quinn told CBCNews.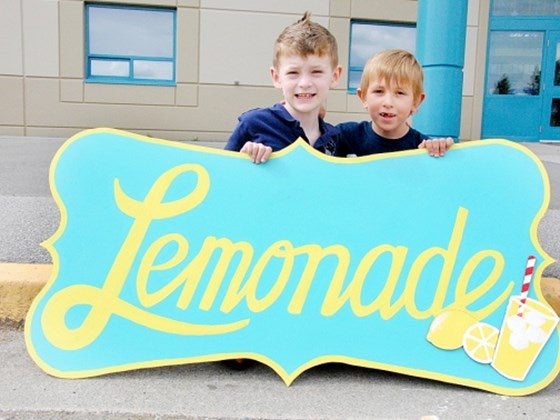 Photo via Youcaring.com
 
While Quinn began building a lemonade stand so he could set up shop, his mom, Heather Roney, got to work putting together a crowdfunding sourcing to fundraise the $20,000 needed for surgery and travel.
"I said let's think bigger than that, let's go bigger," Roney shared. "So I put a website together and put it on my Facebook. I shared it, and my friends shared it, and it took off from there." 
Currently, Brayden, whose right arm and leg have been affected by the disease, has to rely on the assistance of leg braces to walk. Attempts at walking through physiotherapy have been excruciatingly painful, and surgeries available in Canada could leave Brayden wheelchair-bound. Surgery in New Jersey is less invasive, Brayden's father, Travis Grozdanich, shared. In New Jersey, there's the possibility that he could walk out of the hospital the very same day. 
By the time the boys opened for business on Sunday outside a local grocery store, they had already surpassed their goal thanks to the online efforts. With the community rallying around them, adorable twosome adorned in T-shirts that read, "When life gives you lemons…make lemonade." They sold some refreshments and met some of the generous backers. 
Currently, Quinn's YouCaring.com page has raised over double the cost of travel and surgery, at $55,000. With Brayden's surgery currently scheduled for August, the future certainly holds the promise of plenty of adventures and playtime. 
H/T TheDailyMeal.com | Photo via sagesolar/Flickr (CC BY 2.0)