Nickelodeon's Blue's Clues created an animated Pride Parade sing-along, featuring drag queen Nina West and including many sexualities and gender identities.
In addition to the lesbian, bisexual, transgender, and queer members of the LGBTQ+ community, the video recognizes those who identify as nonbinary, asexual, demisexual, pansexual, and even the concept of "chosen" or "found" family, which is prevalent within the community.
The video, posted to the Blue's Clues & You YouTube channel, has its comments disabled. However, plenty of comments were made about the video on Twitter.
"I'm still blown away by how extremely inclusive the Blue's Clues pride parade video was," user @hannah_rite wrote. "So many different identities are represented in one video. Probably one of my favorite pride related videos of all time. The homophobic Karens are shaking in their pants."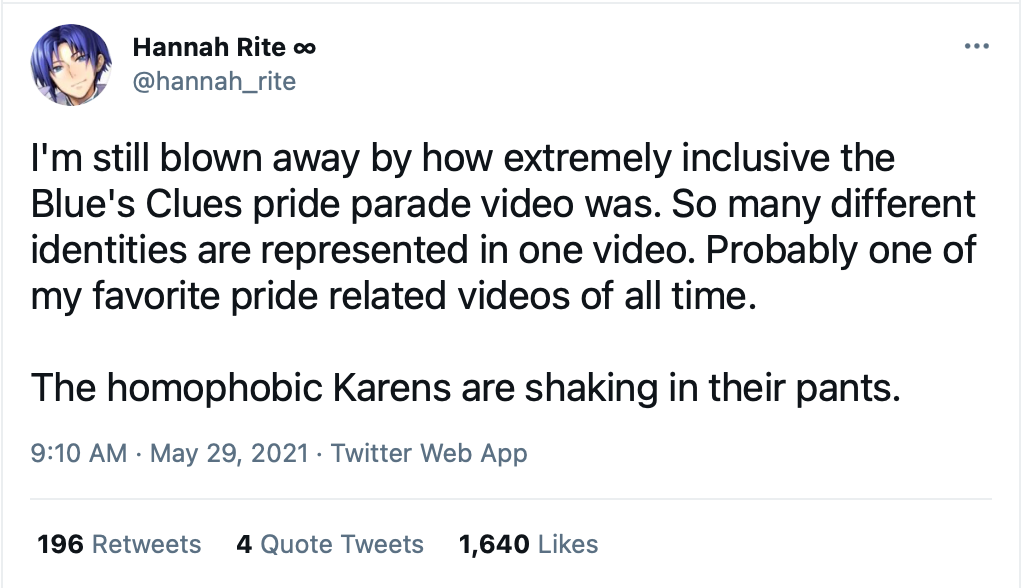 The Blue's Clues Pride song, which has a tune similar to "The Ants Go Marching," shows Nina West and Blue celebrating Pride with their new friends—including an alligator family with two moms, a family of otters with one transgender parent who has visible top surgery scars, and a family of bears with two dads.
Taking the time to expose children to LGBTQ family structures and concepts resonated with many, including one user who wishes they had something similar as a child.
"This honestly made me tear up- I love how blue's clues is educating on LGBTQ+ subjects to younger kids," @CaliKaiju wrote. "When I was younger I didn't have this and just imagining kids viewing this and learning from it is so great."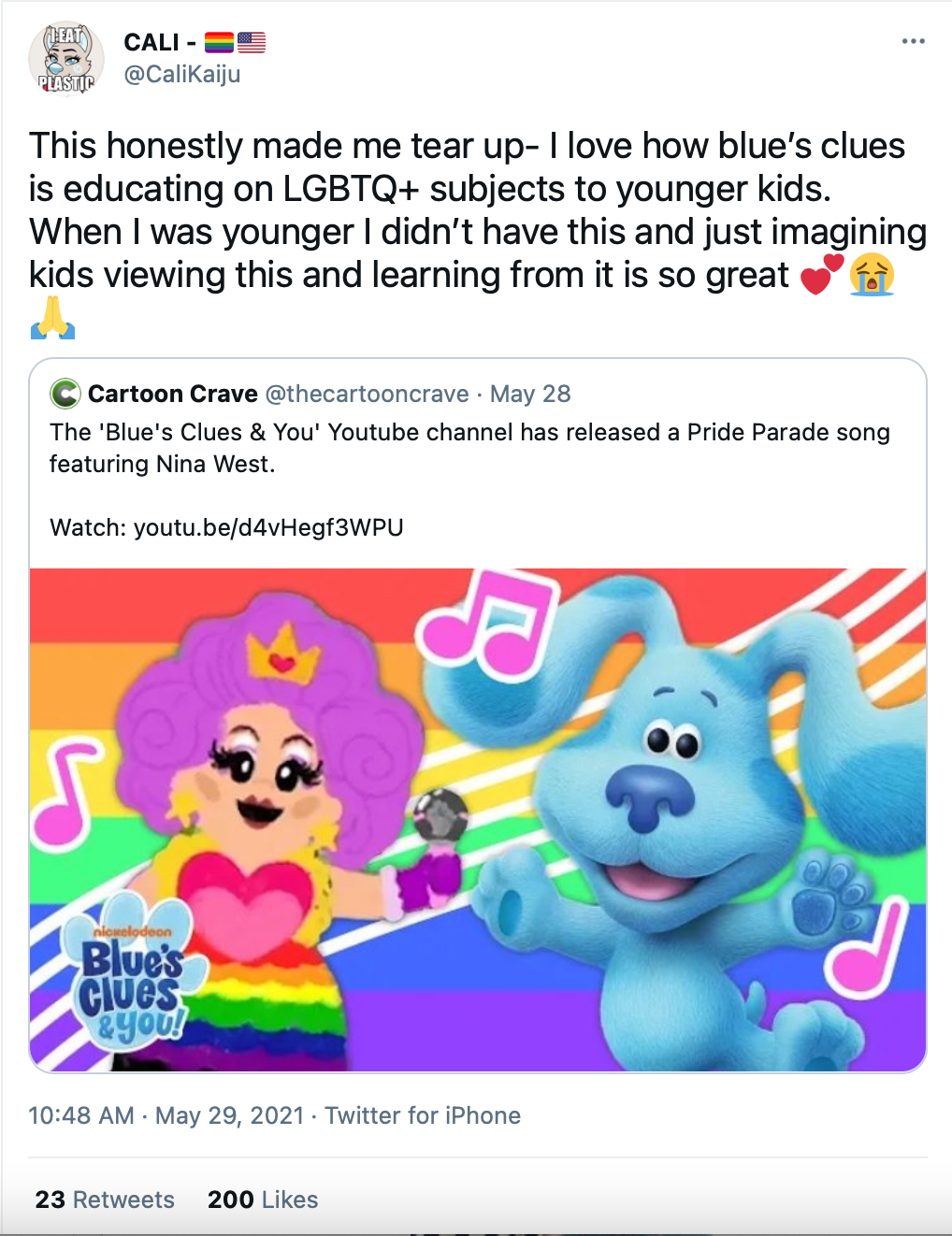 However, not everyone was a fan. Critics of the move to include LGBTQ content in Blue's Clues programming rubbed some people the wrong way.
"The predatory Blue's Clues segment doesn't surprise me, because kids are always the unconsenting subjects of leftist social experiments, from population control to the redefinition of gender and sexuality to communism itself." conservative author Allie Beth Stuckey (@conservmillen) wrote. "History shows this. It's gross, but it's true."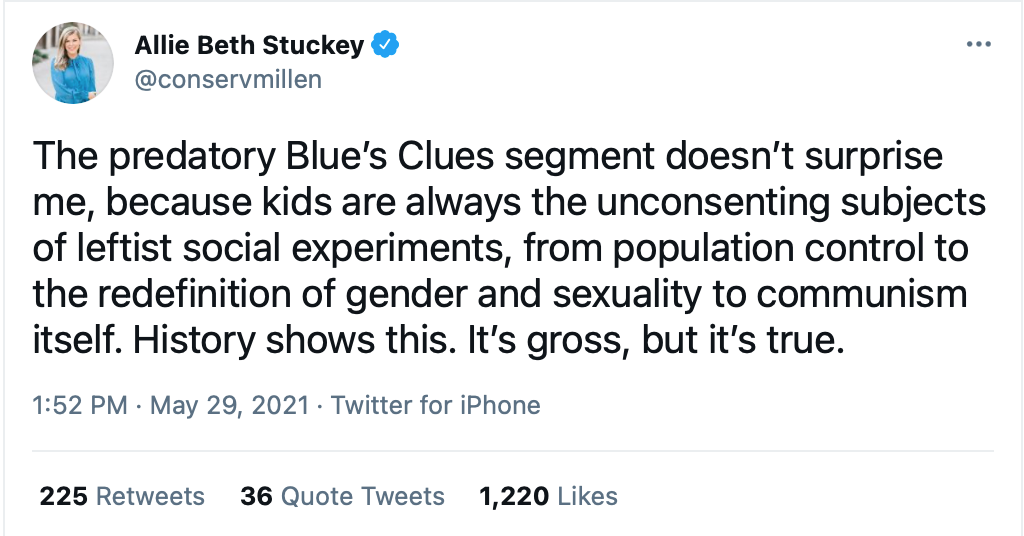 User @antihero_kate wrote that she felt the inclusion of LGBTQ+ content was inappropriate.
"You have a right to mercilessly defend the innocence of your child," @antihero_kate wrote. "Complex adult sexuality is so far off their radar I can only assume it's a flex and demoralization tactic against adults to mention pansexuals on Blue's Clues. A show designed for children under age 5."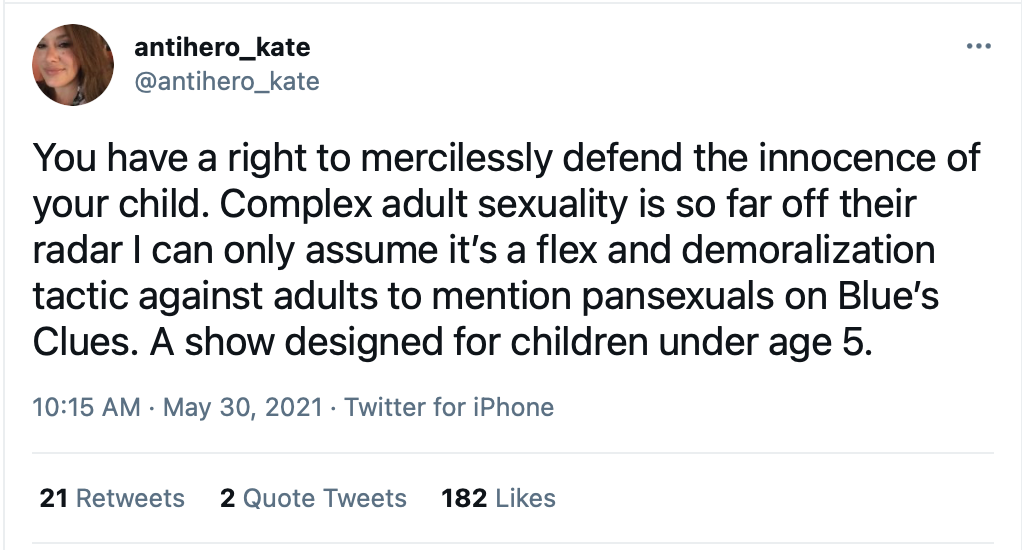 Even so, the experience was still positive for a great many people online who were happy to see the representation of so many different sexualities and gender identities in the sing-along.
"I don't consider myself a member of the LGBTQ+ community, but to see Blue's Clues be so unafraid to talk about the subject and represent LGBTQ+ people in a positive light is nice to see," @AlexJMontes wrote.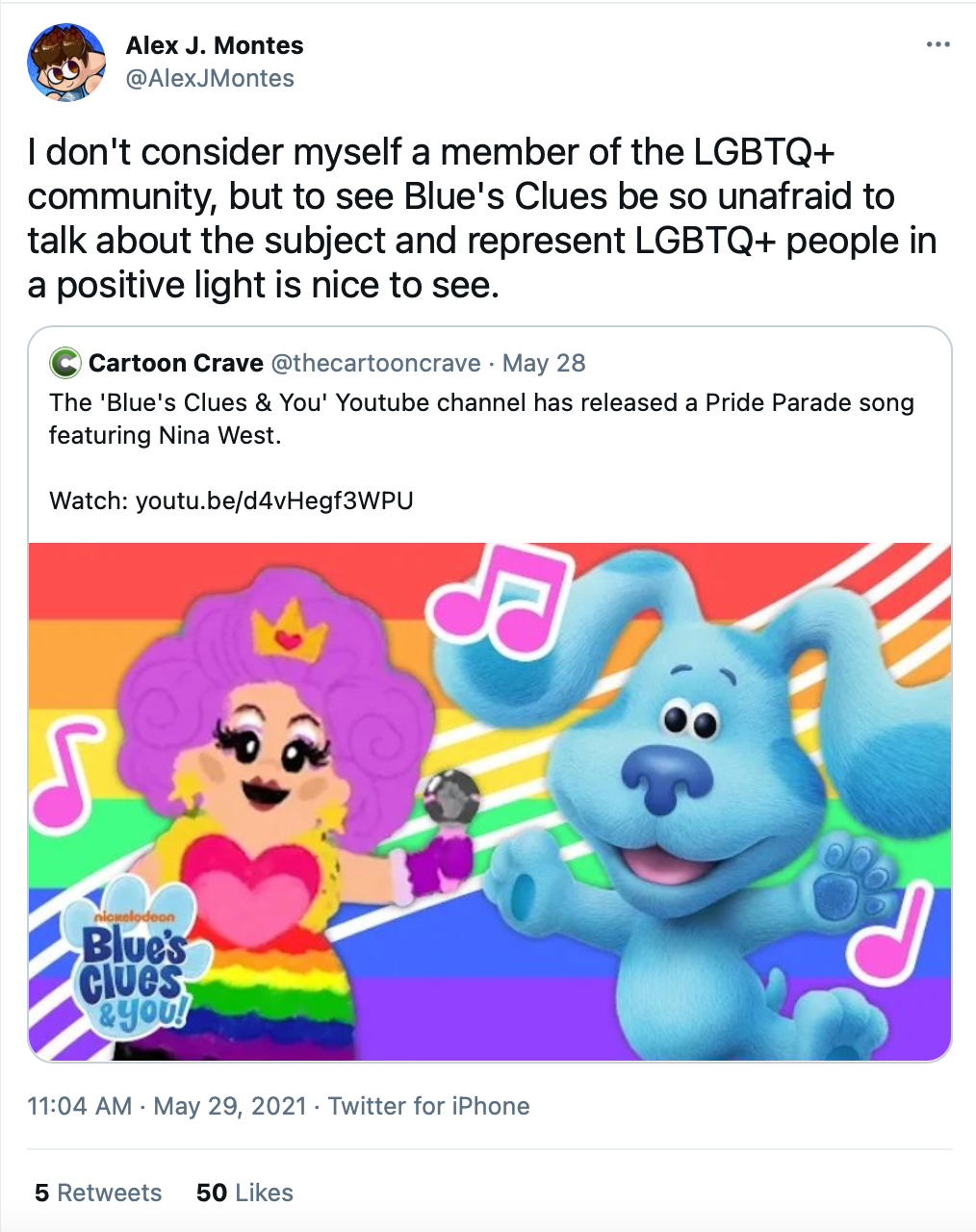 ---
More essential culture reads
---