When Mia McKenzie saw Swagger New York's recent Fashion Week spread, which clad '90s cartoon characters like Lisa Simpson, Sailor Moon, and Daria in designer clothes, she wasn't entirely sold on the product placement:
"When I saw this, the first thing I thought was, Ugh. Lisa Simpson, proud feminist with so much to say about gender roles, body shaming and capitalism, drawn in this hyper-thin, rich girl way? Why, baby Jesus? Why?"
So McKenzie, creator of the queer and trans activist blog Black Girl Dangerous, reimagined Simpson and others as grown-up, modern-day feminists and activists. In collaboration with illustrator Julio Salgado and fellow writers Tina Vasquez and Reyna Wrath, they wrote alternate histories for the cartoon characters of their childhoods. For instance, Daria Morgendorffer and Lisa Simpson both went to Smith College, collaborate on a zine, and share a love for "dismantling the patriarchy."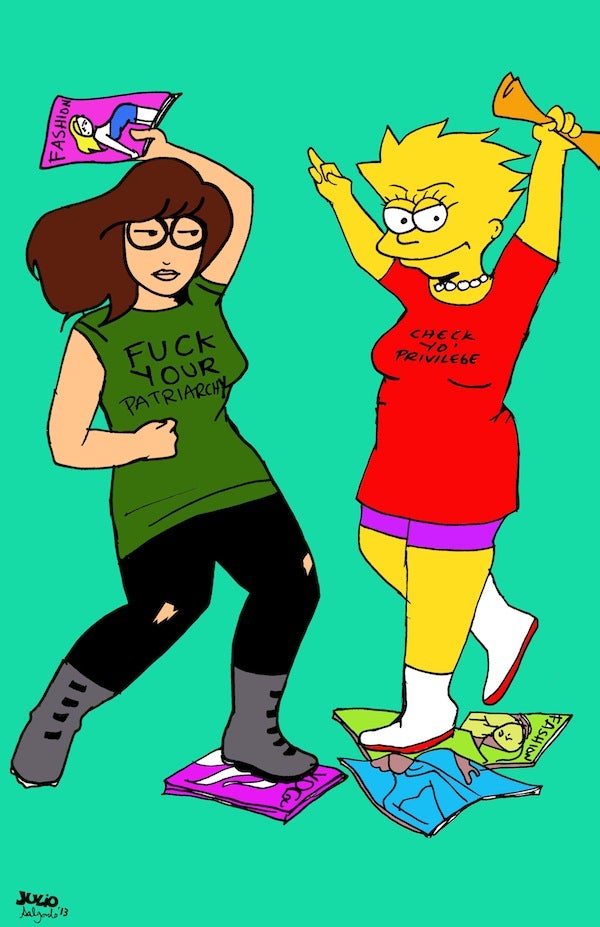 In 2013, Dora the Explorer is tackling body image issues as a "queer, fat, femme activist." She also does queer porn, and appears in a Courtney Trouble series.
Rallo from The Cleveland Show is revised as an Audre Lorde fan; Susie Carmichael from Rugrats is a queer activist and has a Tumblr. (She had a falling out with Angelica Pickles over her "inability to recognize her white privilege," but they made up.) Jazmine DuBois from The Boondocks is a social justice advocate.
It was their way of bucking the product placement trend, McKenzie says, "while also making a point about growing up and becoming who we, and our friends and communities, became."
Photos via Black Girl Dangerous