If you're the kind of person who frets about chemicals and toxins in your moisturizer, maybe it's time to think about what you're using as lubricant gel to lubricate your sex parts. Consider switching to water based lube or other natural lubricants, or more casually referred to as, natural lube.
There's a growing number of bloggers and health experts who are advocating for natural lube. Though what "natural" means is debatable (homemade vs. store-bought, organic vs. FDA-safe chemicals), what you basically want is a lubricant gel or other kind of product that has the healthiest ingredients and the lowest number of ingredients, according to Dr. Madeleine M. Castellanos, aka the Sex MD, who's also a licensed psychiatrist and a professor at NYU.
"You don't want to put synthetic stuff into your very sensitive mucosal membranes because everything gets absorbed through there," she told the Daily Dot. "You want something that's thin that doesn't create a reaction in you."
Though she was speaking of the vagina, the same care should be taken when it comes to the anus. "These tender tissues absorb chemicals and ingredients more easily that our outer skin layer," she says, warning against lubes with mint extracts and "warming" or "numbing" qualities. "The danger with these is that because they make the area less sensitive, it may be more difficult to know if you are engaging in any action that may be causing physical damage," she says. "When the tissues are numb, it's much more difficult to identify irritation or chafing and could put one at risk for tearing if the action gets too rough."
What to avoid in a lubricant gel?
Other ingredients to avoid are glycerine. "Because that's sugar that bacteria can feed on for a yeast infection," she says. Nor do you want a lube with propylene glycol, since that's an ingredient found in antifreeze. Coconut oil is a popular choice among bloggers and naturopaths. But Castellanos points out all oils (coconut, almond) can increase the risk of condom breakage. So only use them if you're not worried about STIs or pregnancy. Also, with oils, "a little goes a long way," she says.
So what natural lube do you use? First off, there are two types of lubes to look for: water-based or silicone-based. Water-based ones are usually more comfortable and less sticky or tacky. (Castellanos says if you turn a lube tub upside down and it doesn't move, add water). But silicone is good for menopausal folks who have general problems with vaginal dryness, on top of needing lubrication during penetration. Silicone is also good for shower sex since it won't wash off easily.
Position, however, doesn't matter much when it comes to water vs. silicone-based lubricant gel. (Though silicone can stain sheets, so keep that in mind). Whether you're going the anal route or doing Cirque du Soleil-Esque acrobatics, lube choice is more about your "physiology and your happiness in using it."
For women, "not everyone has the same lubrication every single day or during every single sexual encounter," says Castellanos. "It could be dehydration, it could be anxiety, it could be expectations the person might or might not see you in a certain way, even allergy medications—all those things could affect lubrication."
In other words, lube isn't just for old ladies and kinksters. Keep lube handy on the nightstand, next to the condoms. Carry a tin of it in your purse. "Do what you can to increase your pleasure—because that's the whole goal," she says.
According to Castellanos, plus blog and Amazon reviews (because, hey, who knows a product better than the customer), here are some the best natural lubes and lubricant gel on the market.
The best natural lubricants
Natural lubricants and natural lube for your sexual pleasure
Sensuva has knocked it out of the park with its many lines of personalized lubricants. Its Natural Water-Based lube has been made especially for those intimate individuals or couples looking to choose a healthy and natural option.
As per the brand, Sensuva says that each of its healthy formulas include a combination of natural, organic, food-grade, eco-cert, and EU Certified ingredients. All its products are also glycerin and paraben free, and pH-Balanced. What I really like about this lube is that it's taken all genders into account.
This was the only package of lube I've seen that mentions penile, anal, and vaginal application. While lube is popular for vaginal sex, it's important to remember that both the penis and the anus are not self-lubricating. So using lube in those areas are imperative and marketing to it normalizes healthy sex practices.
With its entire line of natural lubricants, Sensuva has really shown up and out for the couples and individuals looking for clean pleasure. As for it's standard Natural Water-Based lube, Sensuva has really mastered the art of producing a lube that mimics the natural lubrication. That said, this is a scented lube (and it smells fabulous!). So if you're sensitive to fragrance, you may want to go with a different, unscented option.
Price: $9.14 (regularly $12.28)
---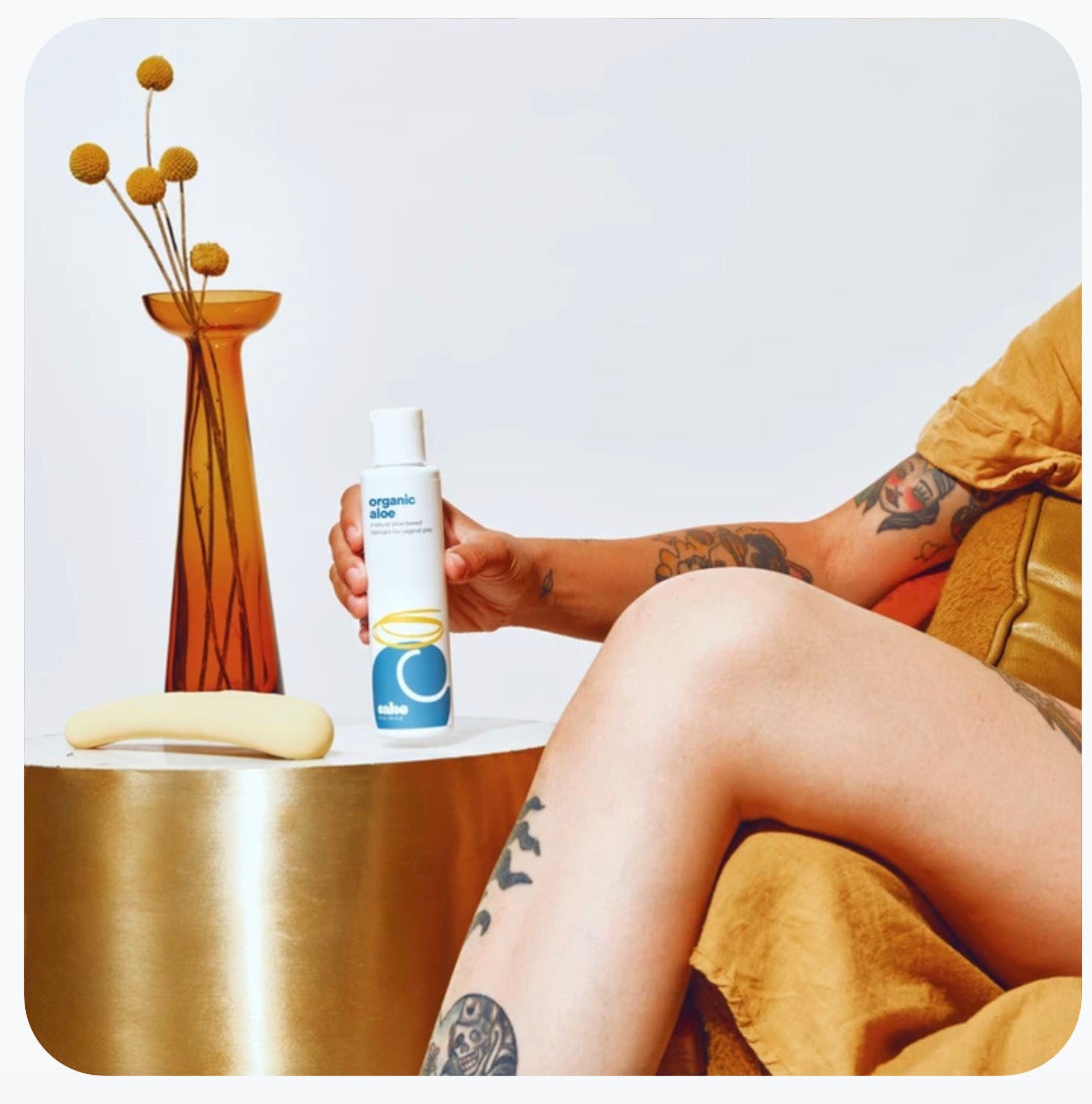 Formulated to be safe for even the most sensitive skin (and toys!), Cake's Organic Aloe lube is everything you'd want from a personal lubricant and so much more. Because it's a hybrid (water and aloe) base, this lubricant will go further and last longer than most other natural lubes. It even goes one step further by including other organic healing ingredients, such as a proprietary blend of mushroom extract, quinoa, hemp, flax, green tea, and oat. And since it's vegan, free from silicone, hormones, gluten, oil, dyes, fragrances, parabens, alcohols, and sulfates, you won't have to worry about irritating your most sensitive parts, breaking condoms, or destroying your favorite sex toy.
Additionally, Cake offers 15% off when you sign up for a subscription.
Price: $24
---
WOO More Play's Organic Coconut Love Oil lubricant is one of my personal favorites for a few reasons. For starters, the company offers pre-portioned lube packages named Quickies that are great for travel and people who never know how much lube they should start with.
The ingredients don't make me want to scream, so you won't have to worry either. WOO Love Oil is free from parabens, petroleum, silicone, and glycerin. It's not sticky and doesn't leave a strange residue behind, either. It's actually formulated to be moisturizing, so it's good for your skin and doubles as a massage oil. Love Oil not only smells amazing, but it tastes pretty damn good too. Yep! This lube is not only body-safe and sex toy safe, but it's also edible. It has a slightly sweet, vanilla flavor, in case you're curious. I know flavor isn't the most important item on your lube must-haves, but it's still a crucial concern! Lube is notorious for finding its way all over the place, so even if you're not trying to eat it, it's gonna end up in your mouth.
While this lube is sex toy safe, it's only to be used with polyurethane and nitrile condoms (as oil breaks down latex).
Price: $25
---
4) Doctor-approved natural lube: Aloe Cadabra
The all-natural aloe-based lubrication is Dr. Castellanos' favorite. It's 95 percent aloe (you know, the plant you use to soothe burns and moisturize your skin), and has also been cleared by the FDA, which isn't the case for most "organic"-labeled products. Other afctive ingredients: vitamin E, xanthan, citric acid, potassium sorbate, and sodium benzoate (both preservatives recognized by the FDA as safe), and organic vanilla planifolia concentrate.
Price: $12.95
---
5) Best lubricant for sex toys: Sliquid H20
This water-based lube has no parabens (preservatives often found in cosmetics that have also been identified in breast tumors) and is 100 percent vegan-friendly, without any flavoring or scents. In other words, its ingredient list is as bare-bones as you can get. Also, with a name like Sliquid, you can already feel the glide. Active ingredients: purified plant water, plant cellulose, Cyamopsis, potassium sorbate, and citric acid.
Price: $9.54
---
6) Best coconut oil-based lube: CocoLube
A brand that specializes in all-natural lubrication, CocoLube is a product for those who care what they put on their bodies. CocoLube is a nontoxic lubricant that's a cruelty-free, edible, and coconut-oil based formula. It's completely free of parabens, glycerin, harsh chemicals, and is completely condom safe.
Price: $9.99-$32.99
---
7) Best natural lube according to Amazon reviewers: Isabel Fay
One of the top sellers on Amazon, this water-based lube is a proven aid for those with partners and those going solo. As one reviewer said, "It made the toys' insert super easy. No issue with friction or anything." Active ingredients: purified water, propanediol, citric acid, hydroxyethylcellulose, hydroxypropyl methylcellulose, potassium sorbate, sodium benzoate, and xanthan gum.
Price: $16.95
---
8) Best natural lube for (post)menopausal people: Organic Glide
This brand not only has minimal ingredients, but it also prides itself on being great for menopausal dryness without being extra thick or sticky. Active ingredients: olus oil, olive fruit oil, argania spinosa kernel oil, and pichia/resveratrol ferment extract.
Price: $21.95
---
9) Best natural lube for promoting hydration and moisture: The Natural
Carrageenan is an effective lubricant made from "ocean plant life" and is one of the more popular natural options available online. Organic aloe, agave inulin, and vitamin E are some of the key added ingredients. It's odorless, comes with a and fragrance-free to avoid any irritation.
Price: $14.99
---
10) Best natural lube with a pump top: Passion Lubes
Passion is a natural water-based lubricant that is free of petrochemical, glycerin, parabens and other bad ingredients. The lubricant doesn't leave a greasy residue and is easy to clean, making it a great and simple option for all your personal needs.
Price: $21.94
---
11) Best pH-balancing lube: Sylk
Sylk is an all-natural, PH-balanced, and eco-friendly lubricant that mimics your body's natural lubricant. It's made with Kiwifruit vine extract that is smooth, moisturizing, and great for those with sensitive skin. The lubricant is condom and toy compatible, so it can be used for any situation.
Price: $11.85
---
For those of you who put hygiene at the top of your lists, the Intimate Earth Defense Protection Glide is most definitely for you.
What's different about this lube? It's been crafted with Carrageenan which is more commonly known as Sea Kelp. Sea Kelp has actually been labeled by the American Cancer Society as a great barrier aid against the HPV virus. Pretty neat stuff!
Additionally, this lube also helps and protects against yeast infections. Which if you haven't had one, consider yourself lucky. Data shows that yeast infections affect around 75% of women. Intimate Earth combats this by formulating with Guava bark extract and Tea Tree oil. Natural remedies for naturally occurring problems! Still not sold on it? Well, its even Latex and condom friendly. This Defense Protection Glide has been packed to the brim with the best for your body. 
Price: $12
---
Castellanos vouches for this silicone-based lube, calling it "very high quality without any noxious chemicals." There are also water-based and flavored varieties. Active ingredients: (the first four are derivatives of silicone) dimethicone, cyclopentasiloxane, dimethiconol, phenyl trimethicone, vanillyl butyl ether, and mentha piperita (peppermint) extract.
Price: $25
---
Editor's note: This article regularly updated for relevance.
Related articles: