Belle Knox, a.k.a. the Duke porn star, has had quite a year since being outed on campus. She's penned a series of viral essays for xoJane, nabbed her own sex-themed reality-TV show (the upcoming Sex Factor), and is doing a prestigious (and controversial) internship for the tube-site behemoth Pornhub. She also recently wrote an op-ed for Time magazine, in which she wrote about losing her financial aid and championed the reduction of college tuition costs.
Although Knox is only 19, over the past few months she's become something of a de facto spokesperson for adult industry issues, passionately advocating for the rights of sex workers all over the world. She's also become a hot button topic in the industry itself. Adult performers have lambasted her for purported opportunism and endorsing porn piracy. We wanted to see if Belle Knox was still the fresh-faced, idealistic, nubile nympho teen we'd come to know and love over the past few months, or if her incredible notoriety had gone to her head. To borrow the parlance of a 1950s screwball comedy, did success spoil Belle Knox?
To find out, we headed to the New York City strip club Headquarters, where Knox was celebrating her 19th birthday with a feature dancing gig. After loading our tummies up with nutrients from frozen pizza and Rolling Rock, we made the trek to West 38th Street between 10th and 11th Avenue, where Knox and her friends were performing. What follows is a no-holds-barred account of our evening of polyamorous libertarian college students, ethnobotanist strippers, MacArthur Genius Grant winners, and of course, Blue Devil boobies.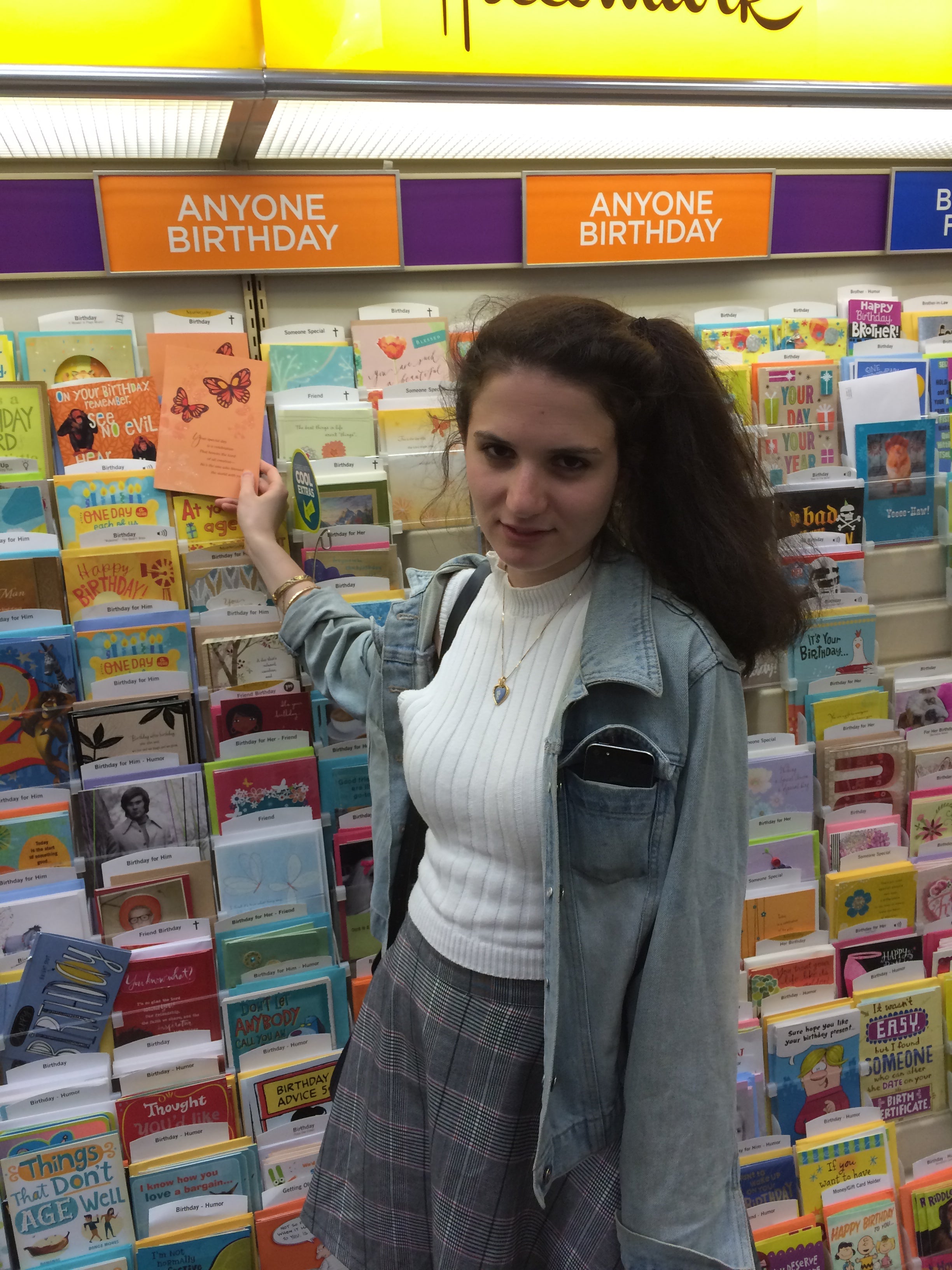 8:40pm
In anticipation of exorbitant alcohol prices at Headquarters, we meet at a dive bar near the club that offers cheap beers and free hot dogs. EJ enjoys her free hot dog while I ask for just a bun, which elicits the awkward reactions you would expect.
9:04pm
Not wanting to arrive empty-handed, we stop at CVS to buy a birthday card for Belle. We settle on a card from Hallmark's "Mahogany" line, which appears to be marketed to religious African-Americans. The perfect choice for a white 19-year-old porn star's birthday.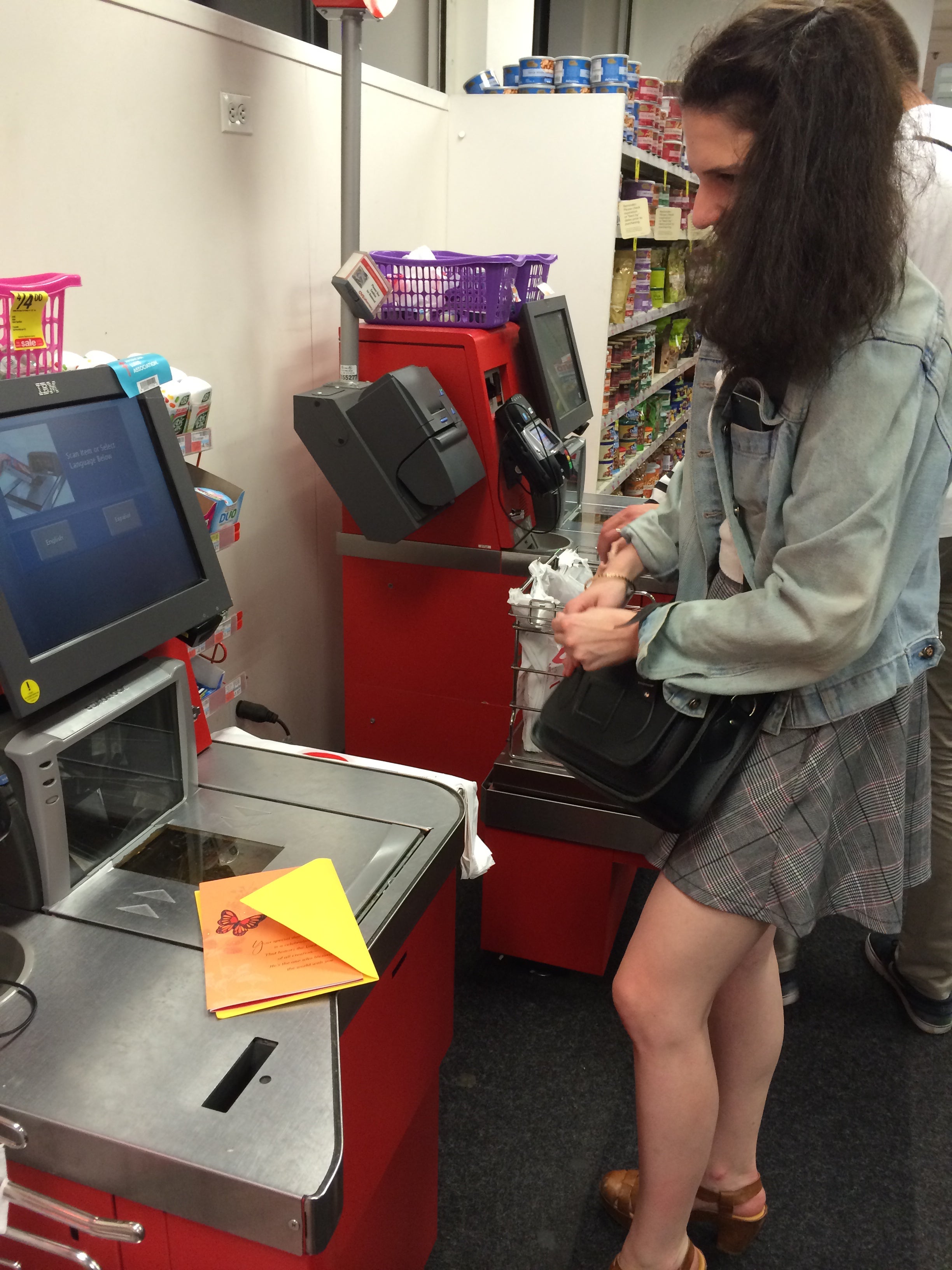 9:19pm
We arrive at Headquarters gentlemen's club, located in an bizarre industrial hinterland on the far west side of midtown Manhattan next to a place where they clean horse carriages. We tell the bouncer we're press as he checks our IDs. He responds that we look too young to be in media. Ha ha.
9:24pm
The strip club is dimly lit and draped in red velvet. Contrary to Belle's first performance at Headquarters, the event is sparsely attended; the seating area is only about a quarter full. Perhaps Belle's star had faded somewhat in the months following her debut?
After an initial assessment of the situation, I head to the bathroom and EJ makes her way to the bar. Like a low-budget Duane Reade, the men's room is stocked with every conceivable toiletry, including at least eight different types of mouthwash, shaving cream, mousse, and Band-Aids. I take a selfie to commemorate the perplexing assortment and rejoin EJ at the bar.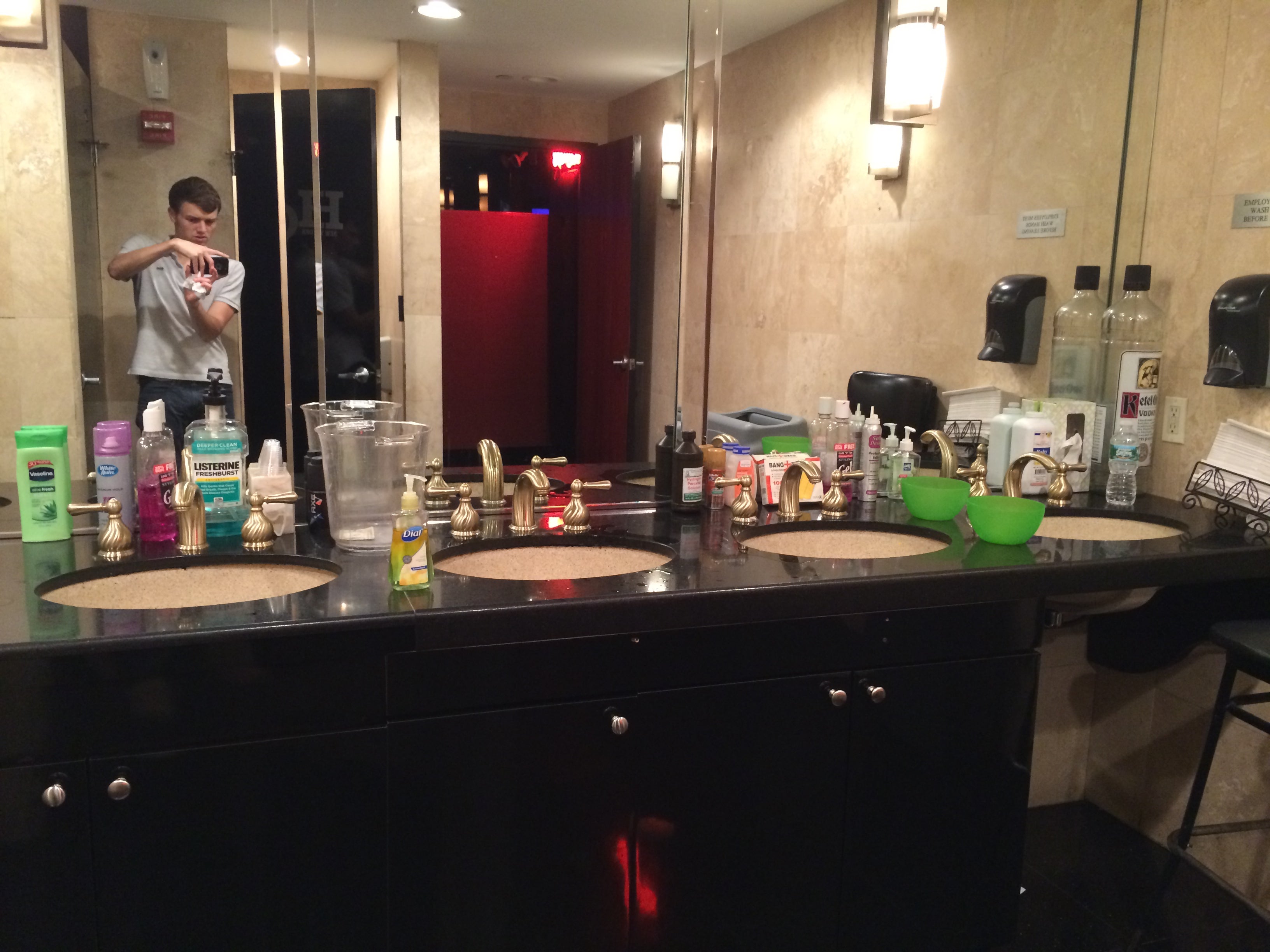 9:27pm
The girl of the night, Belle Knox, is spotted at the other end of the bar in a red, body-hugging bandage dress, looking lithe and gorgeous. She's in the middle of a conversation, so we decide to wait for a more opportune time to say hello.
9:33pm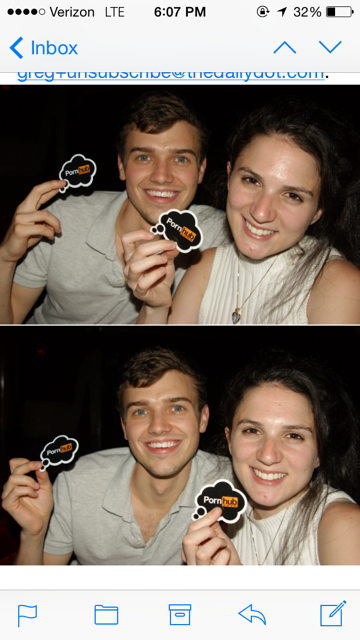 We meet Vicky, the bartender, who's outfitted in a Pornhub tank top. (There are Pornhub coasters everywhere, too.)
After three attempts at ordering common cocktails, we settle on vodka sodas given her lack of mixology knowledge. What she lacks in bartending, she makes up for in sweetness. She offers to take an $18 shot of coffee-infused tequila with us. We politely decline.
9:41pm
EJ introduces herself to Ted, a freelance photographer who worked formerly worked for Penthouse before being laid off last year. He graduated from John Marshall law school in Atlanta in the '70s, and currently works in the gardening section of a New Jersey Home Depot. We part ways with Ted and his bushy white moustache in exchange for seats closer to the stage.
9:46pm
As we enjoy the seductive dancing of some of Headquarters's finest ladies, we happen upon Adam and Jonathan. Adam, a recent graduate, is lounging in a three-piece suit and smoking an e-pipe, a large umbrella nestled beside him because he "doesn't trust weathermen." He's joined by his friend, Jonathan, a libertarian who works with Bitcoin and brought Belle a copy of Ayn Rand's The Fountainhead for her birthday.
Look what a fan brought me tonight!! I seriously have the sweetest fans. pic.twitter.com/6xdbPyYyBx

— Belle Knox (@belle_knox) June 18, 2014
9:51pm
EJ wanders off to refresh her drink as I convene with Adam and Jonathan. Jonathan confides that their friendship was forged when Adam announced to his class that he was dating a porn star. Adam confirms he is indeed in a polyamorous relationship with an adult performer, whom he met on OkCupid. They bonded over a love of geekdom and kink. Jonathan is working on a cryptocurrency named after Game of Thrones.
9:53pm
EJ parlays with Lainie Speiser, Belle's convivial, publicist, and her friend, the journalist and 2006 MacArthur Genius Grant winner Adrian Nicole LeBlanc, who wrote one of EJ's all-time favorite books, Random Family. There are about 65 million questions EJ would like to ask her, but they mostly just talk about stand-up comedians and how dumb Twitter is. 
10:09pm
We make our way into the VIP booth off the side of the stage where we finally get our long-awaited opportunity to hold court with Belle. A plate of onion rings arrives as we settle into the booth, redeeming EJ's semi-unfortunate past experience at Headquarters. It involved a lack of chicken wings at a Super Bowl party hosted by Lisa Ann.
10:13pm
We exchange a few pleasantries and finally present Belle with her birthday card, which we signed at the bar (thanks to Vicky, who graciously lent us a pen). She laughs at the card's religious birthday wishes, asking us if we're religious. She tells us she was raised Catholic as she hands the card to a stoic male assistant, a friend from high school, whom she refers to as her "roadie."
10:15pm
Belle and I bond over a love of Bravo's Real Housewives franchise. She tells me she loves Atlanta and Nene Leakes. I selfishly snack on the onion rings brought to fortify her for her first dance of the night.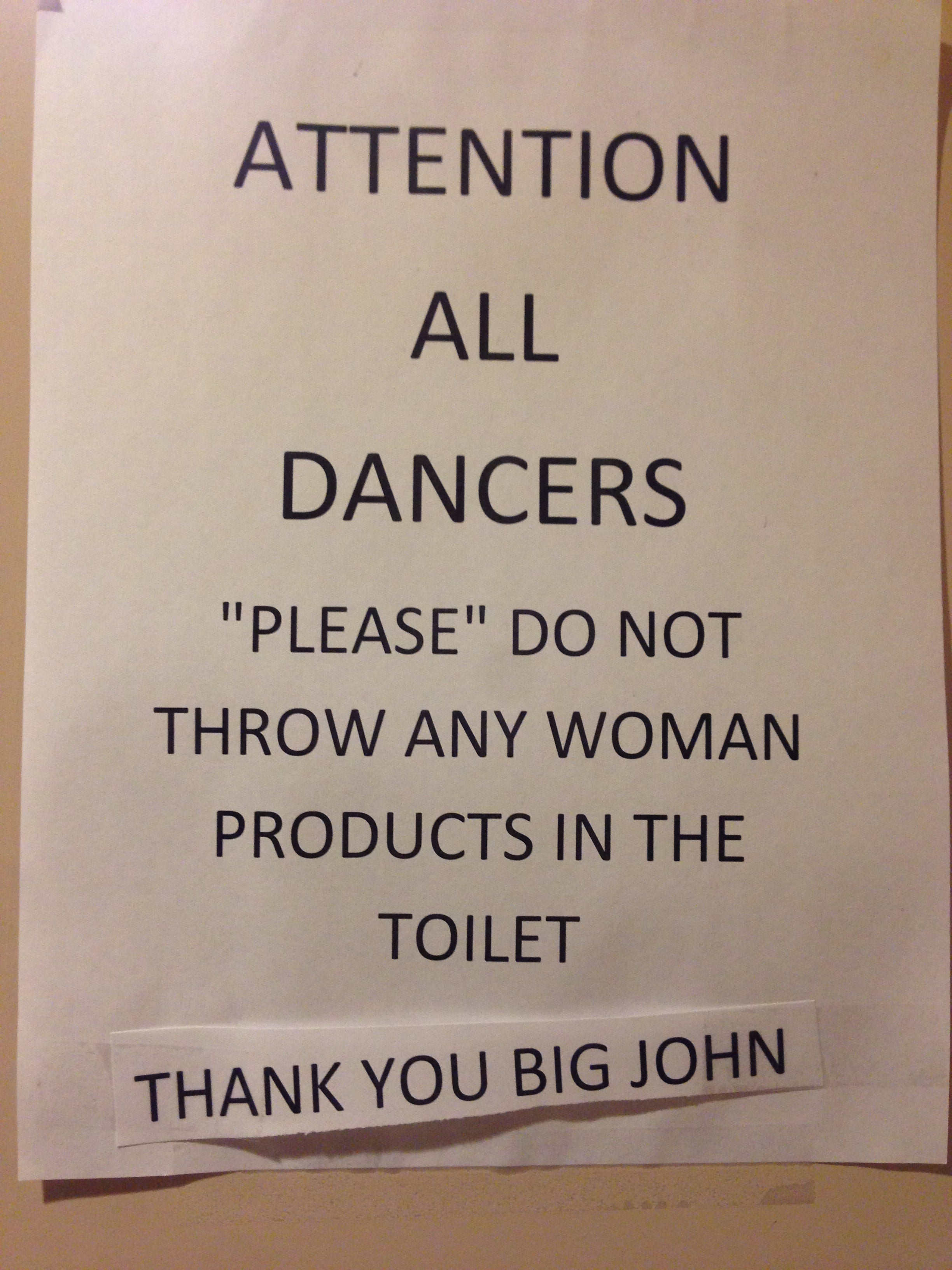 10:22pm
Belle is whisked away to prepare for the first of two dances she'll be performing. A new group enters the booth, including sex-and-relationship expert Emily Morse, of Sex With Emily fame, and male burlesque performer and gay-porn star Chris Harder. Always gracious, EJ goes off to fetch Emily a glass of wine while Chris and I discuss his go-go boy gigs. I tell him it's my first time at a strip club, and he tells me this is one of the nicer establishments. He uses the phrase "family-owned," referring to Headquarters. That's an usual descriptor, I respond, one typically reserved for bowling alleys. "Or Italian restaurants!" he says. He leaves for a dancing gig, but kindly invites me to see him perform one night. 
10:32pm
I find EJ at the bar saddled up to her new best friend, Shai, a curly-haired performer at Headquarters. She's unfailingly friendly. She beams as she tells us about her 3-year-old son, named after the singer Prince, to whom she reads comic books every night. He loves Spider-Man and Iron Man and she has an interest in ethnobotany. She discusses the current season of Orange Is the New Black with me, careful to sidestep possible spoilers.
The three of us watch Belle's first performance from the bar. She begins her dance a bit awkward at first, but soon hits her stride. Cameras flash at her ankles.
10:39pm
Belle finds her way over to the bar shortly after, where she receives plaudits from an excited Adam and Jonathan. Jonathan demonstrates his upper-body strength and pole skills in hopes of impressing Belle, but instead gets reprimanded by security.
10:46pm
Shai announces she's going outside to smoke menthols. EJ rushes out after her because, even though she quit smoking a year ago, she really wants Shai to like her and be her friend. (Peer pressure doesn't end with high school, apparently.) I finally get my long-awaited one-on-one time with Belle. We perch on a ledge near the red carpet and talk about her birthday.
Born a Gemini, Belle says she definitely identifies with the spontaneity that comes with her sign. She's anti-birthday-clown, but enjoys balloon animals. Her favorite is a giraffe. When it comes to cake, only lemon with a generous heaping of chocolate icing will suffice.
She counts her happiest birthday memory as celebrating her 17th with her boyfriend at a music festival, which involved a Wiz Khalifa performance and a couple's massage. Her favorite gift? A customized pink collar, gifted by a fan in honor of her 19th year. Before she turns 20, she wants to be in a higher income bracket. Money is a tough subject. She recently lost her financial aid at Duke. 
A fan bought me a custom collar and omg I love it so much!!!! pic.twitter.com/1OpMG6NnR9

— Belle Knox (@belle_knox) June 14, 2014
10:58pm
EJ rejoins us inside. The three of us head back towards the VIP booth to say our goodbyes and snap a picture with Belle to commemorate the evening. But before we can leave, EJ strikes up a conversation with a Jamaican photographer who goes by J-Lingo. His passion for the job comes from getting to shoot beautiful women for a living. "Right, but you don't get to have sex with them," EJ insists. Au contraire! J-Lingo opens his phone and shows us a few photos of him getting fellated by a fairly well-known porn star. 
11:04pm
J-Lingo enlightens EJ with a sophisticated explanation of how to tell if strippers have real boobs. "The key is when they put their arms down, and the skin kinda bunches up at the sides," he says. I speak with Belle about her current career trajectory. She tells me she's balancing an internship at Pornhub with a slew of hosting gigs and a lineup of performances and appearances this summer. She's enjoying her current women's studies major, but is considering minoring in political science as well. She tells me about her upcoming lesbian film with Lisa Ann.
11:10pm
J-Lingo takes a photo of EJ and me with the Belle of the ball. After the second attempt, we get a keeper. Although Belle is dancing one more time tonight, we're simply too tired to stick around. She seems pretty tired too; she's flying back home to Washington in the morning. We say our goodbyes and thanks for a lovely night at Headquarters, with hopes of seeing Belle and her crew soon.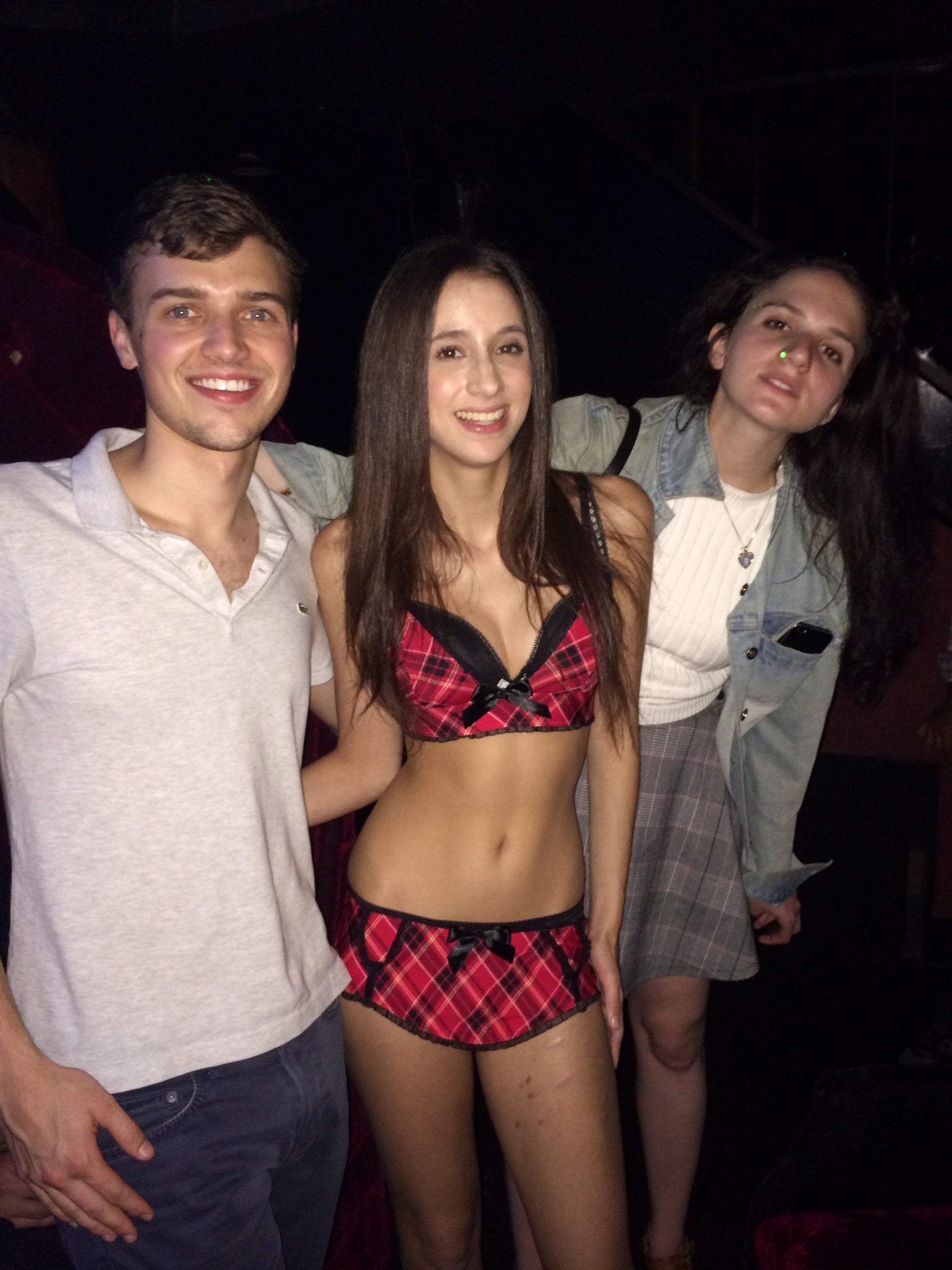 11:13pm
As we exit, we see the bouncer chatting with the driver for the talent at the club. EJ asks if he'll drive her home, to which she gets an unexpected yes. She turns him down, and we stumble back toward civilization, soaking in the night that was Belle Knox's 19th birthday. 
Additonal reporting by EJ Dickson