"What I did today was go out shopping to get a cardigan sweater to wear to church on Easter. I wanted to share it with you and model it for you a little bit," Nica Noelle whispers softly into the camera. She's a woman who looks to be in her late-30s, early-40s, with frizzy light brown hair and nanny glasses. In her half-buttoned pastel pink cardigan, which fits tightly around her large breasts, she looks like a bit like a receptionist after one too many drinks at the office Christmas party.
While gazing at the camera, Nica starts massaging her breasts, unbuttoning the shirt just enough to reveal the tops of her nipples. "As you can see it's a very pastel kind of color," she says, still whispering. "It's very feminine, very soft. I think it's a… cotton blend of some kind." While watching the video, I sure as hell wasn't wondering about the fabric, and I don't think anyone else was either.
If someone walked by my laptop while I was watching this and saw it without the sound on, they would probably guess that I was watching POV (point of view) porn. But if I minimized the video and turned up the sound, they'd probably guess it was ASMR (Autonomous Sensory Meridian Response), a subgenre of YouTube videos that feature soft-speaking, tapping, scratching, and people performing menial tasks like folding clothes or putting on makeup in the hopes of triggering "braingasms," or a pleasurable, tingling sensation in the head and neck.
As it turns out, they'd be right on both counts. Nica Noelle is a veteran porn director and performer turned ASMRtist, who is pioneering what she calls erotic ASMR. She has a DailyMotion channel, WhispersOnNet (NSFW), and is working with the porn website HotMovies to produce her own erotic ASMR category, featuring POV clips starring such performers as Sinn Sage, Siri, and Magdalene St. Michaels, which will feature performers whispering sweet nothings in the viewer's ear while performing various sexual acts.
Nica has been interested in doing erotic ASMR since she first stumbled on the community a few years ago. Her project, she tells me, is twofold: She wants to fuse the basic principles of ASMR with traditional POV porn, but she also wants to make the relationship between the viewer and performer more intimate; she wants to turn the viewer on, but she also wants them to feel nurtured, cared for, needed. In short, Nica is trying to capture a feeling that no other porn director has ever tried to replicate before: Love.
"Erotic ASMR is a special kind of porn that promotes a feeling of relaxation and of being nurtured and cared for," Nica tells me. "It's not the harsh, impersonal stimulation of traditional POV porn. There's no dirty trash talk or harsh imagery; I'm telling you I love you and that you're beautiful [and I'm] talking to you about sweet, gentle things."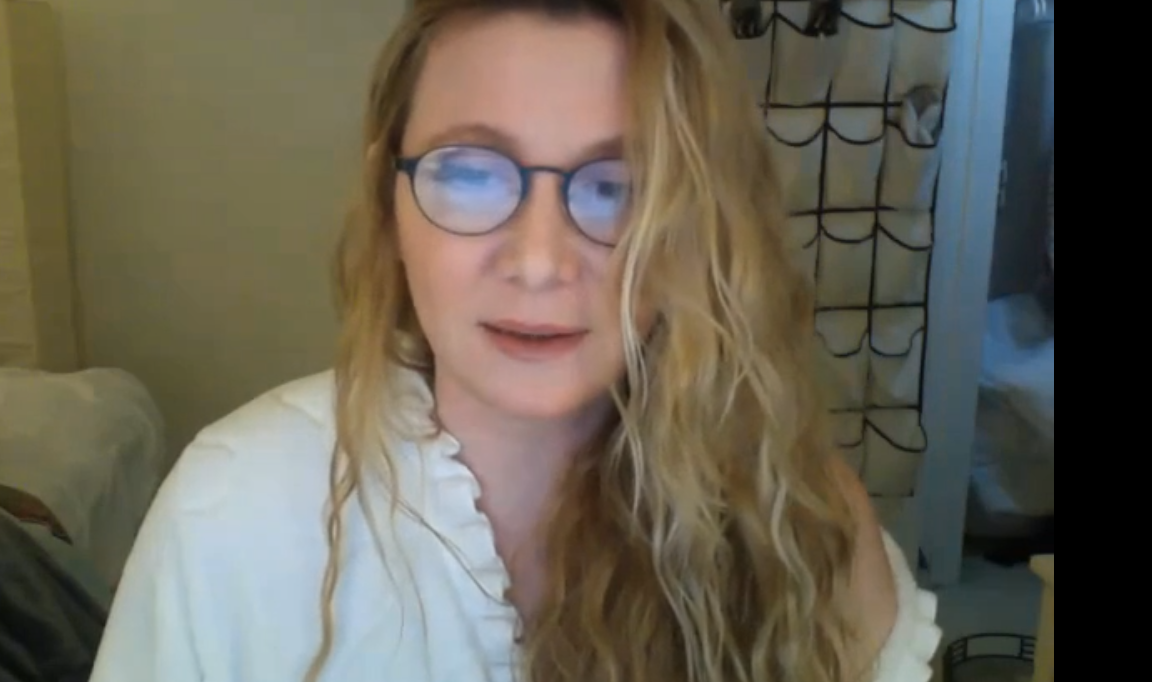 Screengrab via WhispersonNet/DailyMotion
It's a huge departure from traditional low-budget POV porn, which generally features straw-haired young women in harsh lighting, spreading their legs and talking about how much they want to suck your cock. But as the porn industry has increasingly shifted from a prerecorded content model to more interactive services—camming, custom clips, etc.—Nica suspects viewers are looking for a more interactive and more intimate experience.
"ASMR to me really has to do with love and positive attention and positive feelings," she tells me. I think porn needs those things." But it's unclear if the porn world and the ASMR community feel the same way.
Like many people who experience ASMR, Nica first experienced "brain tingles" when she was in kindergarten, during class reading time—"well before I had any sexual feelings, so it wasn't erotic at all." Four years ago, she came across the whisper community on YouTube, and was instantly entranced by the bizarre, esoteric videos of men and women folding laundry while speaking in soft voices. But she didn't feel like ASMR was remotely erotic until she stumbled on a video of a woman whispering while the camera focused on her hands moving in a "deliberate, melodic, flowing way."
"I felt super turned on and I had no idea why," Nica remembers. "That was the first time I ever thought of ASMR as possibly being erotic and it was a revelation for me." The video made Nica start thinking about whether this ostensibly non-sexual stimulus could actually stir feelings of sexual arousal, and she started researching the phenomenon of ASMR-induced "brain tingles."
The truth is, no one knows what causes ASMR, let alone the people who experience it themselves. Since the phenomenon first popped up on a bunch of health forum threads with titles like "Weird Sensation Feels Good," ASMR has become a legitimate meme, spawning a subreddit with 87,000 subscribers and dozens of Facebook pages. Yet the idea that a select group of people get "brain tingles" from a specific set of stimuli has baffled researchers familiar with the phenomenon.
Bryson Lochte, a former Dartmouth student who did his senior neuroscience project on ASMR, says the closest comparison to the sensation is frisson, or the "chills" you feel when listening to a piece of music. Both frisson and ASMR "seem to be triggered by auditory and visual stimuli that may cause a somatosensory response like tingling or chills," he told me when I spoke to him back in 2013. But unlike frisson, which is not all that pleasurable and seems to be triggered by a specific neural pathway, ASMR is "a broad response. It's more tingly, warm, not as acute."
If you've seen ASMR videos on YouTube, you know it's also more likely to be perceived as sexual: Many of the videos feature young, attractive Caucasian women in their early 20s, gazing sensually at the viewer and breathing heavily into a microphone. It doesn't take a great deal of imagination to perceive ASMR as a fetish, which is what most media outlets have categorized it as. The abundance of sexually charged comments and messages ASMRtists receive does little to detract from this impression.
"Three days ago, I got a penis picture from a guy saying he jerked off to my videos," WaterWhispersIlse, a popular ASMRtist with more than 134,000 subscribers, told me. "I told him 'I'm happy you're enjoying yourself with my videos, but please keep it to yourself because it is not my intention to make you feel that way.'"
To a certain extent, this sort of response is to be expected: Ilse is an attractive young woman on the Internet, so it's inevitable that she'll attract her fair share of creepsters. But because ASMR is a growing subculture, most ASMRtists categorically refute the notion that the sensation is even remotely erotic, and are extremely defensive if you suggest otherwise.
"There [are] certain people in the community that seem to feel the need to try and control the trend of ASMR and make sure it stays non-sexualised to keep a healthy media portrayal of it," another ASMRtist, DannyDocile, tells me. Ilse says that much of the concern stems from attractive female YouTubers like herself being sexualized and harassed by viewers online, despite the fact that most ASMRtists don't intend for their videos to be sexual. "People are afraid the ASMR community will be represented as sexual as a whole."  
You can see a lot of these concerns in a Reddit thread for one of Nica's videos, "Explaining Erotic ASMR," which she initially posted as sort of a mission statement for her now-defunct Vimeo channel. "ASMRtists have enough trouble with abusive comments," one person wrote. "Having porn in this sub would attract a heap of people who just want to get off and do nothing for the majority of people who are here for relaxation."
One well-known ASMRtist, HeatherFeather, also took issue with Nica's view of erotic ASMR. "I can't control what people do with my content. I can't control if they get off to it, I can't control if they mock it, and I can't control if they imagine some emotional connection with me," she wrote. "But when there are people out there saying 'People make ASMR videos for you to feel loved, and have a personal emotional connection,' it gives the green light to certain people to become unhealthily attached to content creators."
To a certain extent, it's understandable why HeatherFeather is concerned about ASMR-tists "giving the green light" to male viewers to sexualize ASMR. After all, if the ASMR party line is that it's not intended to be sexual, Nica's channel, which features her massaging her breasts and speaking in low, seductive tones, doesn't necessarily support that view point. In some ways, the debate over whether erotic ASMRtists like Nica reflect poorly on the ASMR community at large is similar to the debate over "reply girl" syndrome, and whether female YouTubers who wear low-cut tops and behave in a sexualized manner are making other women on YouTube "look bad." On one hand, if you have a wireless connection and a YouTube channel, you have the right to dress and behave in whatever fashion you please; on the other, there's definitely a grain of truth to the idea that if one woman goes on camera, massages her breasts, and speaks in a soft, sensual voice to the camera, other women on YouTube will implicitly be expected to do the same. 
Nica doesn't have any patience with the argument that her erotic ASMR work makes mainstream ASMR-tists "look bad," or invites male viewers to give them unwanted sexual attention. "It's very simple: If you don't want to add a sexual component to your artistic expression, then don't," she says. But she admits she was shocked by the backlash she received for her erotic ASMR channel, though she says she anticipated it to a certain extent.
"Many ASMRtists are already on the defensive about being viewed as doing something dirty or creepy, when actually they feel ASMR is a pure, almost childlike artistic expression; the antithesis of porn," she told me via email. "I can see why someone who makes videos of themselves clipping coupons or shining shoes doesn't want to be viewed as a pornographer."
Despite her understanding, she was particularly hurt by one message she received from GentleWhispering, a.k.a. Maria, a YouTuber with more than 280,000 subscribers who is widely considered the doyenne of the ASMR community. In her message, Maria wrote that Nica's work "was gonna bring a lot of discord to the community, that it would embarrass the community," Nica told me. "She sounded truly panic-stricken and, franky, hysterical." (Maria, who did not respond to requests for comment for this article, allegedly herself recorded an erotic ASMR video, a "soft-spoken erotic visualization," earlier on in her career. Although she reportedly later deleted the video from her channel, there are numerous anonymous uploads of the clip and the voice sounds exactly like hers; it now lingers on as something of an urban legend in the ASMR community.)
Like most members of the ASMR community, Nica says she is a huge fan of Maria's work, which made her ominous message all the more hurtful. But Nica is steadfast in her belief that eroticizing ASMR isn't the same as perverting it, or bringing discord to the community. In fact, she sees the growing divide between erotic and non-erotic ASMRtists as an issue of cultural politics.
"When a 'community' develops, so do group politics, and a belief that the community owns the artistic expression and thus has the power to denounce or exclude anyone who doesn't subscribe to those politics," she told me. "Non-erotic ASMRtists need to understand that they don't have a right to tell Erotic ASMRtists that they're ruining the art, or misrepresenting the art. You do your thing, I'll do mine.
"This is the Internet, and you can't control what people are going to find erotic," she adds. "Even if you're doing something completely non-erotic, someone is going to find it sexy."
Waiting for the neighbors child to stop SCREAMING so I can make my RELAXING EROTIC ASMR VIDEOS!!! AAAARGHH! pic.twitter.com/QRUOXTpduK

— NicaNoelle (@NicaNoelleNews) April 19, 2014
Although the ASMR community might have a vested interest in portraying ASMR as wholly asexual, Nica is far from the first person to untap its potential as an erotic medium. There are dozens of videos labeled "erotic ASMR" on YouTube, from "erotic whisper—sexy ASMR" to "Hot flirty and sexy whissspering."
The sheer volume of erotic ASMR on the Internet indicates to DannyDocile that "quite a lot [of people in the ASMR community] are quietly interested" in erotic ASMR, regardless of how vociferously they might publicly come out against it. There's even an entire subreddit devoted to erotic ASMR called r/nsfwamr, which has more than 10,000 subscribers and features a mix of porn clips with unintentional ASMR triggers and straightforward ASMR videos, whether they're intended to be erotic or not.
In short, there's an awful lot of overlap between erotic and non-erotic ASMR, and because we know so little about the neurological roots of it in general (or whether it has any neurological basis at all, for that matter), the distinction between the two often comes down to the viewer's subjective experience of whether or not they find it sexy, regardless of the creators' intentions. The issue of having little to no creative control over how their final product is perceived is one most artists struggle with, regardless of their field. But it's one that's particularly relevant to ASMRtists, in part because ASMR is so new and so widely misunderstood.
Ilse has a relatively progressive view of this issue by acknowledging that she has little to no control over whether her content will be perceived as sexual.
"There are so many people in the community who want to control what ASMR is, who say, 'because I feel it like this, everyone should feel it like this.' That's nonsense, in my opinion. If people interpret ASMR videos in a sexual way, then it is sexual for them," she tells me. "Bob Ross [the PBS painter widely considered the patron saint of ASMR] didn't intend to make ASMR, but everyone defined it that way. What would he say about that? Would he say, 'oh, that's not ASMR, because I didn't mean it that way?' The border is very thin between the intention and what you make of it."
Even those who have previously come out against erotic ASMR appear to be coming around to the idea. A few months after I first spoke to her, Nica emailed me saying she had two bits of news: That the porn website HotMovies had agreed to host her erotic ASMR videos, and that she had received a contrite message from none other than Maria Gentlewhispering herself, apologizing for the "panic-stricken" message she had sent her a year ago.
"She said, 'I changed my mind about it, because I've spoken to a lot of people in the ASMR community and a lot of people who listen to ASMR. I've always felt there was a sexual connection but I didn't want to get in trouble for saying that. Now that I know that so many people feel it, I think it's beautiful and shouldn't be thought of as dirty.'"
As she talks about her new HotMovies project, which will likely feature "erotic ASMR" as a new fetish category, it seems that Nica's general artistic project has switched focus somewhat: Instead of trying to convince the ASMR community at large that sexualizing brain tingles isn't dirty or bad, she wants to convince porn viewers that porn isn't necessarily dirty or bad, that it can be loving and intimate and nurturing and highly erotic, all at the same time. Put another way, she's transitioned from trying to apply porn principles to ASMR, to applying ASMR principles to porn.
Dee Viant, a member of the marketing team at HotMovies, says while she doesn't think every viewer will necessarily "get" Nica's brand of ASMR-infused porn, she suspects it will soon have "a loyal legion of followers." "I envision ASMR being incorporated into porn in that there seems to be a direct connection to sensual exploration, pleasure, and ASMR," she told me via e-mail. "[…] I think it would be strange if the erotic potential wasn't explored. It seems like a natural connection."
If the effusive emails Nica has received from her subscribers are any indication, it's not hard to imagine this project being successful. "I've been emotionally sad and inadequate. But your ASMR videos are very stimulating and erotic. I get caught up in the emotion and I feel a sensual relaxation that makes my day better," one fan writes. Another says: "I am very sexually repressed and uncomfortable with sexuality in general…[but] Your calming voice and nature make the erotic aspect of the videos seem so natural that I didn't feel any of the usual shame or nervousness that I usually feel when confronted with my own sexuality."
It's clear these people don't care whether ASMR is classified as a fetish or not; some of them don't even know what ASMR is. They're just looking for a few minutes of gentle whispering or soft-speaking to silence the endlessly self-refreshing feeds of fear and self-doubt and loneliness in their heads; they just want to watch a woman stare lovingly into their eyes and feel, for a few minutes, like someone else is thinking about and talking directly to them. And this feeling of intimacy is something that's been sorely absent from traditional porn.
"Sure, a lot of people want to watch a sloppy blowjob or an anal fuck, but I also think there are fans who develop connections to performers," Dee says. "ASMR may offer something that feels more personal."
Whether you call it porn or ASMR or a combination of those things, that's the feeling that Nica wants to bring to her work. "Sexual expression, sexual stimulation, orgasm, sexual desire—these are not dirty concepts. These are not evil things. These are beautiful things," she says. "I think by introducing the principles of ASMR to porn, we can start to approach sexual desire in a more fulfilling, gentle, beautiful way."
Correction: Dee Viant is a member of the marketing team at HotMovies, not a producer.
Screenshot via DonnaASMR/YouTube