A TikTok video pointing out the rise in hate crimes against Asian people sparked outrage for comparing the attacks to the Black Lives Matter movement. 
"You were there for BLM. Is it because this shit ain't trending?" the TikToker says.
Asian Americans have seen a spike in hate and violence incidents since the start of the pandemic. New York Police Department data found that anti-Asian motivated hate crimes increased by 1,900% in 2020, which includes attacks on Asian-owned businesses.
TikToker @lilclaydo started out a video addressing members of the Asian community who have been silent about the rise in Asian hate crimes and violence.
"To all my Asians not spreading awareness about the Asian hate crimes going on, where y'all at? Where did y'all go?" the user says.
However, people online objected to his inclusion of the Black Lives Matter movement, saying it perpetuates anti-Blackness and unhelpful comparisons of racism between the Black and Asian-American and Pacific Islander community. The video received more than 250,000 views and 11,000 comments in six days.
Hana Yim, or @bokuto.png on TikTok, made a video in response and asked @lilclaydo to take the video down and do better.
"It's unacceptable and disrespectful," Yim said. "When you create a video comparing what's happening now and what's been happening the past year with BLM, you create a breeding ground for tension and racism to surface between the Asian and Black community."
Yimi said it's more effective to raise awareness for Asian hate by amplifying the voices in the AAPI community.
"What you can do to help is boost the videos of creators that are talking about this," Yim said. "Because the voices of the Asian community, they're the most important right now. They're the ones that need to be prioritized."
Others on TikTok agreed and said @lilclaydo should provide links to resources and petitions if he wants to raise awareness about anti-Asian violence.
"What are you doing?..not even giving us links or petitions to sign," @executeyourself0k commented. "You probably don't even care only wanted to complain about BLM."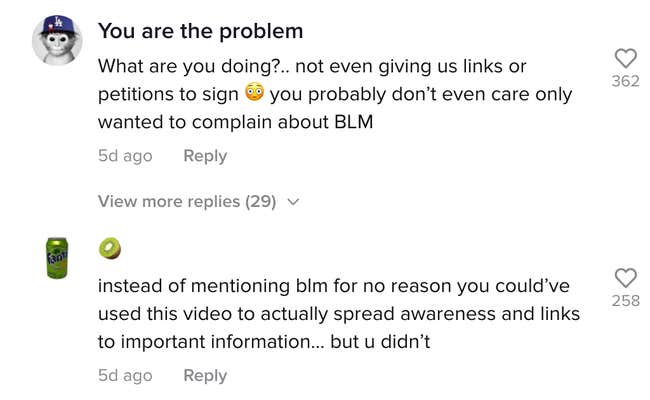 The original video also circulated on Twitter and received more than 1 million views. Twitter users questioned the relevancy of the Black Lives Matter movement to @lilclaydo's argument, linking GIFs and memes in their comments.
"We can't never just sit in peace," @zackwithnocody commented. "We always getting mentioned."
Others said @lilclayd's argument was even more problematic because of his use of a "blaccent," or African American vernacular English. 
"Why do we gotta be in everybody mouff??" user @MorbiusMistress commented. "And mind you, he using AAVE."
The video is part of the ongoing discussions in both the Asian and Black community about calls for solidarity between the communities against racism.
Sue Yun, a digital creator on Instagram, created a graphic that said, "Don't use anti-Asian hate crimes as an excuse to push anti-Black racism."
"Several suspects in recent anti-Asian hate crimes have been Black men, but it is absolutely abhorrent to generalize the entire Black community and further pit our two communities against each other," Yun wrote. "You cannot fight racism with racism."
TikToker @lilclaydo could not be reached by the Daily Dot for a comment.