A local Black-owned café is receiving an influx in business after Ariana Grande shared her support for it on Instagram. 
The South LA Cafe, which is located in Los Angeles, California, was founded by Celia and Joe Ward-Wallace with a focus on creating "a community space to take pride in the history, legacy, and future of the South Central Community." The café's website even has an option to donate to help "a neighbor in need." 
The café's focus on the community is apparent on its social media, where, most recently, it was seen giving out "free food" during the coronavirus lockdown.
Grande, who has been very vocal in her support of the 2020 Black Lives Matter movement in the wake of the police killing of George Floyd, posted an image with a South LA coffee in her hand in an Instagram Story on Thursday.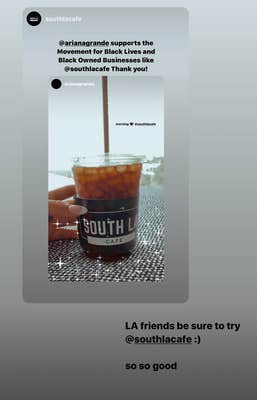 She tagged her photo with a simple caption, "morning."
The South LA cafe shared the post to its own page, writing a note about her support. "@arianagrande supports the Movement for Black Lives and Black Owned Businesses like @southlacafe Thank you!"
Grande then shared that Story on Thursday, writing, "LA friends be sure to try @southlacafe :) so so good."
Early Thursday morning, the café shared how Grande's post had brought it massive support from people around the world. 
"We've been fortunate to win [Grande] over from Starbucks this past week, as well as her incredible #arianators," it wrote.
Starbucks recently banned its employees from wearing attire supporting the Black Lives Matter movement. The company eventually reversed its decision after backlash. Fans think Grande, who has collaborated with Starbucks in the past on drinks, is boycotting the chain.
Meanwhile, the South LA Cafe revealed it received 150 customers in 29 minutes after Grande's endorsement of it.
Beyond that, it has received words of support from Latin America to the Netherlands, according to screenshotted messages it received in its inbox.  
"Stores in Latin America will open at some point ?????" asked one eager user from Uruguay.
"That would be nice!" the store responded.
"If i was able to come over, then of course i will," read another message from someone in the Netherlands. "Black lives matter…nobody will matter until black lives matter."
"Ariana and all the arianators will love y'all," the Netherlander later wrote. "Not only you drinks, but the people who are working there."
Another Netherlander wrote, "I have so much respect for u guys. Black lives matter now, tomorrow and always will matter." 
In a moving message, the café wrote about how people in positions of privilege, like Grande, can make an impact through their mega-platforms.
"This is an example of people with influence and privilege using it to forward the movement," it wrote. "We welcome the support and are grateful to be recognized for our impact and community leadership."
Grande has been vocal about the Black Lives Matter movement since the protests began.
"Again, i ask my followers to please keep signing these petitions, making donations if u are able to, continue having conversations w family and friends about racism (overt and covert) and the senseless acts of murder that happen in this country far too often," she said in a May 29 post on Instagram, urging her followers to use the information she was sharing to educate themselves and subsequently pass along that knowledge with others. 
"Our [Black] friends need us to show up and to be better and to be vocal. now more than ever. online. offline even more so," she wrote. 
As for the café, it's apparently has a lot to celebrate. "What a day! Whew! We're about to unwind, celebrate, and sip on a margarita!" it wrote in a post.
Pop Crave, a popular Twitter account that shares pop culture happenings, shared screenshots of the post to Twitter Thursday.
The Daily Dot has reached out to the South LA Cafe.
READ MORE: