Opinion
A meme likening Planned Parenthood to the KKK was censored by Instagram, in a move the image's creator, Ryan Bomberger, is calling outright and unfair censorship.
"Instagram deleted our post, threatening to restrict or disable our account if we violate their guidelines again," Bomberger wrote in a post for anti-abortion site LifeNews.com.
The online graphic reads: "We kill more black lives in 2 weeks than the KKK lynched in a century. Planned Parenthood: Eugenics. No Matter What" and features a noose.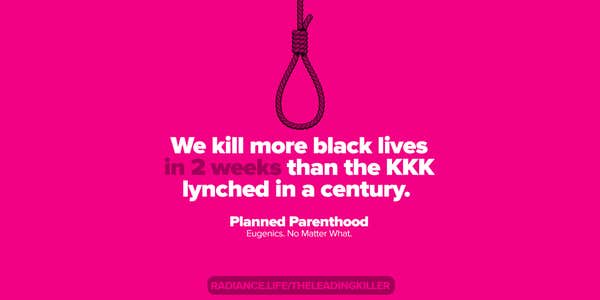 Instagram's warning allegedly claimed that the meme violated its community guidelines and the photo-sharing site also threatened to restrict or disable Bomberger account if its guidelines were violated again. (Instagram did not return the Daily Dot's request for comment.)
"The meme wasn't threatening violence—it denounced racial violence, no matter the era," Bomberger claimed. "But Titans of Tolerance have no interest in the truth. They can delete our posts, and even our account, but they can't delete the truth."
The meme analogy is, of course, not of equal proportions and offensive to people of all races who've had abortions.
But if we want to discuss "truth," we need to first admit that fears of racism in the Western medical system are indeed real. There is, in fact, a longstanding, clandestine history of Black people being terrorized in the name of medicine and even countless examples of medicine being used to control and undermine Black fertility. It is this same brand of fear, taken to dangerous and misleading means, that drives the ideology of Black people who disseminate anti-abortion eugenics propaganda.
To understand this, let's go back to the "Mississippi appendectomies." Fannie Lou Hamer, a civil rights and women's rights activist, helped coin the term in the 1960s to describe the involuntary sterilization of women of color, after medical professionals performed a hysterectomy on her instead of simply removing a small tumor she was diagnosed with, without her permission. Many Black women faced similar injustices.
In Killing the Black Body: Race, Reproduction, and the Meaning of Liberty, Dorothy Roberts writes:
"During the 1970s sterilization became the most rapidly growing form of birth control in the United States, rising from 200,000 cases in 1970 to over 700,000 in 1980. It was a common belief among Blacks in the South that Black women were routinely sterilized without their informed consent and for no valid medical reason. Teaching hospitals performed unnecessary hysterectomies on poor Black women as practice for their medical residents. This sort of abuse was so widespread in the South that these operations came to be known as 'Mississippi appendectomies.'"
But the sterilization that Black women endured only decades ago should not be conflated with a woman's right to healthcare today. There is a significant and fundamental difference between abortion services offered by Planned Parenthood and genocidal reproductive injustices faced by Black women: Women choose to access PP's services. Equating scenarios where women have their rights infringed upon by the government or an organization with those where women exercise agency over their own reproductive lives is highly illogical. And likening the KKK, a terrorist organization literally established to violently curtail the rights of Black people, to an organization where women are given control over their bodies is just plain woefully ignorant, at best. It also unnecessarily incites hate, which does, indeed, violate Instagram's community guidelines.  
Such attacks on Planned Parenthood are especially problematic because the organization also offers numerous other services that likely lower the rate of abortion for all women of color. In truth, abortion only accounts for about 3 percent of the services Planned Parenthood provides. Its other services include sexual and reproductive education, access to birth control, STD testing and treatment, and gynecological services, among other essential healthcare needs. And health experts largely agree that access to reproductive education and birth control reduce unwanted pregnancy and abortion.
For that reason, an attack on Planned Parenthood is an attack on Black women's agency and reproductive rights. And when such attacks utilize irrational propaganda, it is imperative that the platforms used to spread that propaganda take a firm stance against it. America owes Black people protection of their agency and rights.