Opinion
BY MURIEL VEGA
"It's too early for that shade of red," my mother said upon entering my bathroom, offering her usual commentary. I continue moving the matte lipstick over my lips, confident that this was the right shade of red for the occasion. After all, I'd spent nearly 37 days looking for it. The occasion was my American citizenship ceremony, and I'd been waiting nearly 20 years for it to happen.
My mom had already gone through this. She'd become an American citizen during the Obama years, a little over a decade after we arrived here from our native Panama. At the time, my mom was one of the only female roofing business owners in the state of Georgia — not an easy feat. Since I could remember, she'd been counting the seconds until she could finally apply for citizenship, which usually happens about five years after you receive your green card signaling permanent residency in the United States.
When the time came for my own ceremony last August, I thought back to my mother's. I'd fully expected her to show up wearing a head-to-toe red, white, and blue outfit celebrating her patriotism. Instead, she showed up in her everyday workwear: a button down shirt, sneakers, and blue jeans. When I asked her about her outfit, she said that she didn't give it a second thought.
"In my everyday life, I was already an American," I remember her telling me. "Why is today any different?"
My own thought process for my citizenship wasn't quite so simple.
I sent off the application one day after the 2016 presidential election and every day that followed would include a cautiously optimistic walk down my driveway to the mailbox in hopes that I would have a next step letter waiting for me.
After a month of waiting with no news, I made a secret Pinterest board with countless outfit options for the day I'd become a citizen, often researching mommy blogger websites and Instagram's explore page through long nights. Then started ordering things — if I didn't find the fateful letter in my mailbox, at least I would find a potential top or bottom waiting for me, helping me keep up hope.
Every time I watched the news, hoping that the new administration wouldn't pass a law putting a halt to the naturalization process, I would find solace on that secret Pinterest board — a visual of my end goal. I agonized over forums about ceremonies across the country, perused small-town slideshows of people wearing red, white, and blue enthusiastically in a stadium filled with prospective citizens, and searched citizenship hashtags on Instagram.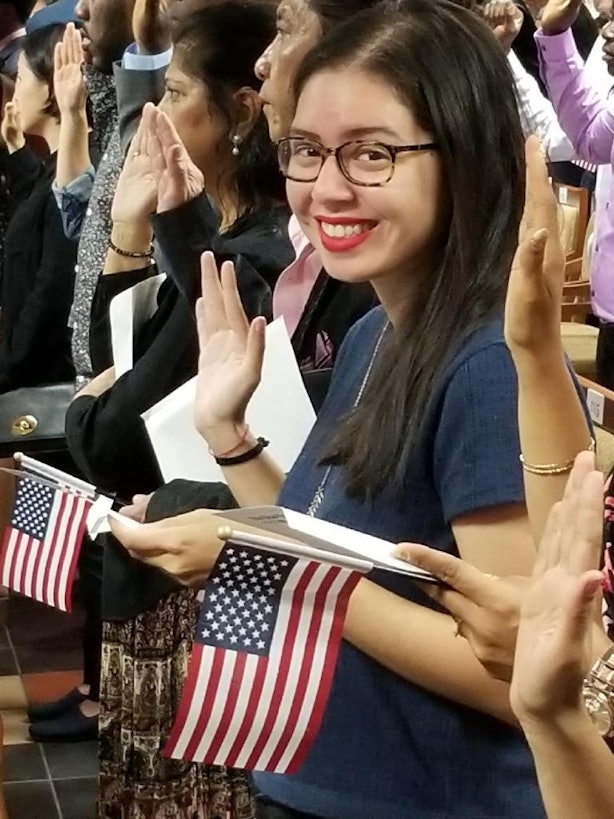 During those 10 months, I saved nearly 600 pins of potential outfits. Trying to find a look that would show my gratitude for this new citizenship as patriotism didn't come so easily in this current environment and my usual neutral color wardrobe.
The search for the right outfit ended up working as a form of therapy through the anxiety of waiting for letters, interviews, the test, and ultimately, the ceremony date — a process that should take about four months but lately has been taking over 12 months in some parts of the U.S. due to applications surging. I remained in limbo for 10 long months. I was one of the lucky ones.
Throughout the process of planning and replanning my look, I began to realize why it was so important to me. My decision to become a citizen was one motivated by the desire for safety. The day I became an American would bring closure to a nearly two decade-long process that started back at the beginning of the millennium. It brought my mother and I countless crippling financial and emotional costs, but in the end, it promised a brighter future.
This was an important milestone as an immigrant in this country, where I would regain my voice and help speak out for those who aren't as lucky — the DACA children in danger of losing their status, the families being separated at the border, those in illegal raids and detainee abuse — and stand up for the xenophobia growing in this country.
Unlike my mother — who, despite her decision to move to the United States, still lived her life in a conservative, traditional way — I wanted the moment to represent me, uniquely. I wanted to stand out.
All things considered, her reaction to my bright red matte lipstick on the day of my ceremony wasn't exactly a surprise.
MORE FROM BUSTLE:
In the end, I chose an understated patriotic outfit that reflected my everyday minimalist style — a short-sleeved navy blue top, my trusty black jeans, black loafers, and of course, the matte red lipstick. It took me weeks to pick the right shade at Sephora, and the employee that helped me choose was, in away, a therapist throughout the process. My mom still talks about how out of place my bright red lips were in the sea of people that ran to the finish line in light of recent events, but it couldn't have been more me.