Protesters in Washington, New York, Vermont, and Minnesota are the readiest to boycott Amazon Prime Day this year, according to geolocated tweets. 
Prime Day, a "two-day parade" of massive sales offered on products by Amazon, is under scrutiny especially by workers at an Amazon center in Minnesota who planned a six-hour strike for Monday, the first day of the sales.   
Amazon reportedly hasn't seen its workers strike on a day of significant sales before. This year, the support is in full force from workers' rights organizations, many of which tweeted about boycotting Prime Day in the days leading up to it. The International Workers Solidarity Network started an online pledge to support workers.
Guys amazon is just a half-decent storefront at best and not supporting them is so easy.

Look, a cute mug, all you have to do is look up the item and the seller and oh look I found it elsewhere, no amazon employees suffered from my passing whims

BOYCOT PRIME DAY#AmazonStrike pic.twitter.com/lgw3CvWr7j

— fuck this shit (@persbaderse) July 13, 2019
In protest of exploitative working conditions, workers at Amazon warehouses are withdrawing their labour on Amazon Prime Day. Workers will staging a walk out during Prime Day, on Monday 15th and Tuesday 16th July

Do not scab

Stay away from Amazon

Stand with your fellow worker

— Kate Flood (@KateFlood) July 10, 2019
Amazon workers are on strike today and tomorrow.

DO NOT CROSS TUE PICKET LINE!!!#primeday2019 #PrimeDayAmazon #AmazonStrike https://t.co/ujEHHBDg9G

— Richmond IWW (@RichmondIWW) July 15, 2019
It's #PrimeDayAmazon! Please don't buy anything from there no matter how good the deals are, as Amazon workers are on strike and you spending your money is hurting their struggle for fair treatment from their employers. #PrimeDayStrike

— thelitcritguy (@TheLitCritGuy) July 15, 2019
Friendly reminder to boycott #PrimeDayAmazon in support of their striking employees who are expected to walk 10s of miles through warehouses every day and have their job security threatened by any illness, injury, or need for the bathroom.

— Andrew James Carter (@Carter_AndrewJ) July 15, 2019
Data collected by a product review website that analyzes Amazon products showed most of the resistance appears to be in the upper Northeast, the Midwest, and the Northwestern regions of the U.S. The website tracked over 10,000 tweets over the past month to determine locations where the resistance was the highest, a representative told the Daily Dot. 
The tweets seen in the states are somewhat consistent with Amazon's relationship in those states. Earlier this year, Amazon faced massive backlash from organizers and labor activists in New York City who, through protests, effectively pushed out Amazon's plans to build a headquarters in the city. According to the map, New York is one of the states with the highest number of tweets about organizing against Prime Day.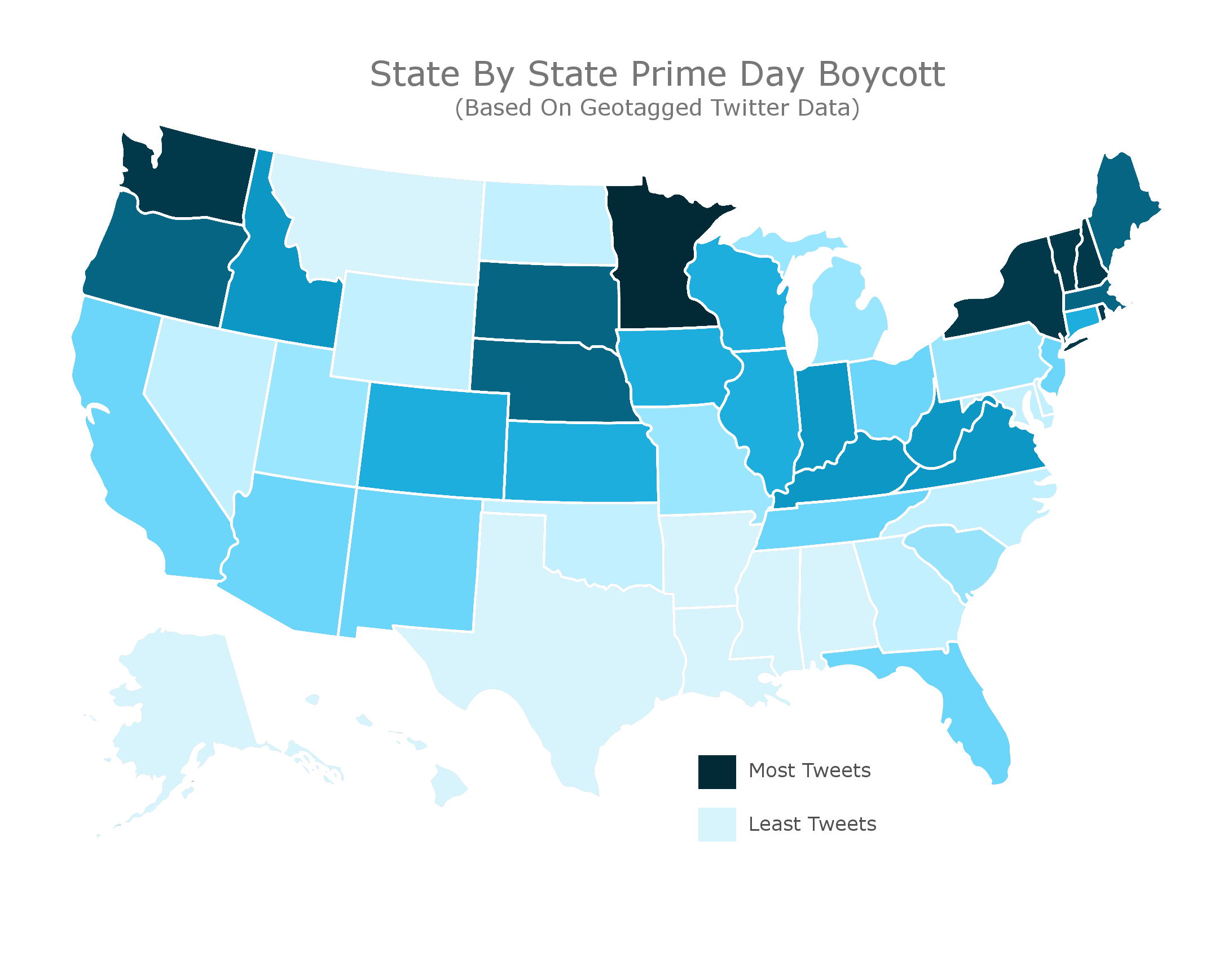 Meanwhile, those with the least tweets about the boycott are primarily southern states—including Texas, Mississippi, Alabama, Oklahoma, Georgia, Louisiana, and North Carolina—and Midwestern states including Missouri and Wyoming. All but two of these states were part of 18 states where Amazon announced 3,000 new jobs in March. 
While Amazon has been in the news and at the center of strikes for a multitude of reasons, its workers' main grievances are that they're treated in inhumane conditions where speedy shipping is prioritized over their health and wellbeing. The company is owned by the world's richest man boasts and provides more than 275,000 jobs to Americans, but its workers say they remain under immense pressure to fulfill orders and work long hours with low pay and conditions that often render them injured or homeless.  According to a Mother Jones report from March, Amazon has been at the center of over 100 federal investigations since 2016.
The Minnesota strike, organized primarily led by Somali immigrant workers, has sparked off a similar sentiment among workers and activists in different parts of the country. On the activity map, Minnesota is one of the seven states that recorded the highest number of tweets about the boycott. 
READ MORE:
Got five minutes? We'd love to hear from you. Help shape our journalism and be entered to win an Amazon gift card by filling out our 2019 reader survey.