We get it, strap-ons can be a bit daunting. They come in so many different shapes and sizes! Do you want a strap on dildo or a strap on harness? What's the difference anyway?
If your novice knees start trembling, that's completely normal. Take a deep breath! We've got a list of the best beginner strap-ons for first-time users.
Contrary to popular belief, strap-ons aren't exclusive to the lesbian community. People of all genders and orientations looking to have fun, hands-free, penetrative sex can appreciate a strap-on. But to help keep you focused on what matters most (AKA your comfort and pleasure) we've thrown together some tips to keep in mind before you buy. Feel free to thank us later!
How to shop for the perfect strap-on harness or dildo
Just like you've done for all your other sex toys, finding the best strap-on requires a little research. What's the device made out of? Can it be used with a harness? Is it flexible? Size, etc? At first, these questions may seem completely unrelated to your user experience but as you scroll, it will become clear just how much this seemingly simple stuff matters.
Know the types of strap-ons
As you may have already guessed, there are two kinds of strap-ons:
Those that require harnesses.
And those that don't.
Seems simple enough, right? Well, hold on, there's more.
Harnessed strap-ons: require a harness to "strap (the dildo) on" to you or your partner. Sometimes harnessed strap-ons include a vibrator or g-spot dildo for the wearer. A few sex toy companies have designed packages that include a dildo and harness, but they're not always the most cost-effective or practical options (especially since you can use a harness with almost any of the toys you may already own). And since there are a few different harness designs, you won't know which fit you like best until you try it out.
Strapless strap-ons: don't require any straps to keep the dildo in place. Instead, the wearer grasps their end internally – making the entire experience way more intimate than you ever could with a harness. Some of these are even designed to work with a bullet vibrator.
Feeling overwhelmed? Don't. We'll unpack all of this below.
As for the strap-ons that aren't strapless, there are a few different types of harnesses that you should be familiar with:
Just as their names suggest, the differences between these harnesses are how they fit. This means some people may find certain harnesses to be easier to adjust, more comfortable, and more customizable than others depending on their body shape and how they plan on using the strap-on. But that doesn't make any one of them better or worse, it's all subjective really. So to help get you started, listed below are some of the most popular harnesses you can get online.
---
READ MORE:
Editor's note: This article is regularly updated for relevance.
---
Where to buy a strap on harness
Amazon rating: 4.5 stars
In addition to thigh straps, a corset harness borrows design tips from corsets themselves and binds at the small of your back. This provides additional support which can be helpful for people with bad backs, heavy toys, or beginners (and it also looks hot).
This particular one by Doc Johnson is O-ring compatible and fully adjustable up to a size 60″ waist. It's unisex and padded to prevent chafing.
Price: $36.15 (regularly $62)
---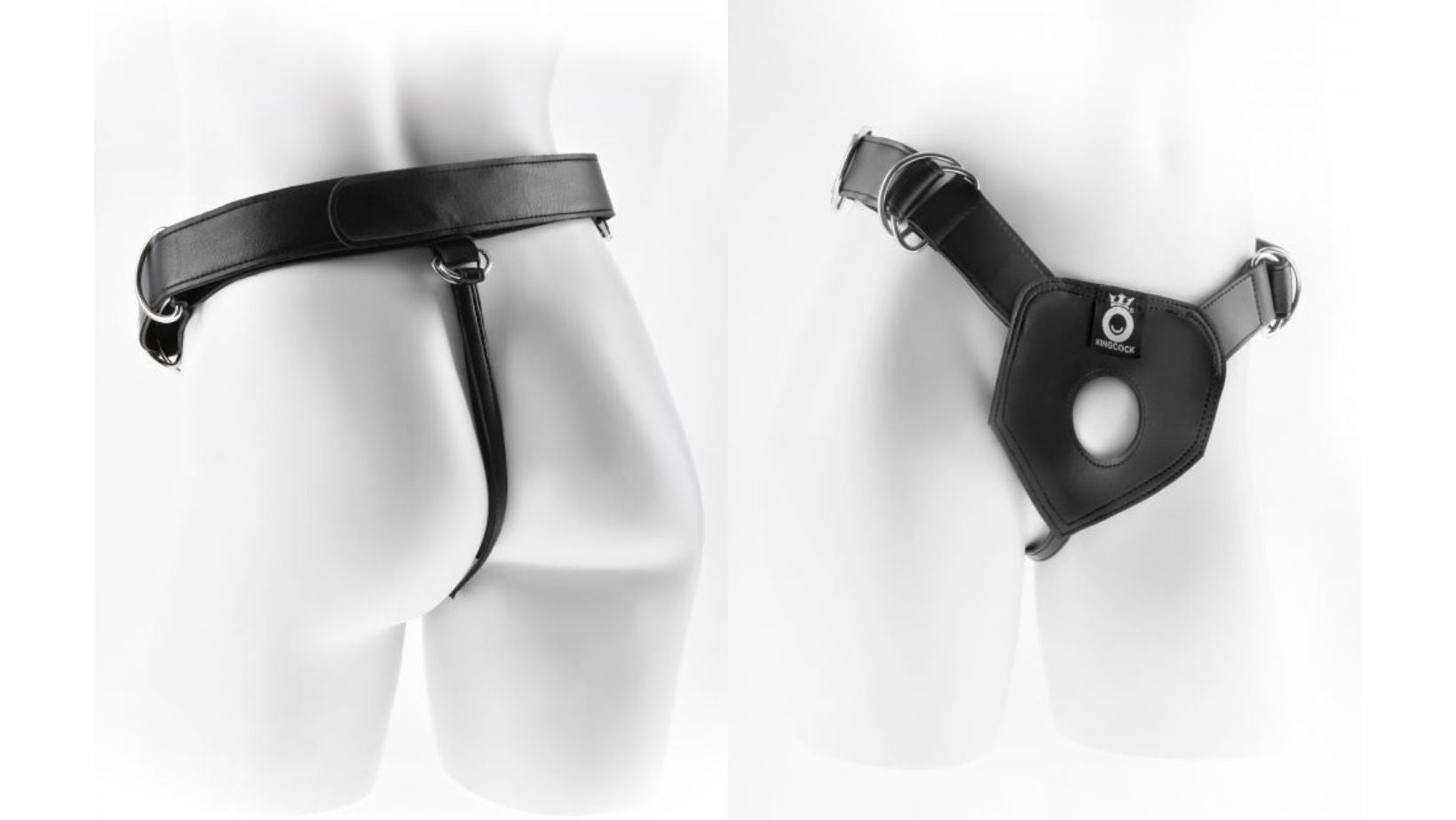 A two-strap harness (or g-string) is designed to wrap around your waist and then in between your legs. It doesn't offer as much control or support as harnesses with thicker straps or corset harnesses, so it's not recommended for beginners. It also doesn't leave the wearer fully exposed, so it might not be any fun for someone who prefers easy access. However, it does stimulate the wearer's groin area so it's not all about giving, there's some getting here, too!
This particular g-string harness is designed with nylon and soft vinyl and adjusts to fit waists up to 55″.
Price: $70.59 (regularly $105.99)
---
Amazon rating: 4 stars
This style is probably the most popular of the bunch because it offers a good amount of support while leaving the wearer exposed, unlike other harnesses. Jock-style harnesses use three straps (one for your waist and one for each thigh) to keep the dildo snug without restricting movement.
Price: $23.65 (regularly $30)
---
Amazon rating: 5 stars
Designed to be worn like regular underwear, these types of harnesses are super comfortable and easy to hide underneath regular clothes. However, they're not the best choice for supporting heavier toys, so keep that in mind–especially if you're a beginner, or just make sure to use a lightweight dildo.
Price: $64.99
---
It may be named "Thigh strap-on" but truth is, this simple strap can be used anywhere it fits. So if you're looking for a face strap-on, well, you're looking at it! This O-ring is smaller than most other harnesses, so don't expect all of your toys to fit (anything with a diameter larger than 1.75 inches is a no-go). Since it has such a simple design, don't expect it to be the most supportive. It gets the job done, but isn't recommended for rougher sex.
Price: $21.15 (regularly $22.52)
---
This particular strap-on harness is very similar to the jock-style, it just has added chest and shoulder straps (depending on the design, Doc Johnson offers options for just suspenders or suspenders with a chest strap). The added straps offer more support and provide a totally different aesthetic than single-piece strap-ons. It's a total 'fit if you will.
Price: $41-$55
---
Where to buy strap-on dildos
Amazon rating: 4 stars
According to reviewers, this isn't one of the most beginner-friendly strapless strap ons but it is a solid option for those with a little more experience in the arena. Designed with medical-grade, body-safe silicone, the GalPal is waterproof and lube-friendly. Even though its name is "GalPal," this adult toy has been designed with the bodies of all genders in mind making it ideal for P-spot and G-spot stimulation. Just remember to seriously clean the dildo before swapping holes or sharing ends with a partner.
Price: $37.27
---
Amazon rating: 3.5 stars
Designed with medical-grade silicone, it's latex and Phalate-free, as well as super easy to clean. But what sets this apart from other strap-ons is its ability to conform to the body's contours and warm-up using your body heat, so if you're not into temperature play and hate cold toys just hold this in your hands for a minute or two and you'll be set.
Price: $33.14 (regularly $36.14)
---
Amazon rating: 3.5 stars
Using one power switch, this g-spot vibe offers both partners pleasurable stimulation. But who wants to fumble around looking for the buttons to change the speed or pattern? No-one. Luckily, you don't have to with Strap U–the company gives shoppers the option to buy one with a wireless remote. Never have we ever been more grateful for Bluetooth!
Price: $33.84-$62.95
MORE BAZAAR DEALS: