Thanksgiving is four days away, which means your fridge is probably stacked to the brim and covered in Post-its that read "DO NOT TOUCH." And if it's not, well, you're either running behind or hosting a different holiday this season. Either way, this sous vide will save your busy behind.
The Anova sous vide is a top of the line precision cooker. This culinary tool allows you to create five star restaurant quality meals in the comfort of your own home. (even if you've never taken a cooking class in your life). It's pretty much a magic wand for wannabe chefs and passionate homemakers. The sous vide heats and circulates water in a pot at the ideal temperature for whatever you're cooking. So you'll achieve evenly cooked meals, without the fear of over or undercooking half a brisket.
Plus, the Anova sous vide is Bluetooth and WiFi compatible. Instead of just heating and circulating water like any other sous vide, the Anova precision cooker comes complete with a culinary app to guide you through your experience. So whether you're looking for the best cooking method, a new recipe or just need an extra set of eyes on your stove, the Anova sous vide does it all.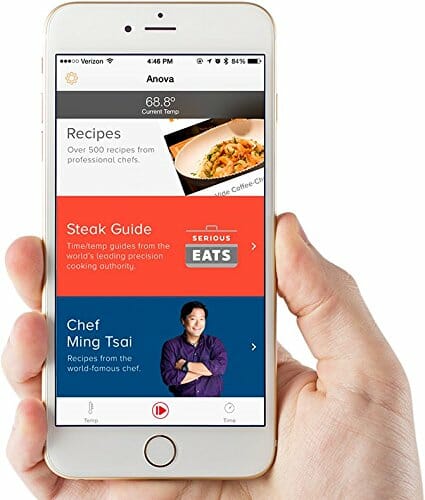 Best of all, it's on sale today through Amazon. Usually $150.00, you can grab this chef's secret for just under $95. That's over $50 0ff! So if you're a Prime member and you order it today, you'll have it by Thanksgiving–which means you'll be serving up a perfectly primed feast.
MORE BAZAAR DEALS:
The Daily Dot may receive a payment in connection with purchases of products or services featured in this article. Featured items are sponsored and The Daily Dot receives payment. Click here to learn more.