You didn't ask for it, but you still got it. For once in your life something has worked out in your favor. The Snapchat Dancing Hot Dog finally got its own Halloween costume. So even though the filter is long gone (Snap Inc., we're begging – please bring it back) you can revive it this Halloween season. No petition needed.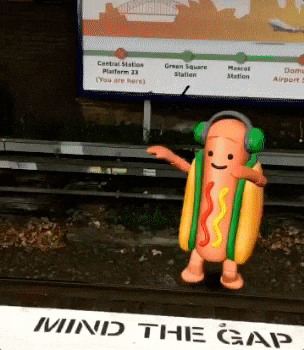 Although we don't recommend dancing on people while in suit, we do recommend you shake what yo' mama gave ya. And you'll be able to do that and more thanks to the Snapchat Dancing Hot Dog costume's roomy design. Additionally, the costume is crafted with convenient hand and head slits. So you can raise the roof while scratching a turntable or snapping a quick selfie. So if you know how to breakdance, break it down for us, why dontchya?
If you're over 6'4″, this costume has beef with you. AKA you're likely too tall to make it fit, but hey, it's worth a shot. We won't grill ya for it.
The Snapchat Dancing Hot Dog costume is available through Amazon for $79.99. So if you're looking for a costume a little more kosher than the others, this is it.
MORE BAZAAR DEALS:
The Daily Dot may receive a payment in connection with purchases of products or services featured in this article. Click here to learn more.