Since K-pop has finally reached true popularity in the states (thanks, BTS), there's been one question on the minds of those who bask in the glow of these stars: How do I get my skin to look like that?
Jessica Jung just might have the answer. A prior member of longtime respected K-pop band Girls Generation, Jung broke away from the group in 2014 and went solo. That same year she also established her own fashion brand, Blanc & Eclare. Its bold, clean looks and deeply Korean sensibilities have earned her a following – and of course, it also features a skincare line.
Called Serein, the line has an elegant, clean look that very much falls in line with Blanc & Eclare's aesthetic. It also boosts Tasmanian rainwater as a key ingredient, which Jung says contains rich minerals that benefit the skin. But do the products make me look like I'm aging backwards (always the most important question)? I set out on a quest to find out.
The line follows the typical 10-step beauty routine format, although it technically has less steps. In order of suggested use, the line offers a cleansing foam, toner, essence, serum, and a day or night moisturizer. It also offers a rich lip balm ideal for PM use and a moisturizing mist to keep skin happy even in the coldest months.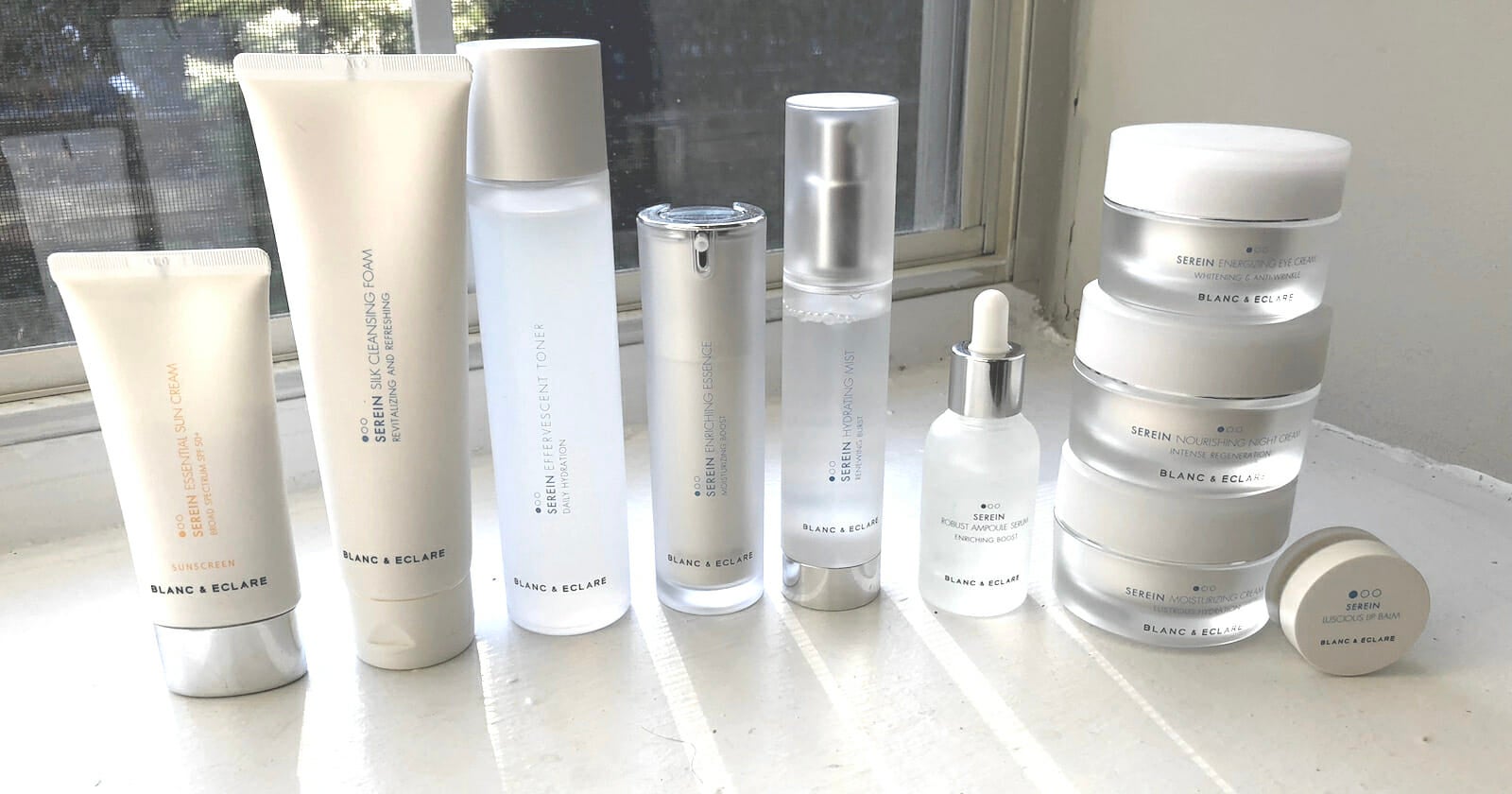 While that may seem like a lot of steps to the average person, Korean beauty fans embrace all the steps. Layering products is exactly how K-pop stars get that dewy glow that we all envy. And from my experience with Serein, it's easy to see how daily use will produce just that result for you.
Serein's products are virtually scent-free, meaning they are ideal for those sensitive to strong fragrance. They are also pretty unisex in appearance, so men or women could use the line. The pricing per item is moderate, ranging from $26-$60. Using the entire line as pictured will set you back roughly $394 (not including optional sheet masks). However, these products are quality and dense so a little goes a long way (I used less than a dime-sized amount of the cleanser for each wash, for example).
I found the line to be a strong contender for a younger customer looking for a midrange skincare line (I'd say under 30). Products feel good on and elicit results pretty quickly. In my two weeks of AM/PM use, my skin appeared plump and youthful, and the routine only took me about eight minutes to complete. And while I didn't look QUITE as lovely as Jung herself, I figure the results are pretty good considering I'm more than a decade older than she is.
If investing in an entire line is a lot to swallow for your budget, I'd say the Serein sheet masks are the top star of the line. They are unusually heavy with moisture and can be worn much longer than a mask's suggested 15 minute wear time. I wore mine for an hour and it still had moist spots when I removed it, meaning you are getting a serious dose of what your skin needs most at this time of year. You'd never guess it was January here by looking at my skin.
K-beauty retailer Beautytap is the only English language site to carry the line, now making to easier for K-beauty and K-pop fans alike to get that coveted glow. Use the code dailydot15 to score an extra 15% off your order through February 28!
MORE BAZAAR DEALS:
The Daily Dot may receive a payment in connection with purchases of products or services featured in this article. Click here to learn more.