The holidays are great, except for when it comes to budgeting. That's where things can get a little messy. Everyone wants to see their family and friends, but no one wants to break the bank doing it. But that's where we come in. With the help of CheapAir, we've assembled the ultimate holiday travel guide to help you save some pretty pennies.
If you're able to work remotely or take more time off, it could help you save big on flights. After reviewing thousands of flights, CheapAir discovered that flying earlier in the week of Thanksgiving offered the best airfare for holiday travel, whereas the Sunday after Thanksgiving is the most expensive. So if you're looking for the cheapest flight home, the Friday and Saturday following the holiday are your best options. But if you're looking to avoid crowded airports, you may want to consider flying on the actual holiday–just know it's going to cost you a bit more.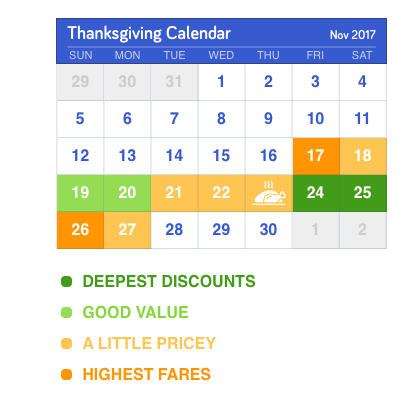 Booking roundtrip flights is not only cost-effective, but it's less stressful too. So here's the easy-peasy, stress-free, money-saving flight advice: fly out on Dec. 20 and return home a week later. But if it's not possible to take that much time off for holiday travel or your schedule demands otherwise, avoid flying the Friday before Christmas and the Tuesday after as they're the most expensive.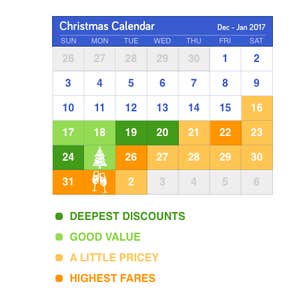 New Years is a great excuse to get away. Seriously, who wouldn't want to start the year off in another state (or better yet, another country)? It's not completely unaffordable either! You just have to do holiday travel the smart way. If you can afford to take more time off, flying on Christmas Eve will offer you the deepest discounts. Even Christmas Day will save you some hard-earned cash. After that, flight rates can get a little pricey. But they're still doable as long as you avoid the day after Christmas, New Years Eve and New Years Day.
Don't book a trip last minute. Planning is your friend.
Do research on your desired airline. See when and if they've offered any deals in the past.
Use a site that is designed to find the cheapest airfare, like CheapAir.
Purchasing a roundtrip ticket can help you score savings.
Frequent fliers should try to find a credit card or membership that will help them score money-saving points for jet setting.
Click here for more money-saving advice
MORE BAZAAR DEALS:
The Daily Dot may receive a payment in connection with purchases of products or services featured in this article. Click here to learn more.