There are some chores I actually find oddly relaxing. Spraying an oven with chemicals and then wiping away the grime from past meals is the closest to zen I'll ever get. Watering plants and watching them grow satisfies any of the biological urges to ever have kids. Then there are the chores that make me wish an anvil fell on my head, rendering me lifeless. Mopping is hell, a hell I'll never truly escape from. The O-Cedar EasyWring Microfiber Spin Mop may be a user-friendly escape from this purgatoric drudgery.
O-Cedar EasyWring Microfiber Mop specifications
At first glance, the O-Cedar mop system looks like any other mop and bucket. It can be broken into three main parts: a mop head, a collapsible handle, and a bucket with an odd wheel contraption on it.
Like most things made of plastic, the bucket is lightweight, even when it's filled with a gallon of water and your cleaning solution of choice. It measures 19.5 x 11.7 x 11.5 inches so it's present without being too bulky. In lieu of wheels, its handle lets you take it to and fro.
In order to fully test out the mop system made famous by countless moms on TikTok, I let my floors get dirty for about a week. All manner of grime built up from dirty shoes to loose cat hairs and even splatters from many a pan sauce from the stove. Then "the incident" happened.
My partner accidentally knocked over a jug of low-sodium soy sauce, stepped in it, then left sticky dark brown footsteps all over the kitchen floor. It was a folly worthy of a Laurel and Hardy movie, but considering the fact that I was in the midst of reviewing a mop, it was less a horrible happening and more a wonderful opportunity. The smell was equally delicious and distracting.
But please, don't think for a second I live my life like that girl in the famous "Damn girl, you live like this?" meme. Soy sauce incidents aside, I do my very best to keep a clean house. I don't like to mop, but I do it anyway.
---
O-Cedar EasyWring Microfiber Mop Review: Is it Worth it?
I used the mop as directed, filling it with a gallon of water, and my favorite cleaning solution. Fabuloso (a mainstay of Latino households). Aside from smelling amazing, above all, it reminds me of childhood.
I installed the mop head to the collapsible handle. It extends in two parts, and locks in by a simple turn. You can modify it to your desired length up to 48 inches, which is handy. As someone who is height challenged, this is a welcome feature.
Next came what I am unironically calling "the fun part." After dipping the microfiber mop into the cleaning slurry, I plopped it into the wheel. Then I began to pump the pedal, which spun the mop head, effectively wringing it out. Awesome.
Then came the time to mop. I was dreading this part. My dread melted away soon after I started mopping. The soy sauce stains came off in one go, and I had to apply little elbow grease for other tough stains.
The rounded triangle shape of the mop head makes it perfect for tough to clean corners. Previously, I cleaned these spaces less than thoroughly because I didn't want to spend hours with a mop in my hand. I am not a scullery maid, I will never be a scullery maid.
The O-Cedar EasyWring Microfiber Mop head offers 360 degree rotation making it incredibly maneuverable. I have three makeshift pantry islands in the kitchen, and some of the dirtiest spots in the room are found under these. The mop polished these previously untouched areas with ease.
When I was done, yet another feature revealed itself. The bucket's pour spout makes disposing of the dreaded grey mop juice down the sink without getting it on the counter, or worse, yourself.
---
Final Verdict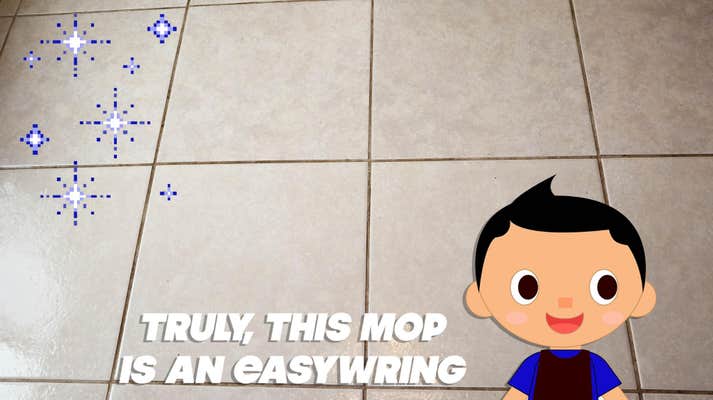 Start to finish, I was able to clean my entire kitchen in about five minutes, which was a world record for me. In the before times, I used a swivel mop with a built-in cleaner that would spray when a trigger is pulled. Anyone that's ever cleaned a room like this knows how annoying and ultimately hopeless this is. Sometimes, to go forward, it helps to take a few steps back.
A mop and bucket may be retro, but may be the easiest way to clean a room. Granted, not all mops and buckets are built the same. The O-Cedar EasyWring Microfiber Mop has seemingly perfected the concept. Using a pedal-powered spinner to wring it dry is inspired. As is the flexible mop head. The only downside is that it may have too large a footprint for smaller apartments. Still, it's worth making room for.
TikTok famous as it may be, I learned about the mop from my sister Susie, who was downright evangelical when it came to recommending it to me. I scoffed, naturally. "How good can a mop be?" In truth, pretty friggin' good. Would I be dedicating upwards of 800 words to covering it otherwise? The O-Cedar EasyWring Microfiber Mop is available on Amazon for $29.98.
The Daily Dot may receive a payment in connection with purchases of products or services featured in this article. Read our Ethics Policy to learn more.