Editor's note: This article is regularly updated for relevance.
When it comes to your budding boudoir romance (whether shared or solo), learning how to use sex toys doesn't have to be awkward. I'm not going to lie to you, though – there may be a few fumbles. But have you ever perfected a skill on your first try? Yeah, I didn't think so.
Whether you're looking to spice things up with a partner or just want to treat yourself to some sexy self-care products (yes, masturbation is a form of self-care!) it's best if you're already acquainted with your body. Now, we know this may sound odd as sex toys have often been used as a form of self-exploration, but just knowing the basics of what feels good to you and, of course, what you're comfortable with will make shopping a whole lot easier.
That being said, when it comes to sex toys and masturbation there are some lingering stigmas that apparently still need to be smashed:
If someone (usually a woman) masturbates they won't have as good of an orgasm during sex.
Female masturbation does NOT affect your ability to orgasm during sex! If this is why you've been holding back, I'm sorry to inform you that it's been for no good reason. And if anyone tries to tell you otherwise, leave them. Immediately.
Masturbating is unhealthy.
This statement couldn't be more wrong. According to Dr. Megan Fleming for GreatLifeGreatSex, masturbation actually keeps your sex pilot light on. She says, "Orgasms are so good for us and for our nervous systems. They release dopamine and oxytocin, our bodies' natural feel-good hormones that help [in] resetting our body's chemistry and our mind's perspective on life and relationships." So not only does masturbation make you become more comfortable with your body, you'll be comfortable IN it. So practicing some regular "self-love" is actually really healthy and really important – especially for young girls. Additional health benefits include:
reduced stress
better sleep
relief from menstrual cramps and muscle tension
There's a limit to how often you should masturbate.
Nah. If you're horny and wanna get off (or just wanna make yourself feel good), do it – it's as simple as that. According to Planned Parenthood, masturbation only becomes a problem when it starts to interfere with your responsibilities and social life.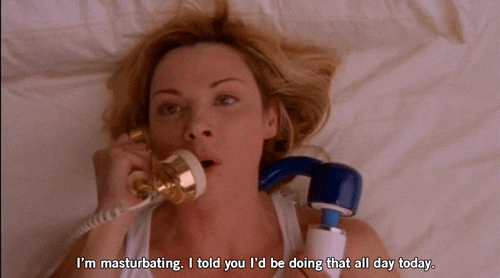 Now, onto the good stuff: how do you use sex toys, exactly?
Even though dildos, vibrators, and butt plugs are all designed with an "intended use" in mind, how you use them is really up to you. Now I'm not saying to ignore the warning labels or throw out the directions–in fact, you should definitely read any guides that come with your toys. But, it is totally recommended to get creative with your collection and especially have fun with it! The answer to how to use sex toys in the bedroom without feeling awkward is to get comfortable enough with the toys to know exactly how and where it is that you want them to be used.
Listed below are some of the best adult toys for people learning how to use sex toys (according to sexperts), their intended use and other recommendations on how to use them. Already have experience? No worries, you can enjoy these too!
---
---
How to use sex toys: Recommended vibrators, dildos, anal plugs, and other adult toys for beginners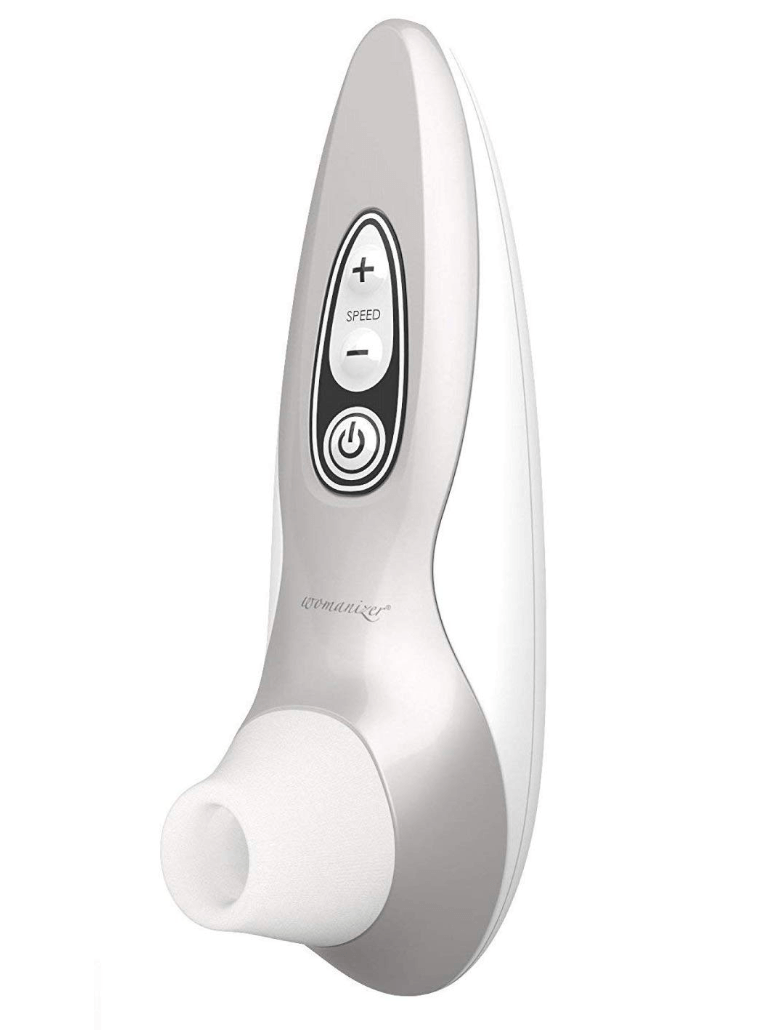 Intended use: clitoral stimulation
Body-safe | Eight modes | Waterproof | Relatively quiet| Easy-to-clean
Amazon rating: 4 out of 5 stars
Like Britney Spears songs, vibrators only have gotten better with age. This rechargeable clit vibrator uses air, rather than vibrations, to keep you wet without the device even touching your skin. While it's certainly pricier than many of the top-selling vibrators on Amazon, I think we can all agree that the idea of "multiple orgasms on demand" is well worth the cost. As one reviewer puts it, "This is nothing another human being can do to you."
How it works: Find your clit (or your nipple), place the Womanizer Pro 40 on it, turn the toy on, and play! Sucking vibrators like these work by pulsating air around your erogenous zones instead of stimulating them with vibrations, so it's recommended to use the toy with a "pulling-and-pushing" motion rather than by holding it stagnant in one area. And if you want the toy to feel even more powerful than it already is, try bringing it into the bath or shower with you–the water will heighten your experience!
---
Intended use: clitoral stimulation
Body-safe | Two intensity levels | Easy-to-clean
Amazon rating: 4 out of 5 stars
This rather basic personal massager has been a best-selling vibrator for so long that it's earned itself cult-status. It's ever-so-famous Sex and the City cameo apparently rings true to user reviews, too–anyone who uses it doesn't want to put it down! That said, I did call this a basic sex toy and that's because it is. It only has two vibe modes (high and low) and even the low mode tends to be too strong for some users to use without a towel or silicone cap. So if you desire speed/pattern versatility or don't like strong vibrators, you should consider more pleasurable options.
How it works: Just the toy in and turn it on! Unlike other personal massagers, the Magic Wand is intended for external use only so stick to using it on external areas–clit, back, nipples, legs, etc.
Price: $50
---
Intended use: anal training, prostate stimulation
Body-safe | Suction cup base | Four graduating sizes | Easy-to-clean
Amazon rating: 4.5 out of 5 stars
Butt stuff (specifically, eating ass) has apparently never been more popular, so if you haven't experienced it already there's a really good chance down the line you may want to try it or a partner may want to see what it's all about. That said, you'll need to prepare yourself properly. Like vibrators, dildos and other sex toys, high-quality anal toys come in high-quality materials (think silicone, stainless steel, and glass) and depending on your skill level, each material brings in its own pros and cons. Silicone is great for beginners because it's flexible yet firm, comfortable, easy-to-clean, lube-friendly, and available in a variety of designs. Stainless steel is a solid middle ground because it has all the benefits of silicone (minus its malleability) and an added bonus: it's weighted for even more pleasure. Glass is a material for the experts because it requires an extra level of care, any fissures/cracks could become potentially dangerous so storing it properly is imperative. That said, some people enjoy the extra-sensory-affect of temperature play, so if that's you, you may want to look for a glass butt plug.
How it works: Anal plugs seem relatively self-explanatory, but how are you supposed to know what butt plugs are best for beginners? A little less subjective than other sex toy conquests, every anal play beginner needs to start with a few things: a small, finger-sized and body-safe (preferably silicone) plug, your choice of lube, and toy cleaner. I recommend beginners purchase an anal trainer kit (rather than a single butt plug) this way you get to size up or down promptly and figure out what size, shape, or length you prefer. Once the toy has been cleaned, you can begin to play with yourself. But I wouldn't just go lubing up and plugging it, instead, I would take my time–incorporate mindfulness, and then start with the smallest plug (sizing up from there if need be).
Price: $14.99
---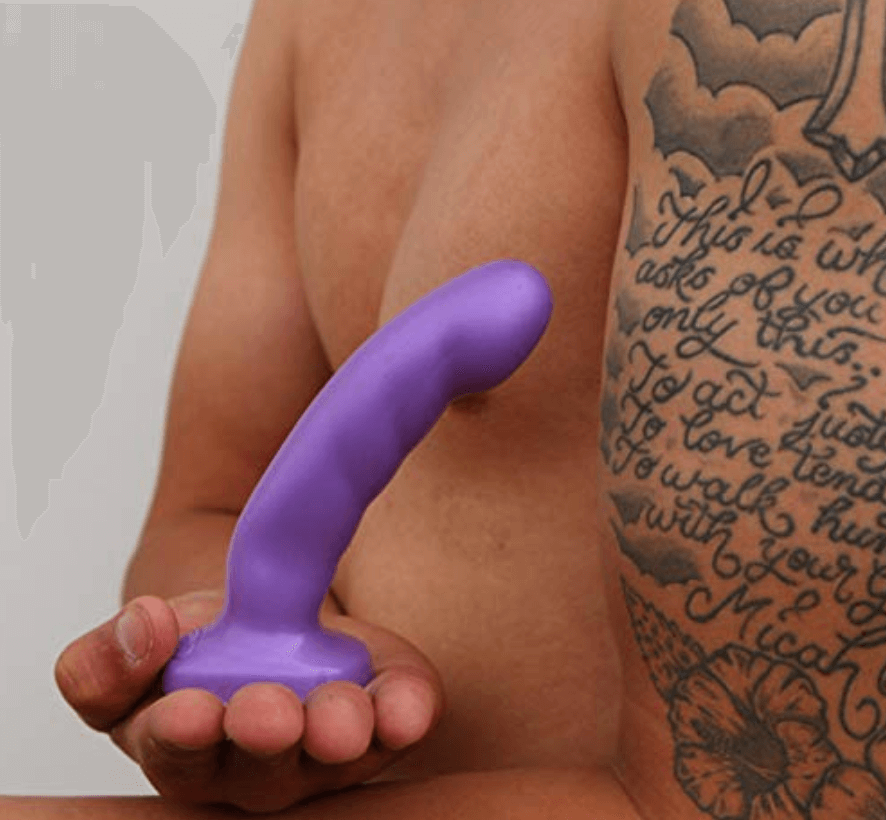 Intended use: G-spot and prostate stimulation
Body-safe | Easy-to-clean | Flared base | Harness compatible
Amazon rating: 4 out of 5 stars
A bit phallic and designed with body-safe silicone, the Acute dildo by Tantus is 6 inches long (with 5.25 of those insertable) and 2.75 inches wide (the top diameter measuring at 1.25 inches). With a slight (acute, if you will) curvature in its spine, it's an ideal choice for G or P-spot stimulation, its flared base also means it should be compatible with most strap-on harnesses. Crafted with superior durability in mind Acute is not only bleach-safe, but users can safely pop it into the dishwasher for a deep clean.
How it works: Dildos are cool because anyone can use them–it's how you use them that makes the magic. With lube, without lube, in the tub, out of the tub, you get to make all the delightful decisions. Except for the one decision you don't get to make, which is that before you go sliding between your backdoor and your vagina (or your partner's) you must clean the toy! Yes, even if it's your own butt and your own vagina. Why? Well, besides it being kind of gross, you can actually spread STIs (like HPV) from your anus to your vagina (or vice versa) via sex toys. So before you share your toy, clean it!!
Price: $42
---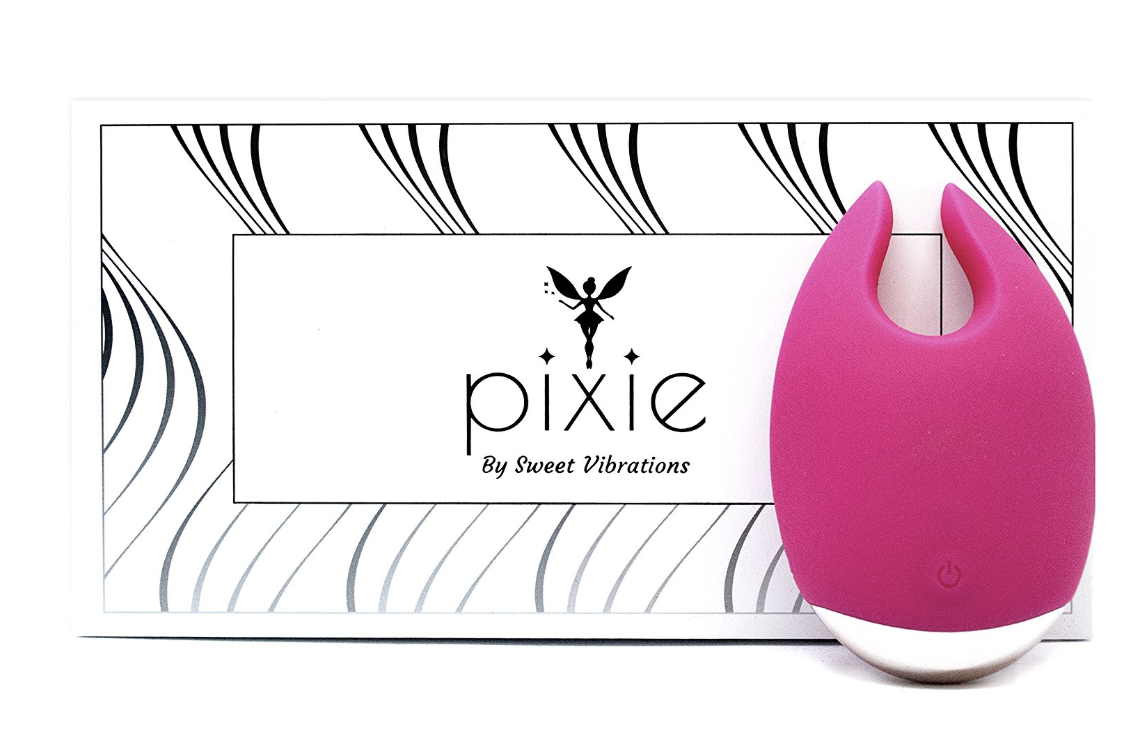 Intended use: clitoral, nipple, and perineum stimulation
Body-safe | 10 modes | Waterproof | Small and discreet
Amazon rating: 4.5 out of 5 stars
The latest trend in sex tech is the "sucking vibe," but that doesn't mean it's for everyone. Especially those who tend to be more sensitive in their nether region (myself included), y'all would probably benefit from a more traditional clit vibe. They tend to be a little less intense than their more evolved counterparts, but that doesn't mean they're less pleasing! Take the Pixie by Sweet Vibrations, for example, it features dual-stimulators at either end and 10 pleasure settings from a soft rumble to more extreme patterns. And unlike the sucking vibes, the Pixie is versatile–capable of clitoral, nipple, and perineum stimulation.
How it works: Once you've found your clit or perineum you can feel free to play around with it, getting more comfortable with your body. Once you've warmed up, you can turn on the toy and with or without lube, place it on the desired area giving yourself time to fool around with the settings, your strokes, and where you use it.
Price: $39.99 (regularly $49.99)
---
Intended use: G-spot stimulation, anal play
Body-safe | 25 modes | Waterproof | Angled, flexible head
Amazon rating: 4.5 out of 5 stars
Not all G-spot vibrators are designed equally, SVAKOM's Coco showcases that. With its flexible, bendable head users can contort the toy to whatever angle they'd like, giving them the ability to really reach all their nooks and crannies. The Coco is 100% waterproof, crafted from body-safe silicone, and features 25 different vibration modes perfect for tickling and teasing far more than just the G-spot!
How to use: When you're ready to insert the toy (we recommend beginners do so with lube), do so carefully. Give yourself time to play around with the vibration patterns, speeds, your stroke rhythm, and note how your body responds. To find the G-spot, you'll need to continue inserting the toy deeper (no, you won't lose it) until you feel a fluttering feeling in your abdomen–you'll know when you've hit it. Once you've figured the toy out, go ahead and masturbate as usual.
Price: $47.99
---
Intended use: Couples play, penis, and perineum stimulation
Body-safe | 5 speeds | Waterproof | Stretchy
Amazon rating: 4 out of 5 stars
Just like finger vibrators, cock rings get worn too (we'll let you guess where they go). These vibes can definitely be used on their own, but are seriously ideal for partnered play. However, they come with a bit of a disclaimer for cisnormative heterosexual couples–since vulva-owners need consistent and repetitive stimulation to orgasm, cock rings might do more for your partner than they'll do for you. It's not that you won't enjoy TENGA's 5-speed SVR, but don't expect it to be the toy that gets you off. Some ciswomen have stated that they actually find vibrating cock rings to be more distracting than pleasing, just something to keep in mind!
How it works: Stretch the ring of the vibrator over the shaft of your penis and slide on with or without lube. Turn the toy on, play around with the settings and either get busy with your hand, a friend or entertain your back door with a butt plug. Whether you use the cock ring on its own or with other toys is completely up to you.
Price: $80
---
8) Stainless steel, adjustable nipple clamps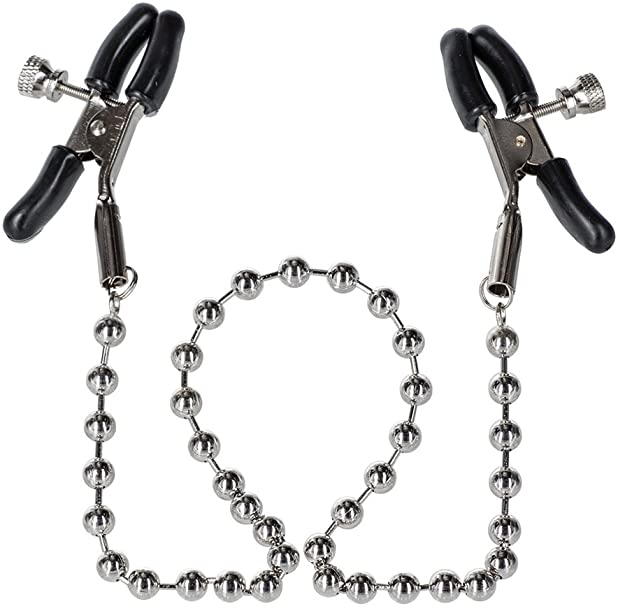 Intended use: Nipple play
Body-safe | Adjustable | Durable
Amazon rating: 3.5 out of 5 stars
Your nipples are highly sensitive, so much so that some people have reported experiencing orgasm just by stimulating their nipples. But after a while, your fingers get tired and playing with your nipples can get a little bit more complicated–especially when you're also playing with someone else or another toy. That's where nipple clamps come in. Although they're considered more of an SM toy, nipple clamps can be appropriated into more vanilla situations too.
How it works: Before attaching the clamp to your nipple, test it out on a finger first. Adult toys aren't meant to cause harm but accidents do happen. So to avoid hurting yourself, take the clamp and loosen it enough to stick your entire finger in between the prongs. Then slowly turn the knob to bring the prongs together, tightening the clamp. As you play around with it, you'll get a feel for just how strong the prongs are (or how much damage they could do) and what level of tightness you're comfortable with. Then when you go to use it, follow the same procedure. It may take some practice, but soon you'll be able to find pleasure in the flick of a dial!
Price: $8.15
The Daily Dot may receive a payment in connection with purchases of products or services featured in this article. Click here to learn more.