Editor's note: This article is regularly updated for relevance. 
For many, figuring out how to have sex while pregnant is a real trial-and-error process. Naturally, as your body changes and ages and grows, you can expect your sex life to do the same—whether you're pregnant or not. But drastic body change doesn't mean sex has to be weird, uncomfortable, or unenjoyable.
As long as you've been given medical clearance to keep getting intimate as much as you normally do, then there's nothing stopping you. However, we understand that sex while pregnant can often feel nervewracking or decidedly unsexy. But if you do a bit of research, you'll probably find that not only can you stick with your favorite sex positions while pregnant, you can have fun discovering some new ones. Here's your guide to your most important pregnancy sex questions, the best sex toys, and the best sex positions while pregnant.
Can you have sex while pregnant?
There comes a time during pregnancy where a person wonders "should I have sex while pregnant?" And in most cases (uncomplicated, low-risk pregnancies determined by a doctor), the answer is usually yes. You won't go into premature labor or hurt the baby thanks to the protection of the amniotic sac–so don't let that misconception hold you back.
Of course, if there's pain during sex or if your OBGYN has specifically told you not to have penetrative sex, then you shouldn't have penetrative sex. But that doesn't mean you can't enjoy sex at all. It just means you have to get creative.
If you haven't been put on "pelvic rest" (or you've been told that it's okay to continue with vaginal sex), don't be surprised if you see a little blood. It's common for pregnant people to experience spotting after penetration or orgasm. It's because their cervix is more sensitive and their body is producing more blood than usual. Still, just because it's common doesn't mean you should overlook it. If you experience spotting, pelvic pain or any other abnormal symptoms, talk to your doctor right away.

READ MORE:
Pregnancy sex and toys: Everything you need to know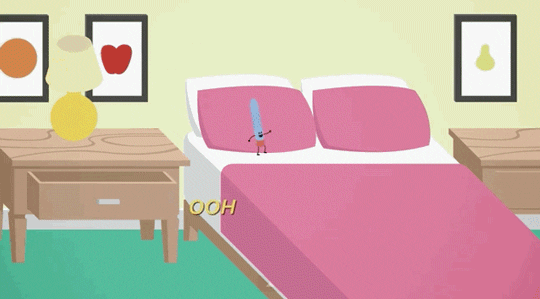 Before we dive into your options, we have to cover the basics. Here's what you need to know:
Keep it clean
The first rule for sex toys is to make sure they're clean, always. It's recommended that you clean whatever you're using both before and after you use it. And if you need help figuring out how to clean your device, we have a guide for that.
Dedicate each toy to an erogenous zone
If you insert a toy, make sure it goes one place at a time. You risk transferring bacteria and brewing up an ugly infection otherwise. Luckily, you can avoid this uncomfortable mess easily. Buy several toys and remember where they've been, or wrap anything you use with a condom. Just remember to change the condom if you change zones.
Be gentle
During pregnancy, the uterus, cervix, and vagina are all a little more sensitive than usual, meaning it's easier to irritate and agitate these areas. It's also common for people to develop hemorrhoids–which is usually no big deal, but if too much pressure is applied, they can bleed. To avoid this as well as any other unwanted discomfort, it's important that you start slow.
Check the quality of your toys prior to use
If your toys aren't made out of something that's phthalate-free and completely body-safe (like silicone, glass, ABS hard plastic, metal, or wood) then they shouldn't be used–especially during pregnancy. Why? Well, harsh chemicals like phthalates have the potential to disrupt hormones. It's why these elements are banned from being used in products like baby bottles and pacifiers.
If you're going to use lube, keep it simple
Products that are scented, flavored and claim to be "warming" contain harsh chemicals that can lead to irritation and even cause infections. Which, normally, could just irritate you and possibly lead to a nasty yeast infection. But while you're pregnant, you're already at an increased risk of yeast infections, so why would you use anything to speed that process along? If you need some recommendations,  here's a primer to different types of lube and our top picks for natural lubricants.
Listen to your doctor
We can't say enough times how crucial this step is. If your doctor tells you not to have penetrative sex, don't do it! Put the butt plugs, rabbit vibrators, dildos, and any other internal toys aside and stock up on the external ones (to make it easy for you, we've suggested a few in the list below). Consider this the perfect opportunity to explore the other parts of your (or your partner's) body. While I'm spilling the tea I may as well tell you that there's a lot more to sex than just orgasming (we discuss this idea fully in our guide to mindful masturbation). You'll be surprised just how much fun you can have without actually "doing it!"
---
READ MORE:
---
Pregnancy sex positions
You may have the okay from your doctor to continue your sex life as usual, but sex while pregnant may call for different positions to make the pregnant person comfortable. Try these with care, and always make sure to be vocal with your partner about what works for you.
Missionary
Probably the most commonly known sex position, missionary is also one of the easiest pregnancy sex positions to practice with one partner on their back and the other applying most of the weight on their knees. And in gay and/or gender nonconforming relationships, this sex position allows the pregnant person to wear a strap-on to penetrate their partner. However, it's important to note that people in the third trimester shouldn't lay on their back for extended periods of time as an enlarged uterus can compress major blood vessels, causing pelvic pressure and pain.
Spooning
One of the more intimate positions, spooning lets the pregnant person rest comfortably while being penetrated from behind. This position also allows either partner to externally stimulate the pregnant person (either with a bullet vibe or their fingers).
Doggy-style
Bearing most of the weight on their knees and hands, doggy-style can be a comfortable position for pregnant people. Doggy-style is ideal for penetrative anal sex (with either the pregnant person on top or bottom). It also works for those in cisgender heteronormative relationships (or relationships between those who identify as the opposite birth sex) if their doctor's orders exclude vaginal sex. This way, the pregnant person can stimulate themselves with a vibrator while "gripping" a masturbator cup between their thighs for their partner to thrust into.
Harmony
Similar to missionary, the pregnant person lays down on their back while using a pillow to lift the hips. The extra support is welcome.
---
Popular pregnancy sex toys
Price: $81.74
---
This fully flexible vibe is perfect for hitting all your feel-good places (it literally can bend-over-backward trying to reach them). It features six speeds, is 100 percent waterproof, rechargeable, and can be controlled via the MysteryVibe app for extra fun. If you want to learn more about what this best-selling vibrator does or how it works, click here to read our guide. 
Price: $149.99
---
Designed with silicone, this 10-function finger vibe is completely body-safe and waterproof. And since it's attached to either you or your partner's finger, it's ideal for more intimate moments.
Price: $28
---
TENGA's IROHA line belongs in a museum of modern art. The toys are unlike anything the sex toy market has ever seen before. The Tori is perfect for nestling between partners or using on your own and it features a near-silent motor and seven speeds and patterns. It's also rechargeable and splash-proof.
Price: $119.99
---
Similar to the Womanizer clit "sucking" vibe, the Satisfyer Pro 2 uses air pulses rather than traditional vibration power to get you all hot-and-bothered. It features 11 settings, including a whisper mode, and is completely waterproof. We actually recommend using it while in the bath or shower because the water intensifies the stimulation and your satisfaction.
Price: $35.94 (regularly $49.95)
---
Featuring 20 patterns and eight speeds, a bendable head, and a rechargeable battery, this silicone personal massager is one of the more versatile options. You can even use it with body oil if you're into sensual massages.
Price: $27.95
---
This isn't any old butt plug, it's a b-Vibe's Snug Plug. This collection is popular for a few reasons, first being the anal plug's unique torpedo shape. Unlike other anal toys that may be curved or cylindrical, Snug Plug utilizes a more rhombus-like shape to provide internal, pressure stimulation of the anal canal as it moves around inside the body. Second, it's weighted. The Snug Plug 1 (featured above) weighs in at 55 grams and is the smallest of the five plugs in the series. Weighted plugs provide a fuller feeling without discomfort, making them perfect for extended wear. Third, the Snug Plug collection is great for beginners because you can purchase one plug at a time (each comes with a storage case and beginner's guide to anal play) or as a set, having the option makes exploring what feels good simpler because you can start out with one and then easily size up or down from there.
Price: $45
---
This two-piece furniture set comes with a wedge and a ramp that will make sex while pregnant a lot easier. The individual wedges relieve pressure during sex, taking the stress off your already stressed-out body and making it more comfortable for everyone involved.
Price: $199.99
---
MORE BAZAAR DEALS:
The Daily Dot may receive a payment in connection with purchases of products or services featured in this article. Click here to learn more.