The season of deals is upon us, but sometimes you have to spend like you mean it. While it's easy to get caught up in Black Friday bargains, filling your shopping cart to the brim with discounted goods can lead to impulse buys that you may later regret. Suddenly, you have a bunch of random stocking stuffers, and no one actually marked off on your list.
Stick to quality over quantity. Though these holiday gifts are pricey, they're worth every single penny.
This is one LEGO set you definitely don't want to step on. Included are over 2,000 pieces that can be used to build five posable Voltron lions which can be combined to create the Voltron!
Price: $179.99
Skincare company FOREO's UFO device is easily one of the best on the market for LED therapy. It fits in the palm of your hand and uses sheet masks created using Korean skincare's famous formulas. Imagine combining a 20-minute sheet mask treatment with thermo and cryotherapy – but it only takes 90 seconds. That's a lot easier than hauling your butt to a medispa every few weeks!
Price: $264+
Students, busybodies, writers, and workaholics will appreciate this revolutionary gadget that turns any surface into a fully-functioning keyboard. Just slide it on like a multi-finger ring, connect it to any smart Bluetooth-enabled device and get to typing!
Price: $179
Not here to spook you, just to snuggle you while you grind (or sob after rage quitting).
Price: $99.99 (regularly $139.99) 
Every kitchen deserves to have one of these sexy machines resting on the countertop. You may think it just makes flawless cakes (it does), but the KitchenAid stand mixer also whips together bread dough, whipped cream, fresh pasta and all manner of baked goods. They're available in every color of the rainbow to match whatever aesthetic you're cultivating. You'll only buy one to last a lifetime, and there are dozens of attachments and extensions to satisfy your specific cravings.
Price: $259 (regularly $429.99)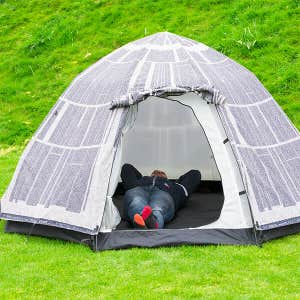 This is what people mean when they say they're going glamping, right? And besides looking super badass, this Death Star won't blow up other tents and is large enough to fit you and two friends–woo!
Price: $249.99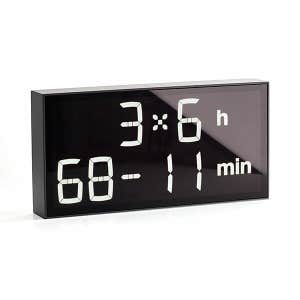 Want to give someone a headache? Here's a clock that tells time by forcing you to solve mathematic equations.
Price: $299.99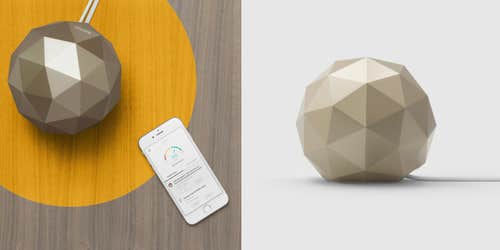 Norton, the industry standard for all your computer security needs is making wireless surfing safer than ever. The Norton Core is not only a high-performance Wi-Fi router with multi-layer protection on all devices, but its space-age design also makes it a sexy decorative touch in your home. Dual band support makes for an optimal connection. It supports lightning-fast speeds for lag-free streaming and gaming. Your Wi-Fi signal will get a literal supercharge, broadcasting directly to the distant corners of your home, Best of all it's easy to set-up. Plus, it just looks so dang cool.
Price: $149.99 (regularly $199.99)

The officially licensed Construction Kit allows Fallout fans to build their own (wearable) replica of the Pip-Boy 2000 Mark VI  (a pre-War personal information processor or PIP). The kit includes over 150 precision parts in a vegan leather case as well as all the tools to assemble the collectible.
Price: $99.99 (regularly $149.99)

Whether you're entertaining in July or in the dead of winter, a fire pit will set any party ablaze with joy. Roast marshmallows, cook kebabs or just gather around with friends and family to stay warm. This is not just an investment in your backyard, it's guaranteeing memories with friends, family, and neighbors for years to come.
Price: $143.92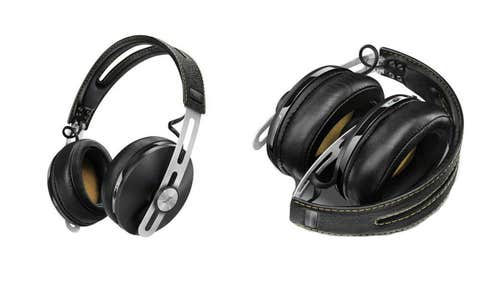 Want to give the best sound for the holidays? Consider Sennheiser's best selling headphones. The HD1 Wireless headphones were made for the audiologist on the move. You can take high-quality, ultra clear sound anywhere. These minimalist headphones are crafted from luxurious leather for optimum comfort. Advanced NoiseGuard technology ensures you'll hear nothing but the sweet sounds blaring from these headphones. High-def aptX technology delivers crystal-clear audio, making easy listening that much easier. All of that without any pesky wires!
Price: $249.95 (regularly $399.95)

When it comes to serious next-gen gaming, it pays to play like a PRO. Get it?
Price: $399
With one of these babies, you'll actually look forward to vacuuming. Suck up every dust bunny in sight and without a clumsy cord to deal with. Though Dysons are flashy, a Shark vacuum gets it done with a similar aesthetic that's slightly more affordable. It comes with a five-year warranty and will continue to last you years after that's up.
Price: $297.75
Homemade ice cream is tasty, but a total slog to actually make. Pour any ice cream, sorbet or frozen yogurt base into this machine and watch it turn to luscious soft-serve without the need to pre-freeze a canister. Make batch after batch without slowing down, and get your ice cream fix quick.
Price: $365.97
Why settle for HD when you can have Ultra HD? With 4K HD you're getting four times the pixels. Whatever you're watching will feel like it's in the room, offering you the world's best viewing experience. Samsung is known for its top-notch televisions, so you can rest assured you're getting the most visual bang for your buck.
Price: $599.95 (regularly $649.99)
Liquify fruits and veggies to smooth juice or pulverize any nut you want into spreadable butter. There's a reason chains like Starbucks and Jamba juice rely on these workhorses.
Price: $548.95
Even when you and your pet have to part ways, you'll be able to stay in touch. Pop in using a companion iOS or Android app to remind your furry friend that they are a good girl or boy. It even releases scents to relax them so they don't get too excited.
Price: $299.99 (regularly $379.97)
When it comes to getting swole in the new year, this set (and a little perseverance) is all you need. Instead of a clunky set of weights taking up the room, you can adjust both dumbbells from five to 52 lbs.
Price: $299
This amazing turntable blends old school with the new. It plays all manner of vinyl like any great turntable but it also rips the high-quality tunes to listen on your laptop or smart devices.
Price: $249
Walking is so last century. Get around town like some sort of futuristic superhuman. Travel up to 14 miles on a single charge.
Price: $628.18
Make Starbucks quality coffeehouse drinks with the push of a button. Brew high-end coffee, tea, espresso, and milk pods in seconds, and never stand in line during the morning rush hour again!
Price on Amazon: $124.79 (regularly $149.99)
Play the latest and greatest mature titles including Tom Clancy's The Division. Which by the way, comes with the console. How convenient.
Price on Amazon: $369.55
When you're on a road trip, it's best to prepare for the worst. Garmin isn't just a GPS, it's a dang road concierge. Plus, it fits in your glove compartment.
Price on Amazon: $205.98
For serious home chefs, a good knife is crucial in making restaurant quality dishes. This set contains 14 Japanese steel knives that will dispatch veggies and meat with ease. It even comes with a fancy wooden block to store them in and a honing rod to keep them razor sharp for years on end.
Price on Amazon: $307.79 (regularly $419.99)
Create literally any shape imaginable from fun toys to functional tools. This printer builds whatever you punch into it. Truly something out of a Star Trek episode. The only limit is your imagination.
Price on Amazon: $299
Make anything from a dry martini to a Moscow mule anywhere in the world. This 16 piece set folds neatly into an easy to store and carry case. Wow the world with your awesome mixology skills.
Price on Amazon: $182.99 (regularly $299.95)
Don't settle for Instagram when it comes to snapping memories. This DSLR camera takes amazing high definition pictures and video and it's just as user-friendly as the camera on your phone.
Price on Amazon: $599 (regularly $699)
MORE BAZAAR DEALS:
The Daily Dot may receive a payment in connection with purchases of products or services featured in this article. Featured items are sponsored and The Daily Dot receives payment. Click here to learn more.