Today's dads use a lot of electronic devices that keep them in the know and entertained. If yours loves geeky Father's Day gifts, we've got you covered with some cool products he'll enjoy.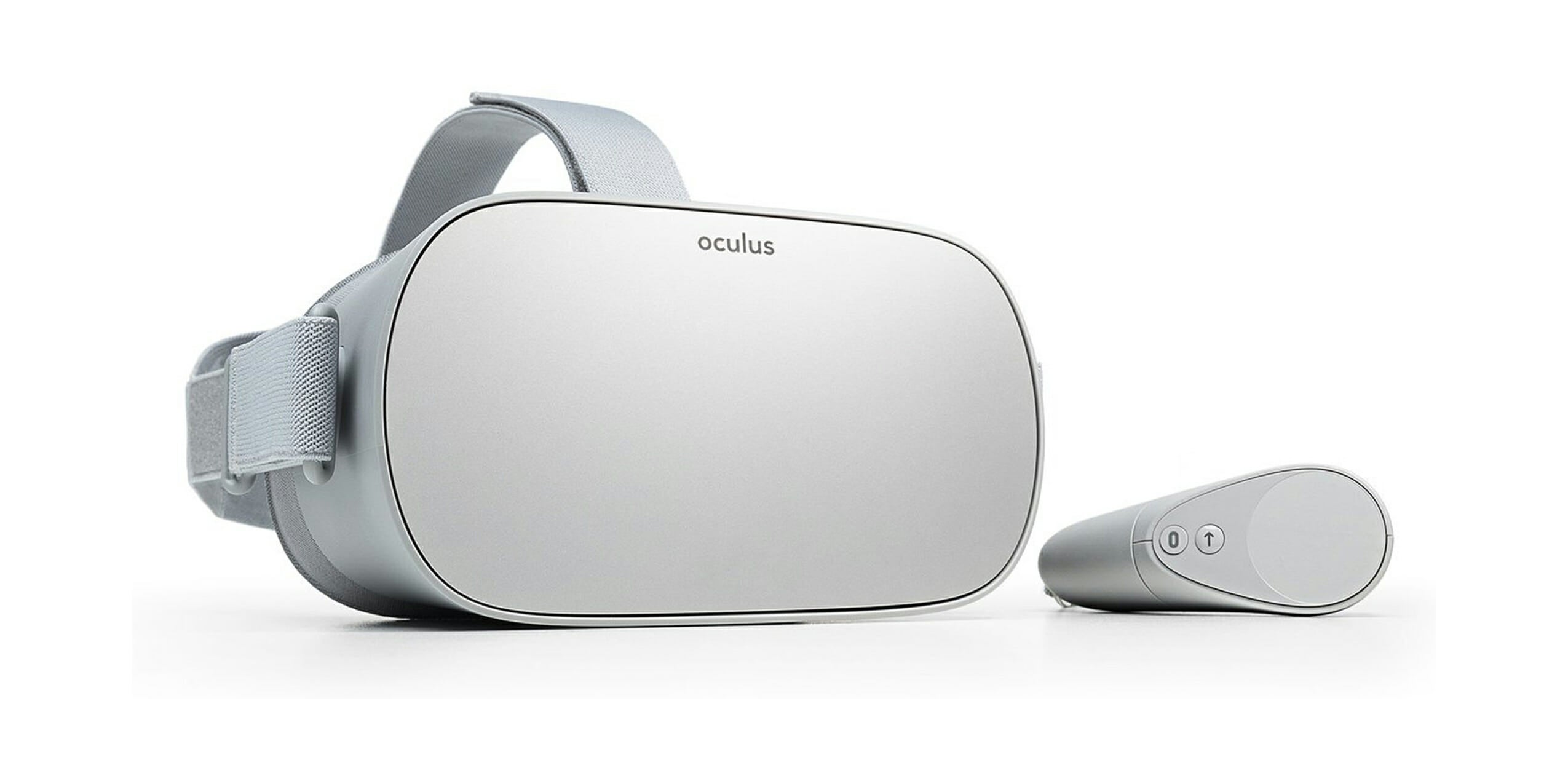 No offense, kiddos, but some days dad just wants to clock out of this reality. Give him the best virtual reality gear going today.
Unlike other virtual reality devices, this baby works standalone. The lightweight headset is made from breathable fabrics so it's totally cozy to wear for hours on end. Its lightning-fast LCD display improves visual clarity and reduces the dreaded "screen door effect" you get with lesser VR devices. The spatial audio also makes every VR experience totally immersive. Dad is only a few buttons away from diving into 1,000 games, social apps, experiences, and more. Plus, it's one of the most affordable VR devices on the market.
Price on Amazon: $199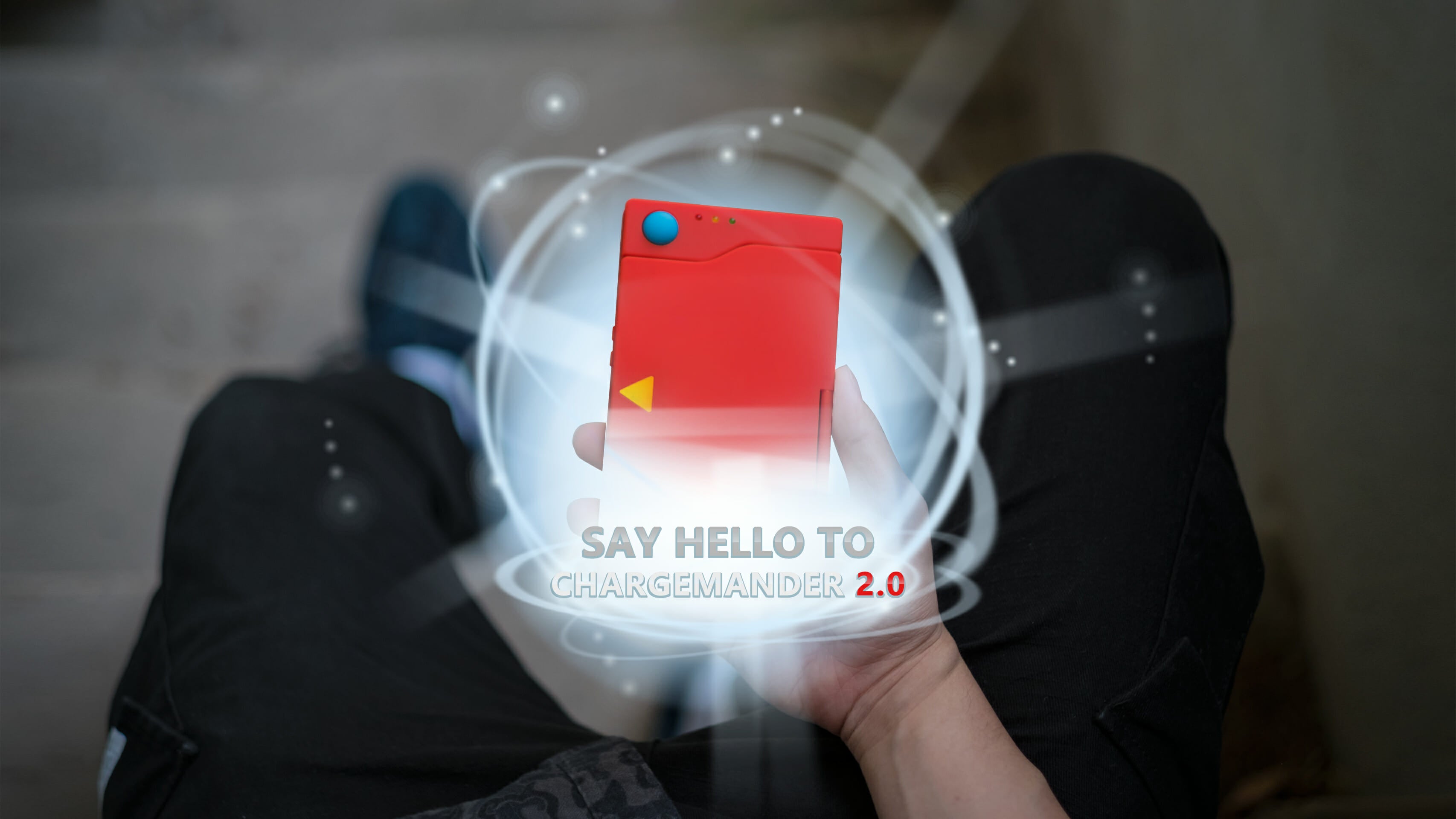 Sometimes, Dad needs a source of power for all his smartphone after a long day of Pokémon Go. He says it's for Google Maps, but we know the truth.
The Chargemander battery case offers a stylish look that resembles a Pokédex to the trained eye. More importantly, it can charge up a smartphone in less than 15 minutes while you use it on the go. It's rated for 1,200 battery cycles and can be used every day for three to four years. The cases are available for the iPhone 6, iPhone 6S, iPhone 7, and the Samsung Galaxy S6. As geeky Father's Day gifts go, this one is sure to earn you a big smile.
Price on Amazon: $99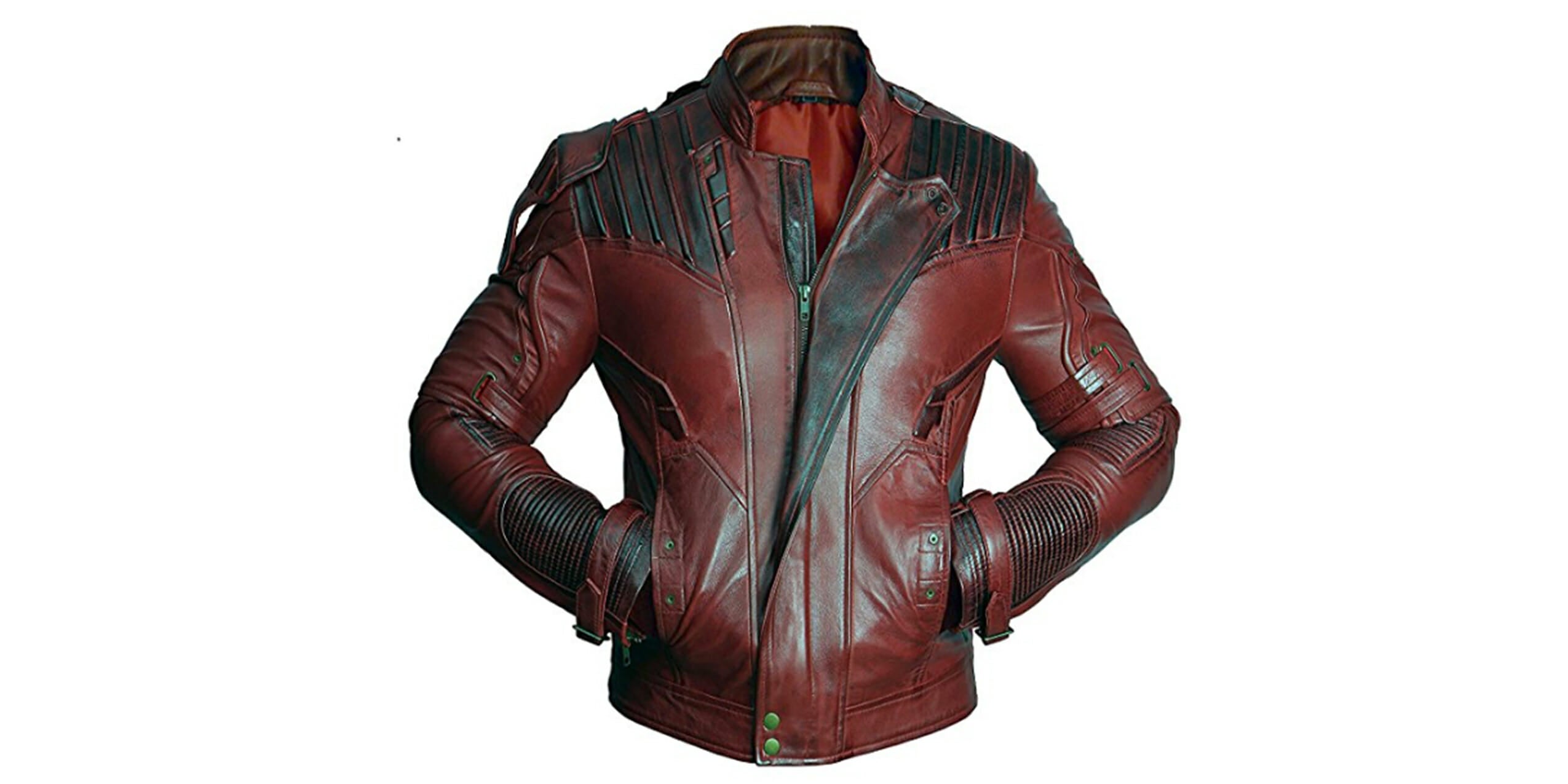 There's a good chance your pops adores the '70s and '80s. And who can blame him? The sweet tunes and the grody fashion set this whole era apart. It's also an era that pretty much makes Star Lord who he is. And who doesn't want to be as cool as the ragtag leader of the Guardians of the Galaxy?
This isn't some cheap, flea market knockoff. Yes, pops will walk about with a galaxy-sized chip on his shoulder because of the rep that comes with looking like an interstellar bandit. But this jacket is made from authentic leather, none of that fake plastic stuff. There are even two front pockets to hide Infinity Stones. Or snacks. Probably just snacks.
Price on Amazon: $195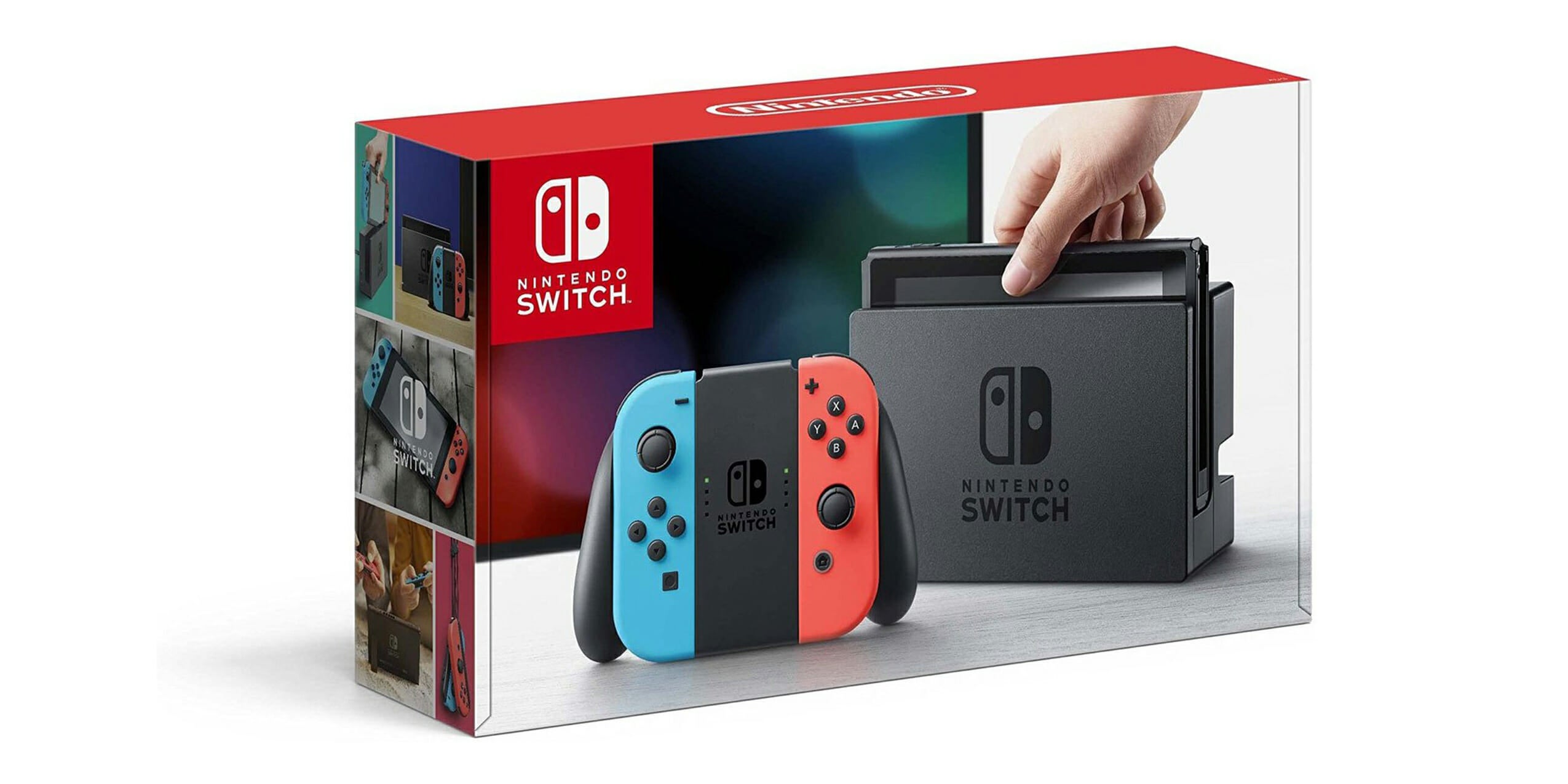 Apologies to Cindy Lauper, but dads just want to have fun. There may be a few caveats as far as dad is concerned. Well, there may be one caveat: can I do this on the crapper? When it comes to the Nintendo Switch, the answer is an emphatic yes.
You can play the Nintendo Switch in portable mode on the crapper, and well, anywhere else. Dad can play in docked mode from the comfort of his favorite sofa, or in portable mode anywhere. With games like Super Mario Odyssey, Legend of Zelda: Breath of the Wild, and Splatoon 2, there's plenty of modern classics that will scratch any gaming itch. And with Nintendo Online on the horizon, dad will soon get to play classics from his childhood from the NES.
Price on Amazon: $299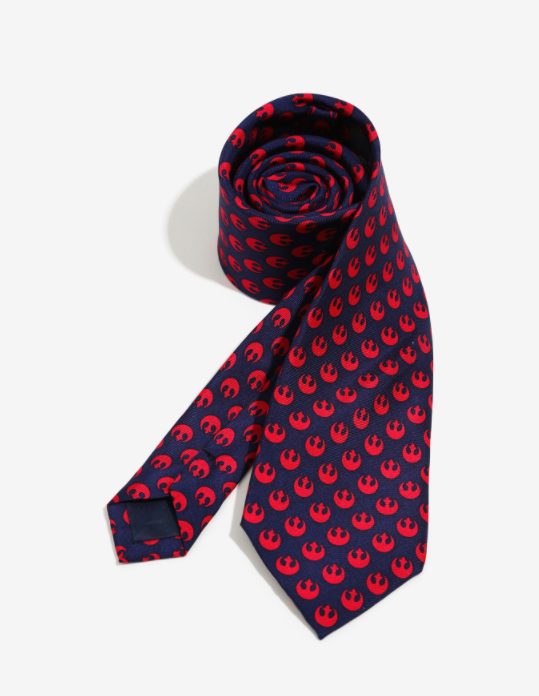 If you dad heads to an office for work, he doesn't have to leave his geek sensibilities at home. Why not let his Star Wars fandom shine through in a classy and understated way?
Box Lunch has a selection of ties that will let Dad stay true to his roots, Rebel or Imperial. This navy and red tie features the red Rebel Alliance symbol on a field of navy blue. It'll let everyone in the office know he is a force to be reckoned with during the status meeting.
Not only will Dad get a great gift, but Box Lunch also gives back. For every $10 spent, the company partners with Feeding America to provide a meal for local food banks. Tell Dad he helped feed hungry people, and he'll wear the tie with even greater pride.
Price on Box Lunch: $48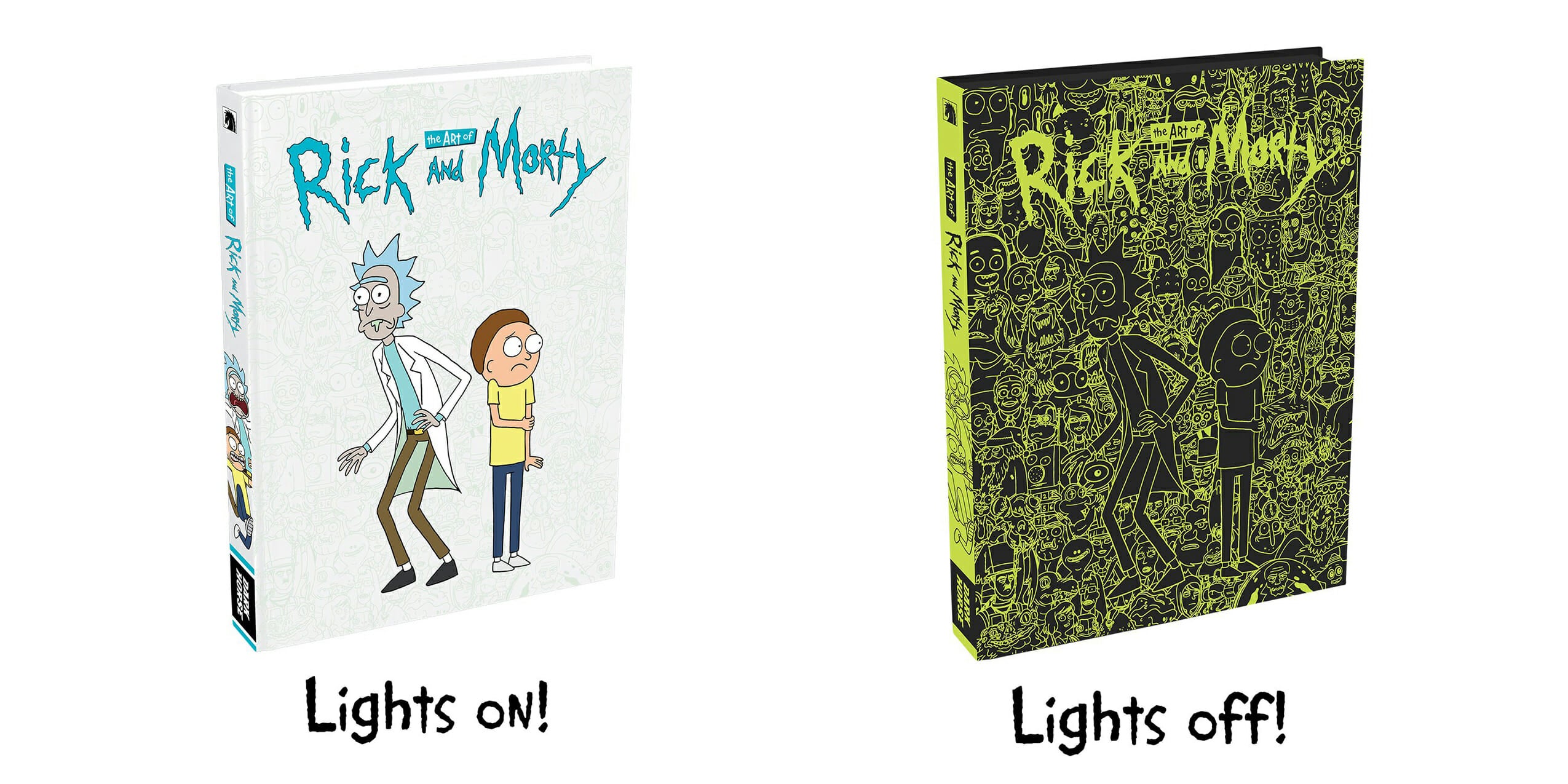 Technically, mad scientist Rick Sanchez is a dad. Mort importantly, he's a father figure to a nerdy waif and it inspires him to give in to his basest dreams. Dad can likely relate to this dynamic, and it's why he loves the funniest animation series going right now.
The Art of Rick and Morty covers the limitless worlds and hilarious characters the series is known for. In 224 pages, dad can delight to gorgeous art featuring Rick and Morty mainstays like Birdperson, Squanchy, Mr. Poopbutthole, and even Jerry. There's even intimate commentary from the show creators that gives you an outlandish behind the scenes look at his favorite series. It even glows in the dark!
Price on Amazon: $25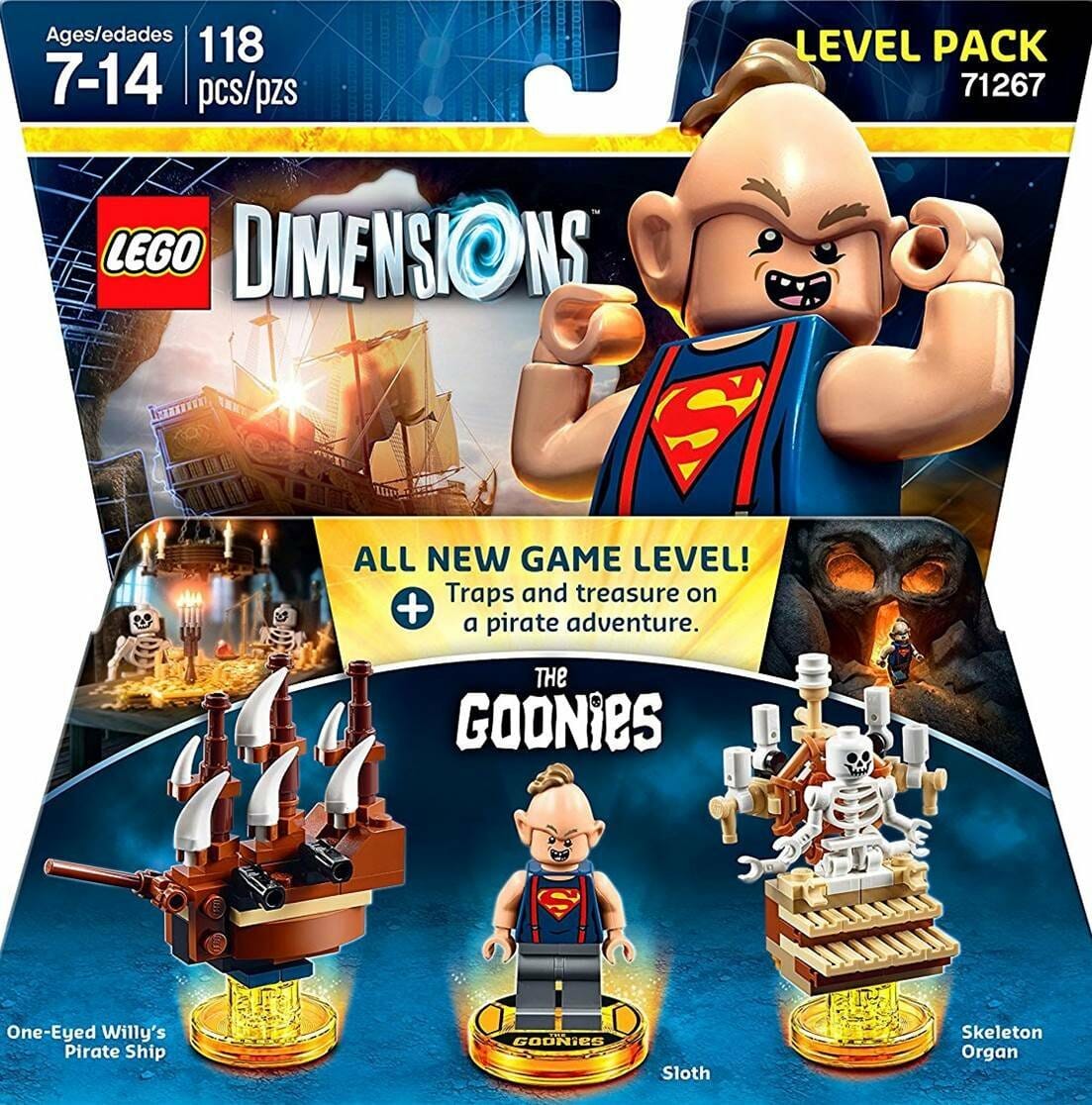 Gamer dads probably grew up playing with LEGOs. Those iconic bricks from his childhood have become the virtual building blocks in the video game LEGO Dimensions. The game brings to life many characters from movies, comics, games, and television.
The latest expansion pack features characters and scenes from The Goonies, the classic 1985 adventure film of scrappy kids and pirate treasure. Dads will enjoy the classic dialog while sharing the memories and thrills with the kids.
The pack will let players control Sloth in The Goonies' adventures but also allow him to cross over to other worlds and interact with Batman and other heroes. A recent trailer showed Batman giving Sloth a fashion makeover (!!!!).
Price on Amazon: $26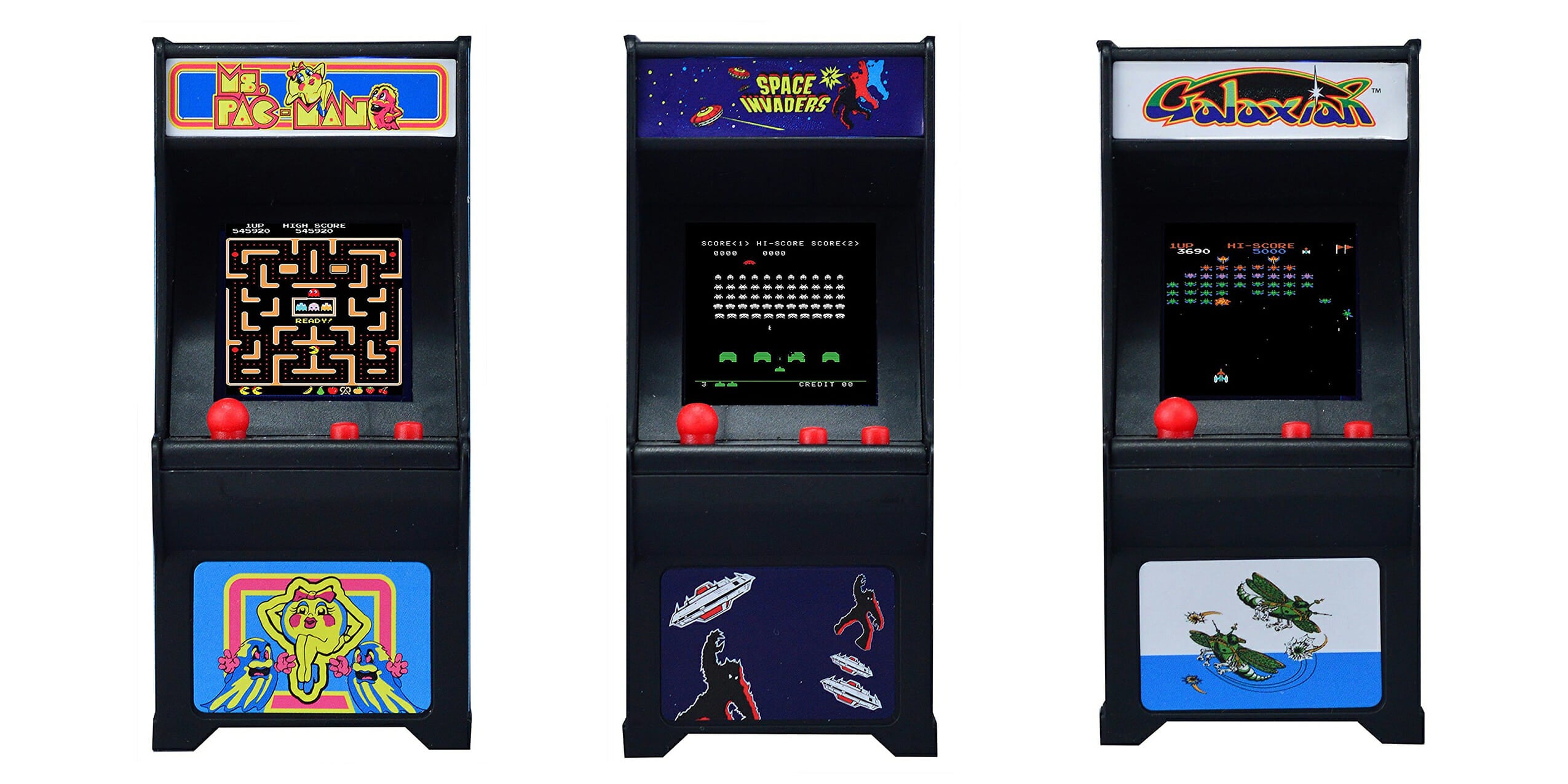 There's a good chance dad still remembers the glorious coin-op era. Ask him how many allowances he blew playing Ms. Pac-Man. Luckily, now there's a way for him to relive that magic without having to waste a roll of quarters anytime he gets a hankering to chomp ghosts and pellets.
Tiny Arcade takes all your dad's favorite arcade classics and shrinks them into portable cabinets. They're small enough to fit into briefcases, backpacks, and even pockets. These teeny arcade cabinets are available in Ms. Pac-Man, Galaxian, and Space Invaders to scratch whatever gaming itch dad has.
Price on Amazon: $16+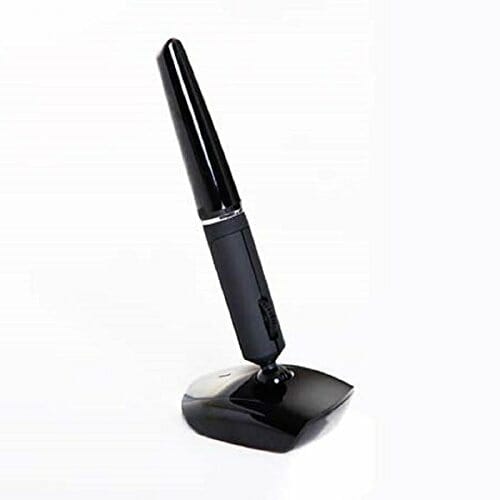 Dad has likely been giving you a hand throughout your life. So why not make it easier on his hands when he's using the computer? The R3 mouse offers a pen-like grip and can be used equally well with the dominant or nondominant hand.
Much like a regular mouse, it has three buttons and a scroll wheel, so using the R3 is just as intuitive as any other typical controller. It's compact and wireless, connecting with a USB dongle. The design eases the strain on the wrist by changing the angle of the grip into something more natural. A rechargeable battery and energy saving mode will help dads stay charged up through the longest presentation. 
Price on Amazon: $80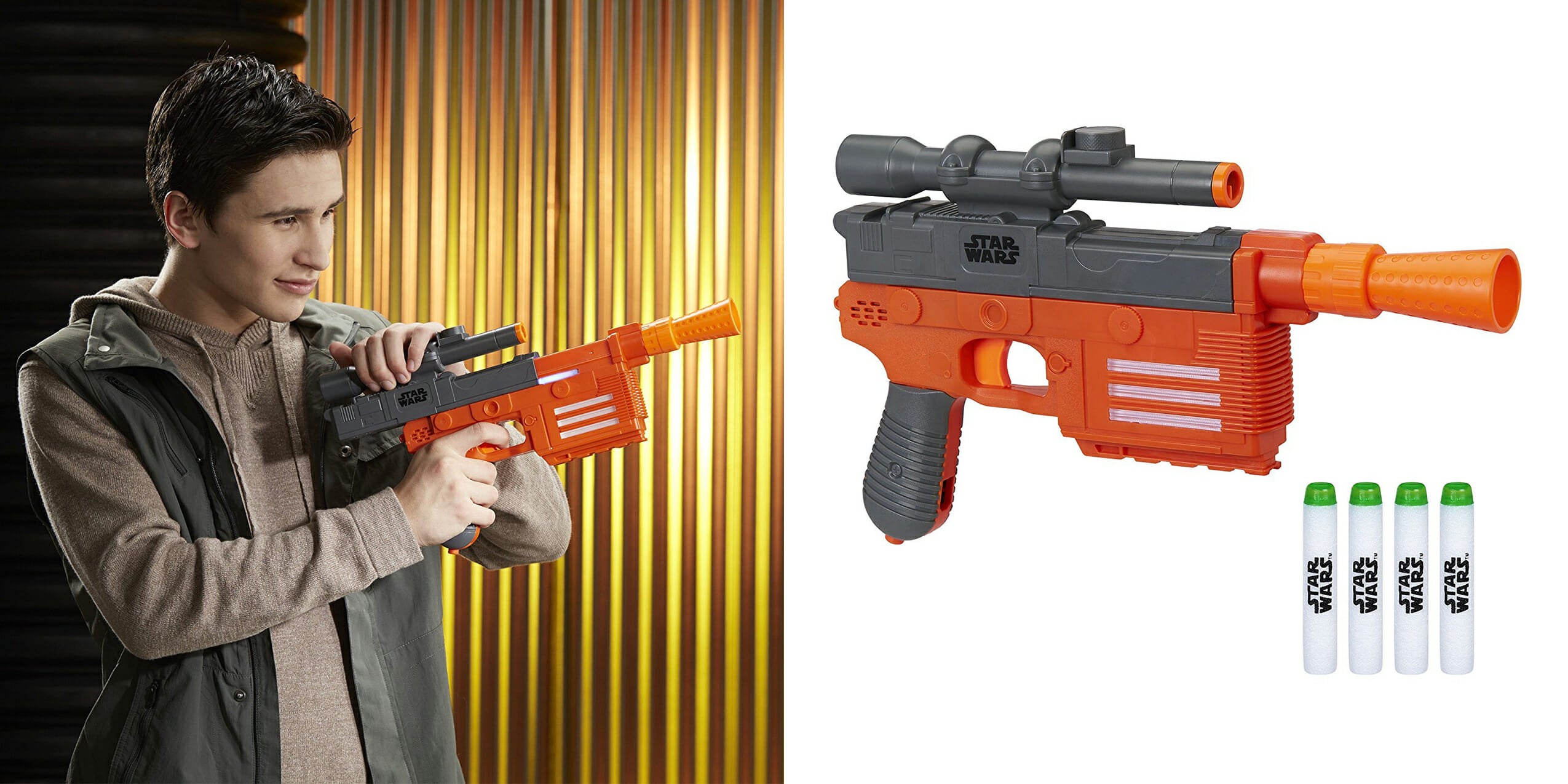 If your dad loves Star Wars, he's likely still mad about the special edition DVDs. You know, the ones edited to make Greedo shoot first. Any Star Wars nerd worth their credits knows everyone's favorite rogue shot first.
This oversight is a big one, so its best for dad to take matters into his own hands. No longer will dad simply envy Han – he can be him. This Nerf gun looks just like Han's from the new Solo: A Star Wars Story movie. Unlike Han's famous pistol, this baby comes with glow-in-the-dark darts that fire up to 70 feet. Let's see Greedo try something now.
Price on Amazon: $30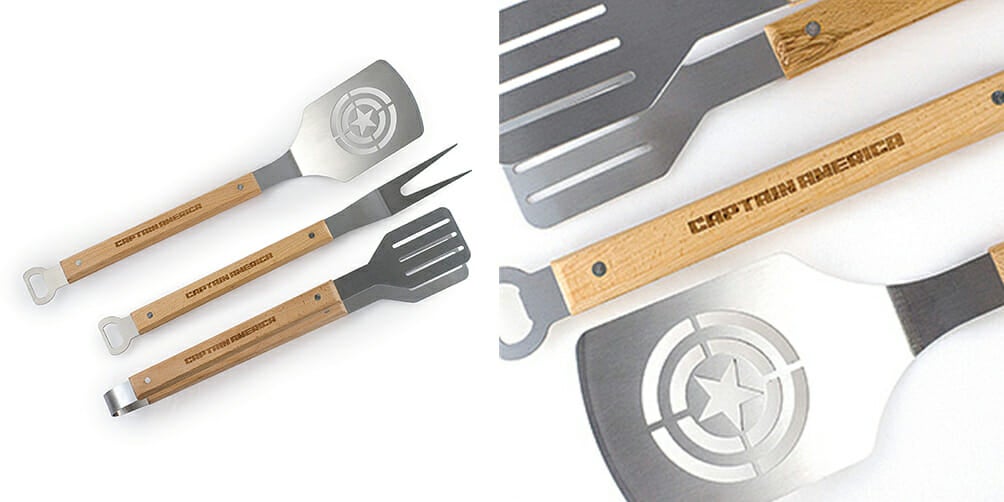 The ending to Infinity Wars likely left a bad taste in dad's mouth. The only way to fix this is by gargling out that crappy ending with loads of charcoal-roasted meats.
And if dad's gonna strap on his apron and fire up the Weber, why not give him the right tools for his heroic job. Captain America is know for his shield, but soon, he'll be known for his BBQ tool set. This patriotic set comes with a big spatula, tongs, and a big fork skewer, to conquer any outdoor summer party. It's available in Batman and Wonder Woman offerings too, if dad is more of a DC guy.
Price on ThinkGeek: $20
MORE BAZAAR DEALS:
The Daily Dot may receive a payment in connection with purchases of products or services featured in this article. Click here to learn more.