In recent years, sustainable alternatives to traditional menstruation products have become increasingly popular. Which is great – more obviously so for the environment, but for menstruation sufferers as well because now we have more options.
One of them is "period panties." Known for their comfort and simplicity, it's no wonder they have taken over the internet. But the babes over at Cute Fruit Undies took all that was great about free-bleeding in your underwear and perfected it.
The intimates company from New Paltz, New York specializes in ethically produced period underwear that anyone with a retro vibe could rock. Body, period and sex positivity are huge aspects behind the brand and it shows in the careful craftsmanship of every product and its packaging.  Cute Fruit Undies come in a variety of patterns, cuts, and sizes (XS-2X), so they'll flatter everybody. Choose from lace, cotton, high-rise, bikini, full bodysuits, whatever your heart desires. These functional yet fabulous undies will have you feelin' yourself well past Aunt Flo's visit, in which case you just pop out the crotch insert and set it aside for next time.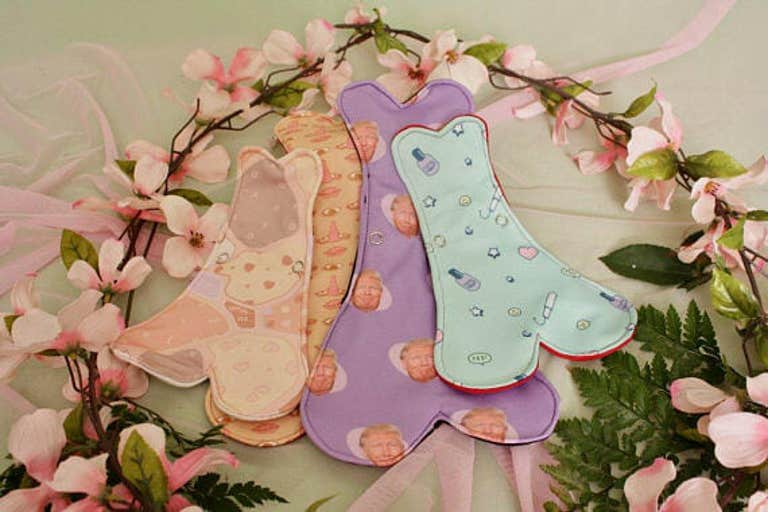 Designed to be leak proof, moisture-wicking, and absorbent, Cute Fruit Undies will keep you feeling fresh and confident all damn day. So heavy bleeders all over can come together in unison, finally freeing themselves of the diaper-like feel of a traditional cotton pad. All of the underwear is antibacterial, too! So you can toss your fears of toxic shock out with that old box of tampons.
Additionally, the absorbent crotch insert is customizable. So, yes, you get the pleasure of choosing what image you get to bleed all over. And who make for better blood dumpsters than our very own elected White House officials, Donald Trump and Mike Pence?  We'll let you decide on that one.
Prices start at $30 and $3 from every purchase is donated to Planned Parenthood – which really makes these panties with a purpose! Plus, every order includes a zine about the company, an undies care guide, tips on how to survive the ritualistic-hell that is your period and a condom.
MORE BAZAAR DEALS: