According to the New York Times, and many personal accounts from close friends, finding a Covid hook up bae is not easy. An already delicate practice has gotten extremely fragile, as people everywhere are now having to vet their hookups more than ever. On top of the normal hookup questions about STD and protection thanks to this raging pandemic, questions quarantining and mask usage have also come into play. It already sounds very overwhelming, but we haven't even scratched the surface of the major changes this pandemic has brought about.
According to OKCupid's Love in the Time of Corona, matches on OKCupid have increased by 10% and messages have increased by more than 20%. At first glance this might sound like a casual dater's dream, but once you take a closer look at the fine print, you'll realize it's anything but. While messaging and matches are up, so are users looking for long-term relationships. In fact, OKCupid also reports that there has been a 5% increase in OKCupid users looking for long-term relationships and a 20% decrease in users looking for hookups.
It doesn't take a rocket scientist to figure out why more people have suddenly turned towards seeking a partner during these scary and uncertain times. People are looking for companionship and intimacy whichever way they can get it, but where are they going during this heightened time of safety and health precautions? The answer is Book of Sex, which calls itself the "worlds largest dating site." If there's one thing we've all come to realize now more than ever, it's that time is precious. So why waste it sifting through an app full of people who are looking for something you're not?
What is Book of Sex?
Book of Sex isn't a dating site––it's a hookup site. Boasting well over one million site members and counting, it's easily navigable, explicit, and heavily used in major cities. Members can set their preferences in terms of gender, and the options are very inclusive. At the end of creating your profile, members will be able to complete a profile "purity test" to find out if they're a sexual newbie or a full blown hedonist. You can also fill out the personality test to connect you with your perfect match. Essentially, this is the perfect site to spread your hookup wings and soar.
How much does Book of Sex cost?
It's free to sign up, but you'll have limited options until you choose a paid membership option. Once you do, you'll get access to all profiles and full-size photos as well as the ability to send free messages to other registered users. That said, you can still look at profiles, blog, join groups, and view live shows for free if you like.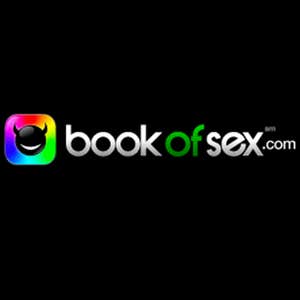 | | |
| --- | --- |
| 1 month | $39.95 |
| 3 months | $80.85 |
| 1 year | $239.40 |
---
Membership Pros
Over 100,000,000 members to choose from
Yeah, you read that right. There are over 100,000,000 members looking for a quick and fun hookup on Book of Sex. Obviously, that doesn't mean that they're all accessible, as your number of potential members will differ with location, gender, and any other preference filter you apply, but it's still a pretty great pool to swim in.
Awesome filtering options
Probably the best thing about Book of Sex is the filtering preference options the site offers. From the first page, the gender options are so much better than any of the mainstream apps out there. Choose from women, men, couples, groups, and more. You also have the normal age and location options as well.
Easy site navigation
One of the worst things when joining a new dating site is having to learn how to navigate it. Thankfully, the creators at Book of Sex thought that through when creating the site! Figuring out how it all works is a cinch, and navigating from profile to profile couldn't be easier. With all the extra features like the forums and live chats clearly labeled as well, enjoying extras is just a click away!
Membership Cons
Location changes options greatly
Unfortunately, the biggest con is a strong one. Depending on where you're located, your options on Book of Sex might differ greatly. Someone in a more rural area might not benefit as greatly, or have as big of a candidate pool to choose from as someone living in an urban city might. While some might find a solution in taking advantage of the location settings to view people outside their area, it slightly defeats the purpose of a hookup site if you can't actually hook up with the person.
Is it worth it?
Honestly, for a free sign up, Book of Sex is most definitely worth it. If you're looking for an easy way to connect with like minded people who are looking for the same thing, this is probably one of the best sites to do it. Don't get stuck having the same conversation over and over again that only ends in denial on dating apps where people are actually looking to date. Stick with your guns and head on over to Book of Sex and end up getting what you want for a change!
---
---