The holidays are great for three reasons: family, food and group party games! Seriously, there's no better combination than eating delicious food with those you love in between rounds.
But there's only so many times you can play the same game (especially in the same night) before someone gets bored.
That's why you should pick up a few new titles before the holidays roll around. They may not be holiday-themed or have you singing Christmas carols, but they will amp up the spirit of joy!
10 best holiday board games for all ages
1) Best holiday board game for competitive families: Christmas-opoly
The Christmas holidays are already a time filled with stress and arguments. Why not direct that energy into a festive version of the number starter of family fights everywhere with Christmas-opoly!
With six Christmas tokens to play as, trivia on the back of every card, and a special set of rules for keeping the game to an hour, this might be better than actual Monopoly.
Price: $21.99
---
National Lampoon's crude holiday classic might be a surprising inspiration for a party game, but the Christmas Vacation Twinkling Lights game rules.
Good for ages six and up, this game sees players trying to create patterns of colored lights based to collect cards. Part puzzle, part strategy, Twinkling Lights doesn't need a franchise to sell itself.
Price: $6.99
---
3) Best holiday party game for all ages: The Santa Game
The holidays are a time to indulge in one of life's great pleasures; playing games with little kids. The Santa Claus game is for ages three and up, but this isn't Candy Land.
Instead, players of all ages will delight in giving gifts, singing songs, and doing silly challenges. Trust us, you'll get lost in the whimsy.
Price: $27.99
---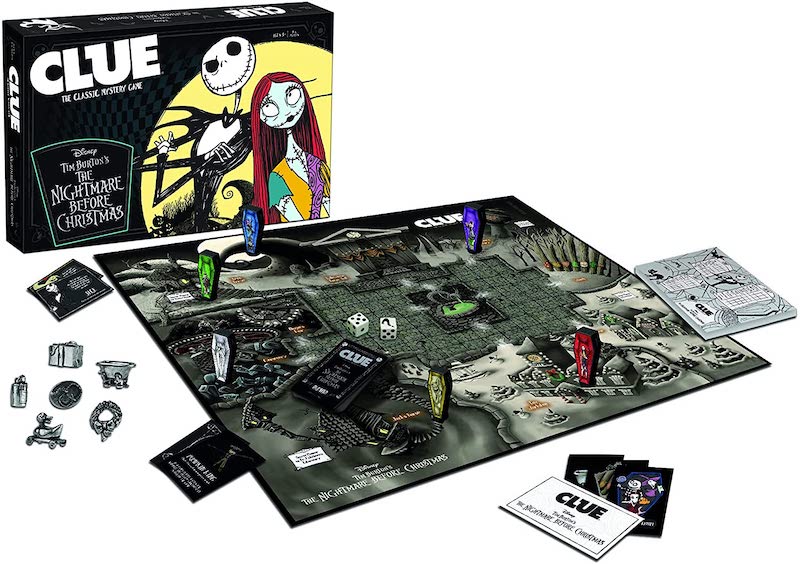 Take your entire family on a cross-country adventure for one low ticket price! But winning this strategy game isn't as clear-cut as just building your track.
There are a few other rules that get factored in for points (like who built the longest track) before a winner is announced.
Price: $44.99 (regularly $49.99)
---
5) Best holiday party ice breaker game: Moose Master
Moose Master is the game of joyful miscommunication. It also only takes five minutes to learn. Players pull challenge cards, but the rules change every challenge.
You might have to impersonate a celebrity, rhyme words, or do trivia. The catch comes when the rules damage you can't say no, use first names, or point as you guess.
Fun for all ages, but best for adults, this is perfect Christmas party ice breaker.
Price: $19.99
---
Whether entertaining children or tipsy adults, one thing is always true; it's funny to throw things at your friend's heads.
The Joyjoz Christmas Inflatable Reindeer Antler two-pack allows you to do just that without fear of breaking anything nice around the house.
You get two sets of inflatable antlers and twelve inflatable rings to try toss upon them. You will feel silly. That's the joy of Christmas.
Price: $7.99
---
7) Best Christmas Pictionary game: Pictionary
You might think there's a Christmas edition of Pictionary, but you'd be wrong.
That's sort of the beauty of Pictionary. Every edition of Pictionary is the Christmas Pictionary. Or the Halloween Pictionary. Heck, every edition even comes with the Arber Day Pictionary.
Just write down your own themed suggestions, throw them in the pile, and let the festive magic (for any holiday) begin.
Price: $19.99
---
READ MORE:
Inspire the Christmas spirit with the musical fun of Happy Holidays: The Christmas Carols and Songs game.
Pull from six different kinds of challenges, from singing games to trivia. The first player to make it to the end doesn't have to do dishes, but everyone will sing.
Price: $36.99
---
9) Best Cards Against Humanity for kids game: Kids Against Maturity
The energy of adult party games like Cards Against Humanity is incredible, but when family is around it can be too blue.
That's why we love Kids Against Maturity, a game that trains the future generation for their shock comedy future.
While the box says 8 and up, we suggest aiming 12 and up with this one.
Price: $29.99
---
10) Best family board game for Christmas: Catan
Settle down with your friends, family, food and some beer if you plan to play this because signing up for Catan means you're in it for the long haul.
Strategically trade items with your opponents while trying to settle and build on the board.
The only resources you have are wood, ore, grain, and brick. So you have to really use your noggin in order to monopolize the board.
Deeply addictive for all ages, this is easily the best family board game for Christmas.
Price: $43.97
The Daily Dot may receive a payment in connection with purchases of products or services featured in this article. Click here to learn more.