Editor's note: This article is regularly updated for relevance.
You'd think that since our privates are pretty moist (even without lube), finding a few trustworthy waterproof vibrators wouldn't be an issue. Well, you'd be wrong.
Unfortunately, the FDA only pays attention to sex toys if they're labeled as "medical devices." Meaning sex toy companies are free to use whatever they want, wherever they want and they don't have to report it to anyone. Which, I for one, am totally not fond of. Sorry not sorry, but I just don't go shoving random, unspecified objects in my vagina for fun. If that's your prerogative then so be it, just make sure your gynecologist knows what you're doing too.
But why does any of this matter? Read on, I'm getting to that.
For starters, the whole laissez-faire take on sex toys can be pretty dangerous. Not only are companies able and willing to load their goods with harsh chemicals, but they're also not held accountable for products they make that are beyond low-quality. And no, I'm not talking about the vibrator that wouldn't charge or the dildo that arrived cracked. I'm talking about serious allegations like people being electrocuted by utilizing a faulty vibrator.
So how do you find reliable waterproof vibrators that won't zap you to bits? Well, you gotta know your stuff. And we know that's asking a lot, which is why we put together this list of dependable waterproof vibrators. This guide will be updated regularly, so make sure you check back in to see what other buzzworthy adult items we've added!
The best waterproof vibrators you can get online
The original clit vibrator, the Womanizer Pro 40 has been the source of inspiration for many adult toy manufacturers (in fewer words, this baby put "sucking vibes" on the map). Using Womanizer's patented PleasureAir™ technology, this waterproof clit vibrator gently "sucks" and massages, instead of vibrates. With six modes to choose from, the Pro 40 can swoon you with a soft and slow pulse or blow your mind away with a more intense setting. Even better, Womanizer designed the Pro 40 with detachable and replaceable heads, so when one gets worn out (or so gross that not even the strongest of sex toy cleaners can make you want to use it) just pop it off and put on a new one. Additional perks: the Womanizer Pro40 designed with phthalate-free, hypoallergenic silicone, isn't too loud and fits comfortably in your hand.
Price: $99 (regularly $129)
---
The Nymph waterproof couples vibrator by SVAKOM is here to fulfill your deepest desires with its finger-like design and motions. Users can play around with three different finger movements and three different speeds (so nine modes total) until they find the one that really grabs their attention. The highly-rated dual-ended vibrator is designed with body-safe silicone, which makes it easy-to-clean and 100% waterproof.
Price: $98.99
---
Uniquely designed, the TuLips clit vibe features two lips (TuLips, get it?!?!?) and a "tongue" of its own to kiss and caress the most sensitive parts of your body. Three buttons control the speed and vibration pattern, making it simple to switch it up or go back to the previous setting. And since it's made with body-safe silicone, the vibe is easy to clean and can be used with lube. In my opinion, this is a great first vibrator since it's really user-friendly, not incredibly loud, and offers a variety of pulsations for users to figure out what they do and don't like.
Price: $44.99+
---
Conceptually, Crescendo is like an all-in-one waterproof vibrator capable of prostate, G-spot, clitoral, and nipple stimulation (just to name a few). In addition to its functional versatility, the device itself is completely customizable for everyone's body parts. Unlike other sex toys, Crescendo can be manipulated however you'd like because MysteryVibe understands that no two bodies are the same. Crescendo features six motors, a dozen pre-set vibration modes, and 16 intensities. This makes the toy optimal for people just starting to explore their bodies as well as more experienced users with a specific target in mind.
Price: $149.99
---
In my very humble opinion, the plusOne Mini Massager is one of the best vibrators for beginners (and pros) for multiple reasons. Aside from being completely waterproof, this sleek adult toy fits directly in the palm of your hand making it easy to control and simple to operate (no matter what way you use it). It's a helluva lot more versatile than many other massagers, set for clitoral, nipple, and perineum stimulation. The Mini Massager features 10 vibration settings ranging from a soft buzz to a deep rumble, a rechargeable battery that can withstand three hours of even the most intense play, a low battery indicator, and body-safe silicone.
---
READ MORE:
---
Among the plusOne's line of incredibly powerful waterproof vibrators is this affordable personal massager. It's designed with high-quality body-safe silicone so it's silky yet firm, and rechargeable via USB. Users will be able to take advantage of the toy's 10 settings with its semi-flexible neck (which is ideal for precise stimulation). However, it is a louder device so if privacy is a concern of yours, you may want to save this gadget for the shower!
Price: $24.98
What makes Zumio a best-selling waterproof vibrator? Probably the toy's award-winning design and SpiroTip™, which allow its head to rotate in circles rather than vibrate. So no matter what area you're trying to envoke pleasure, the Zumio S can pinpoint it. The "S" stands for sensitivity (okay, maybe not, I might have just made it up) as in "pressure sensitivity." Depending on how much pressure you apply to the tip, the toy's mechanical design adjusts the intensity. Zumio is also completely waterproof and outfitted with an eight-speed motor and travel (lock) mode.
Price: $98
---
Twice dipped in silicone, the Sensuelle Point is super silky and smooth to the touch. It features 20 distinct functions that go from a soft buzz to mind-blowingly intense, so it's safe to say this thing can get anyone off.
Price: $35.36
---
The latest trend in waterproof sex tech is the "sucking vibe," but that doesn't mean it's for everyone. Especially those who tend to be more sensitive in their nether region (myself included), we would benefit more from a traditional clit vibe. They're usually a little less intense than their more evolved counterparts, but that doesn't mean they're any less pleasing! Take this versatile sex toy by Sweet Vibrations, it features dual-stimulators at either end and 10 pleasure settings from a soft rumble to more extreme patterns. And unlike the sucking vibes, the Pixie is versatile–capable of clitoral, nipple, and even testicle stimulation.
Price: $39.99–$44.99
---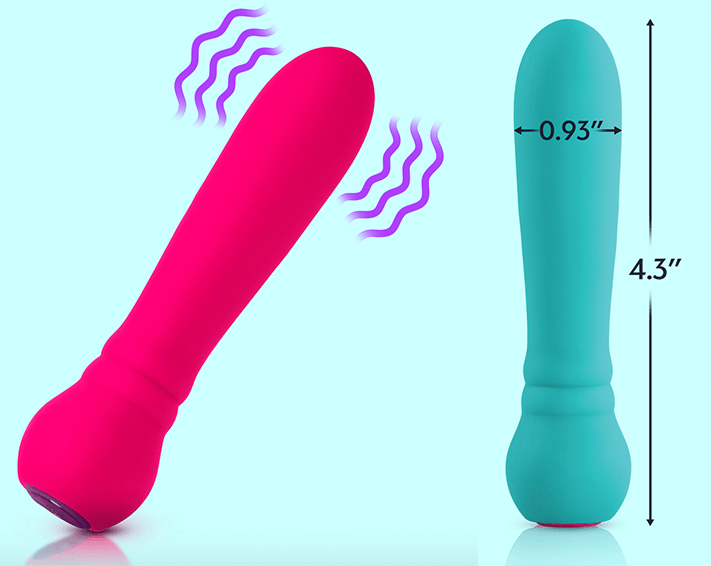 If you haven't realized by now, most waterproof vibrators are designed with silicone, and that's no exception for FemmeFunn's Ultra Bullets. Even though its name utilizes the term, it's not a traditional bullet vibrator–the Ultra Bullet's sleek design mimics a traditional bullet that's been adjusted to add three inches of insertable fun (the "Ultra" if you will). It's lightweight and compact enough to comfortably fit in your hand, features 20 powerful vibration modes, a memory function (so you can shuffle less), and is rechargeable via USB.
Price: $65
MORE BAZAAR DEALS:
The Daily Dot may receive a payment in connection with purchases of products or services featured in this article. Click here to learn more.