People seem to have a negative connotation with online readings, so after reading some Keen psychic reviews I decided to try the service (and its readers) out for myself.  I've had a few readings in real life, so how different could this really be? Turns out, I was right–it's not so different at all! But before I detail my experience getting a love reading* through Keen, I'm going to tell you a little bit about the service and what you can expect from psychic readings in general. 
*If you are my boyfriend and you are reading this, I'm sorry for being a sap. Also, maybe don't read this? 
What is Keen?
Think of it this way: Keen.com is sort of like Angie's List for personal advisors. Readers create a profile that details the types of services they provide, any foreign languages they may be fluent in, the number of years of experience they have reading, if they have any certifications, and of course, the method in which they provide readings (phone call, Skype/FaceTime, e-mail, instant messaging, etc.). Then you (a verified Keen user) can go in, register for a free membership, sign up for some readings and provide a review directly on your reader's profile. Users can also search for personal advisors using advanced filters like price, rating/reviews, languages, availability, and services. 
How do online readings work?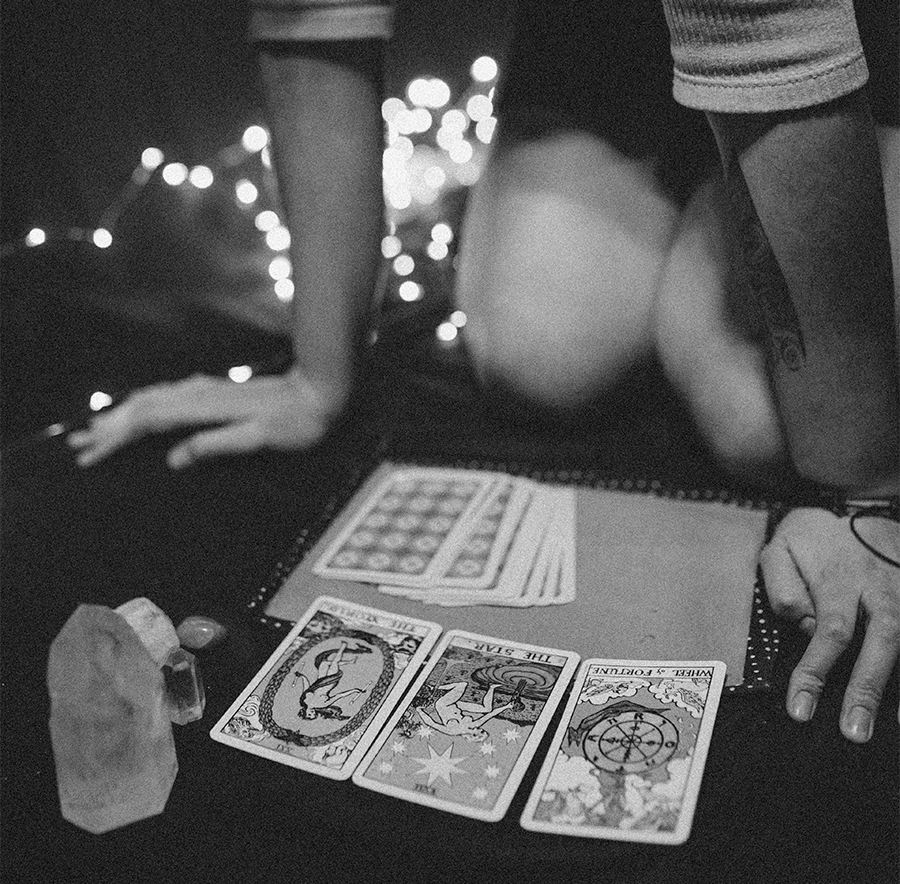 Keen online psychic readings work very similarly to readings you can get in real life, but depending on your communication method they may work more or less in your favor. If you're like me and you have anticipatory anxiety, online readings might help you navigate the psychic realm and better focus on the questions you would like answers since you don't have to physically meet with anyone. However, if you're not good at explaining yourself either through text or via phone calls, then you might want to stick to the IRL meetings. After all, communication is key for getting a clear and accurate reading. 
When looking to talk to a psychic (either online or face-to-face), you'll need to know what type of reading you're looking for because not all psychics offer the same services. Just know there are two sets of services: structured and unstructured. Structured services rely on exploring the symbols and patterns in your life that have defined meanings, whereas unstructured readings are based on the reader's perception. We've provided a glimpse into the world of both for you below. 
Types of structured readings
Cartomancy: Readings that use a random selection from a deck of cards to gain insight into a person's life. Tarot is one form of cartomancy.
Dream interpretations: Readings that dissect dreams and assign meaning to symbols/actions within the dream that relates to your life.
Numerology: Readings that help you flesh out a life path based on the numbers tied to your life (like your birthday).
Tarot: A type of cartomancy that uses a deck of 78 cards with assigned imagery/symbolism/meaning to help you make sense of a situation.
Types of unstructured readings
Psychic love readings: Readings focused on your love and sex life, determined by the energy you carry.
Angel card readings: Similar to tarot readings, angel card readings can give insight into your career, finances, and relationships. But instead of using a tarot deck, the reader (or psychic) taps into the energy presented by your guardian angel.
Past life readings: If you've ever wondered why you fear certain things or have a crazy case of deja vu, a past life reading can help you sort it out. As the name suggests, an online psychic will read into your past by guiding you through a hypnotic state and deep into your unconscious memory.
Spiritual readings: Ideal for those looking to be enlightened, spiritual readings are intended to raise your awareness of and connect you with the spiritual forces that are constantly at work around you.
Are Keen psychics real?

Unfortunately, when you're dealing with an intangible service like this, it's easy to fall victim to a scam artist. However, since Keen allows you to read all reviews on its psychics and denotes which ones are certified, it's rather easy to spot a con artist. That said, here are a few key tips for you to keep in mind to ensure you only work with someone who's the real deal.
Be cautious, do your research, and read reviews of both websites and psychics. I cannot stress enough how important this is–even if a site is legit, swindlers have occasionally found ways to break through the barrier. The easiest way to avoid them is by reading verified customer reviews of each and every reader you consider a potential match (instead of just throwing money at your first pick). 
Allow your reader to lead the session and answer their questions as simply as possible. There's no need to run off on tangents or provide supplemental information (this isn't a psychotherapy session). If you're worried you haven't given them a clear enough response, ask if they would like you to go into greater detail but don't freely offer up more specifics than any given question requires.
Listen for clues. Watch out for credible details and other elements applicable to your life that the reader wouldn't know about unless they truly know what they're doing.
When it comes to asking questions, the biggest point we'd like to underscore is that instead of examining specific details outside of your control, focus on your behavior. A good rule of thumb is to avoid asking "who," "when," or "where" centered questions and focus on the "why" or "how" (more explanation on this format can be found here). To help you decipher between good and bad types of questions, I've listed favorable examples below.
How can I reconnect and balance my mind, body, and spirit?
What responsibilities have I taken on that aren't my own?
How can I improve my social and/or romantic relationships?
What is the best way for me to heal emotionally?
It's important to note that even though psychics and numerologists can offer solid advice on how you can go about improving your life based on their perception of how you react to stressors, they are NOT to be confused with certified mental health professionals or life coaches.
---
READ MORE: 
---
TL;DR: Our Keen psychic network review
It's been a while since I've had a psychic reading, but I'm no stranger to them. I usually stick with tarot, palm, or birth chart readings (just out of personal preference). And in the past, I've gone into each reading with a broad question (am I on the right path? What is a lesson I keep repeating? etc.) and used the response as a guide to better myself. I like to think about psychic readings as a handy supplement to therapy.
But unlike sitting down with my therapist, receiving a reading is usually light-hearted and fun. They're meant for fulfilling positive affirmation of what you already know, not rewriting your script. 
So for this reading, instead of focusing on myself I decided to put my new relationship under the microscope. Ready to cue the "are you in the right headspace to receive information that could possibly hurt you?" meme, I actually found myself taken aback (and pleasantly surprised) with what my reader had to say. 
I know what you're thinking: "You *just* said readings are supposed to be positive affirmations of what you already know!" But if I'm being honest (with both you and myself), historically I've had horrible taste in men. So even though I can feel this relationship is a healthy one, I didn't really trust my own judgment. So I consulted a Keen advisor. 
I included portions of my actual reading below (omitting any identifying details, of course) so you can get a sense of what it's like to have a reading online.  I started by asking the reader for insight into my current romantic relationship and after providing them with my name and birthday and my boyfriend's name and birthday, this is what they had to say.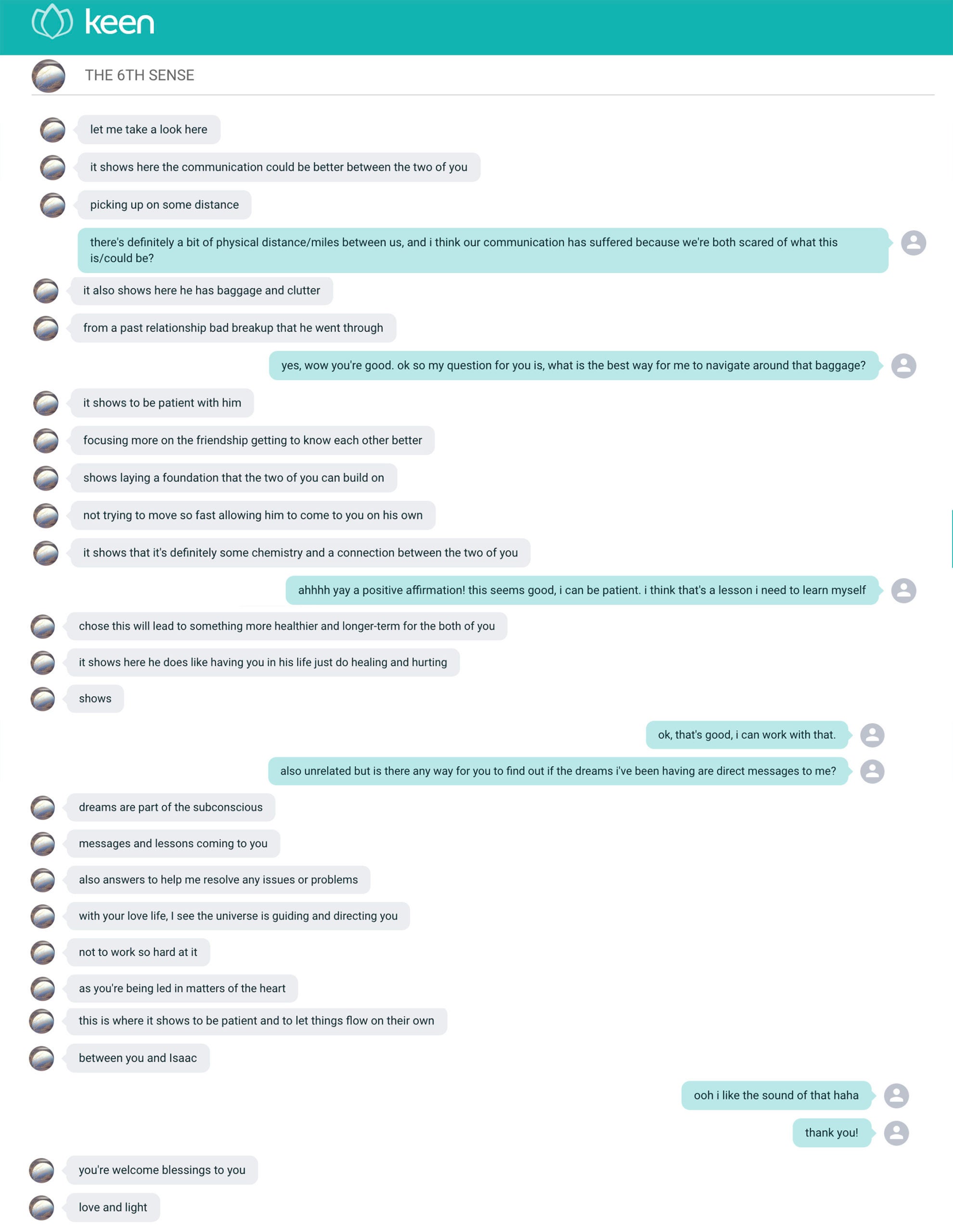 I already knew about my boyfriend's baggage, so that wasn't a shock to me. But what was shocking was how the reader was able to pick up on our communication issues. Neither of us enjoy talking about the trauma of past relationships, so we just don't–until we have to. After my reading, I took The 6th Sense's advice and started actively communicating my feelings. My boyfriend has been receptive and it's even caused him to start opening up more without being prompted, which is so much more than I could ask for!
To think I bettered my relationship (and all future relationships) with a 15-minute reading is kind of mind-blowing. This fun little exercise has paid off for me in more ways than one, so maybe a Keen psychic reading could be the guiding light you need too! And if you're looking for recommendations, clearly I recommend my reader, The Sixth Sense. But I would also say that anyone under Keen's highly-rated readers would be a good pick too. Just do what I did, read the reviews and then go with your gut! 
Want a little more guidance? Check out our crash course on numerology or this guide on how to read a birth chart, we'll also show you where to go for accurate tarot readings and what sites to use for a reliable psychic love reading.
MORE BAZAAR DEALS:
The Daily Dot may receive a payment in connection with purchases of products or services featured in this article. Click here to learn more.