Buying for the gamer in your life is harder than playing Tetris blindfolded. Make one false step and they might disown you for life. Gaming is serious business, after all. So if you're a civilian who can't tell a Grand Theft Auto from an Angry Birds, we've got you covered.
Below, are presents to please every manner of gamer, from Nintendo fanboys to PC diehards and every clique in between.
A must-have for super immersive gaming.
Price: $149.99+
The latest (and perhaps greatest?) Zelda comes packed with a handy explorer's guide that helps you dive deep into all of Hyrule's endless lore.
Price: $52.69
The recently discontinued Minecraft bundle isn't sticking around for long, but it's one of the cheapest ways to get your next-gen game on.
Price: $242.45
Turn your Samsung phone into a working Game Boy and Game Boy Color. Slide in your phone, pop in a cartridge and relive that early '90s portable gaming magic. Tetris on the toilet, here I come!
Price: $42.57
Thimbles, cars and even kitties can go jump in a lake. Play one of the most celebrated board games of all time the way it was meant to be played: like your favorite gaming icons. Play as Mario, Peach, Yoshi or Donkey Kong as you battle for high scores in the cutthroat world of real estate.
Price: $17.77 (regularly $24.99)
The spunky punk bandicoot made a big comeback recently, so getting the Funko treatment is only natural. Crash is available, but so is his fat-headed nemesis Neo Cortex. 
Price: $8.78 (regularly $10.99)
Your laptop and other fragile pro gaming tech couldn't be safer if you locked it in a Vatican vault. If the Brotherhood of Assassins had a regulation carrying case, it would surely be this one.
Price: $59.95+
Nintendo isn't using the word "Ultimate" lightly here. This Switch title has every fighter from past entries, including all of the DLC from the Wii U version.
Price: $59.88
Finally: a desk built with PC gaming in mind. Two levels allow plenty of space for laptop and desktop computers. Plus, there are special slots for speakers, controllers, accessories and even a cup holder for your favorite game fuel.
Price: $96+ (regularly $149.99+)
Gaming in a lousy chair or an uncomfortable position not only affects skill but physique, too. Keep cramps, stiff muscles, and spasms at bay by upgrading their gear to something like this ergonomic leather bestseller.
Price: $98.68 (regularly $120)
Learn about the history of the gaming industry, the console wars, the masterminds and every decade spanning Atari to Pokémon Go. 
Price: $14.36 (regularly $18.99)
Cut down space and keep your powerful console running smoothly even in the dead of summer with this handy stand. There are even slots for two controllers to help you cut down on console clutter.
Price: $19.99
One of the more underrated points of video games is their soundtracks. Bump it up a notch with crisp, clean, audio from Polk Audio's wireless soundbar and subwoofer bundle.
Price: $199
Hide real-life treasure in this awesome Overwatch loot box. Cookies count as treasure, by the way. Cookies always count as treasure.
Price: $39.99
Nab it while you still can. Nintendo's latest console doesn't stay on shelves for too long. And with games like Zelda: Breath of the Wild, Super Mario Odyssey and Splatoon 2, it's no surprise why.
Price: $299
If you happen to live with a gamer, this headset is undeniably a gift for you too. Because now you won't be stuck listening to ambient alien-crushing noises while you're trying to do something important (like cook dinner).
Price: $37.73 (regularly $39.95) 
The cast of cutest game in the world just got a whole lot cuter in plushie form!
Price: $9.21+
Become the next Pewdiepie, only hopefully without the racism. This baby is all you need to stream on any modern console.
Price: $128
Don't drop nearly $70 on a new Nintendo Switch controller. After all, no other controller is bright red and has that sweet, sweet Mario aesthetic.
Price: $28.97
What's even better than playing all your favorite old SNES games in HD? Playing them sitting more than 2 feet away from your TV, of course.
Price: $19.99
If you're worried about purchasing a specific Switch title, buy a gift card for the Nintendo Switch eShop instead. Not only will the gamer be able to download whatever game they want, but they'll also earn points (that they can later turn into discounts) just for using the eShop!
Price: $10 to $70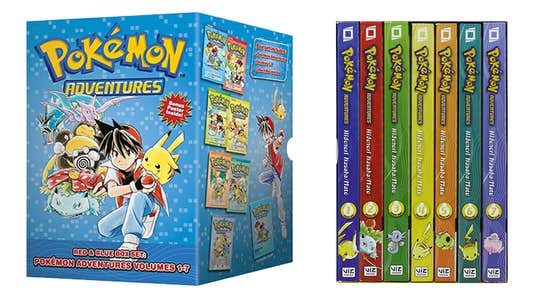 Follow the adventures of heroes from Pokémon Red/Green all the way through Black/White in these celebrated manga series. Catch the stories behind heroes like Pokémon Trainer Red against the forces of evil. Never look at Pikachu, Jigglypuff or even Gym Leader Pryce the same way again.
Price: $27.21+ (regularly $59.99+)
MORE BLACK FRIDAY DEALS:
The Daily Dot may receive a payment in connection with purchases of products or services featured in this article. Click here to learn more.