Free online fortune tellers are all fun and games–until someone's horoscope hits too close to home, that is.
Even so, we must love the burn because we keep feeding the fire–researching astrologers, online psychics, and their predictions for our future. Who knew that this practice of manifestation could be so uplifting and inspirational?
But if you're caught up trying to convince yourself that "astrology [and the like] isn't real," you might miss out on some strategic pieces of advice–or even worse, prove yourself wrong.
What is fortune-telling?
Since what seems like forever, people have been interested in forecasting the future (both broadly and on a more personal level). This has inspired people across many cultures and time periods to seek out different approaches to do this. Think tarot cards, numerology, astrology, etc. Some of these exercises involve a spiritual perspective (known as methods of divination), while other techniques are strictly for entertainment purposes and what we more commonly refer to as "fortune-telling."
Is fortune-telling real?
This is the question everyone wants answers to. The reality is simple: fortune-telling is for entertainment purposes only. It's supposed to be fun, not necessarily factual. So although there can (and should) be truth within your fortune, it's to be taken with a grain of salt and not dignified as some indisputable certainty.
As for psychic readers, their services should be considered educated guesses based off on their particular perspective. So don't take anything they say to be more than just suggestions! To ensure a quality reading, here are a few tips for you to keep in mind before you book a session.
Be cautious, do your research, and read reviews of both websites and psychics. I cannot stress enough how important this is–even if a site is legit, swindlers have occasionally found ways to break through the barrier. The easiest way to avoid them is by reading verified customer reviews of each and every psychic you consider a potential match instead of just throwing money at your first pick.
Allow your psychic to lead the session and answer their questions as simply as possible. There's no need to run off on tangents or provide supplemental information (this isn't a psychotherapy session). If you're worried you haven't given them a clear enough response, ask if they would like you to go into greater detail but don't freely offer up more specifics than any given question requires.
Listen for clues. Watch out for credible details and other elements applicable to your life the psychic wouldn't know about unless they truly know what they're doing.
Trust in yourself. It's true what they say about confidence–it's key! So even if you have no experience in working with psychics, it's important that you're confident in yourself and your ability to decipher suggestion from manipulation. If a reader tries to make you feel like you're doomed or suggests a ton of supplemental readings to help guide you to the right path, then they're probably just in it for your cash and not your well-being.
Where to find the best (and sometimes free) online fortune teller
Psychic fortune tellers over at Keen know what they're doing. Although the site has low ratings on customer review services like SiteJabber, you'll see most of the complaints aren't about the readings themselves but how the site runs its payment options. So to avoid any conflict, reviewers recommend only loading the amount of money you plan to use for a reading at any given time. Because if you upload $40, spend $15 on a call and then forget about the balance and let sit too long, Keen will deduct value for "inactivity."
Keen is offering all new users three free minutes to use towards any reading! I got one recently and you can read my full Keen reading review here.
Price: $1.50+/min
---
Launched at the turn of the 21st Century, Kasamba has become the world's largest and most popular site for accurate fortune tellers. Psychics create a profile advertising their services and pricing, and users can rate and discuss their experience directly on-site or by using the mobile app. Kasamba psychics are available 24/7 and offer a variety of readings such as love readings, tarot readings, personal astrology readings, and more.
Currently, Kasamba is offering new clients three free minutes to chat with an online psychic.
Price: $2.50+/min (regularly $4.99+/min)

---
But if you're not looking to chat with a live reader and rather just stick to the free fortune-telling stuff, you'll want to head on over Spirit Navigator. The site offers 68 different types of free fortune reading–from Celtic Cross spreads to Rune and tea leaf readings, Spirit Navigator provides users with fun, video-game-like draws, and detailed predictions.
Spirit Navigator also offers all visitors free access to information on zodiac signs, compatibility, as well as free daily/weekly/monthly/love/career horoscopes.
Price: Free
---
Psychic Guild offers users access to live palm readers, psychic readers, and fortune-tellers through its partnership with Keen and Kasamba. Although the site doesn't employ its own live readers, PsychicGuild.com does provide users with free sample readings (think of this as a preview to your birth chart or whatever in-depth reading you choose), original horoscopes, tarot-style games, literature for learning more about divination, spells and other areas of the divine sciences, as well as host a blog where readers can find out more about the astrology of sex and the predictions for the year.
Price: Psychic Guild services are free, live reading costs vary by reader
---
Remember the Magic 8 ball you played with as a kid? This site offers a free crystal ball reading that works in a similar fortune-telling fashion. Just type in any yes or no question and let the site decide your fate! Goddess Flight also offers free numerology compatibility charts, "Card of the Day" tarot pulls, horoscopes, personality quizzes, and more. In addition to free readings, you can also commission in-depth chart readings for a pretty competitive price.
Price: Goddess Flight's online services are free, live reading costs vary
---
Although it doesn't let you talk to a fortune teller online for free, EvaTarot.net comes close. It was founded and is managed by Eva Delattre–a professional psychic who's been practicing the art for the last 30 years. Her research is based around the manuscripts written by the magus, Edmond, and offers users a unique online fortune-telling experience.
Users can pick from seven free readings, included Oracle readings, Love tarot draws, and of course, your very basic psychic reading.
Price: Free
---
Can't decide between paying for a live reading or just playing around with a free online fortune teller? Don't! Visit TellMyTarot.com instead. Here you can receive free 3-card (AKA Past, Present, Future) readings, fool around with an online love tarot deck, cash-in on a complimentary 1-card pull (AKA Card of the Day reading), learn how to read a tarot deck for yourself, and much more!
When you decide you'd like a live reading, TellMyTarot.com outsources these requests to various Kasamba psychics (a popular source for online readings).
Price: TellMyTarot services are free, live reading costs vary by reader
---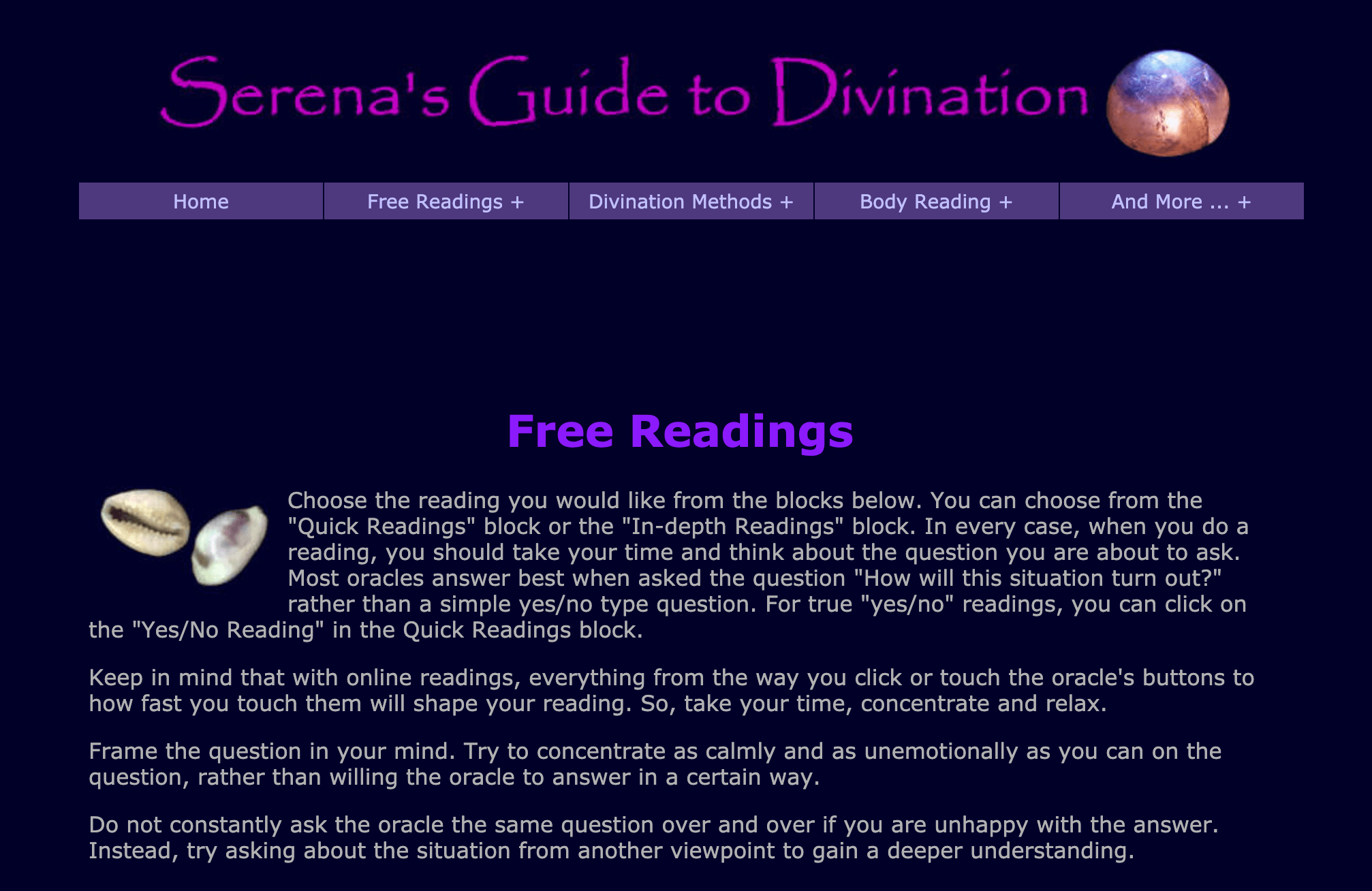 Using Serena's Guide to Divination, users are able to enjoy all sorts of free fortune readings. However, if you're new to astrology or mysticism and divination, you might want to check out a different site first just because SerenaPowers.com uses a lot of advanced vocabulary that may make readings confusing for newcomers. That said, this is a great resource for the free fortune teller predictions that other sites neglect due to their struggling popularity.
---
Magizzle.com might not be the most accurate fortune teller online free, but it does offer a host of fun tarot-inspired games and readings. I know what you're thinking, "How'd this make your list of best free online fortune reading sites?" Well, aside from the gimmicky readings (which are still worthwhile, if you're just in it for the inspo!) Magizzle.com provides visitors with great blogs and literature explaining all the major points within the divination and spiritual practices of tarot and astrology.
---
As you could probably guess, Elissa-Psychic.com is another free online fortune reading resource owned and operated by a medium, in this case, the elusive Elissa. While the site claims to provide visitors with free readings, I want to make it clear that the site provides you with a free sample of your full reading. Which still isn't such a bad deal, especially if you're not sure what to expect from online psychic readings. At the end of the day, you received valuable personal insight for free–only caveat is if you want to see the full picture or read the entire story, you'll have to pay up.
That said, if you're more interested in online fortune telling sites for the literature and knowledge they might share, Elissa Psychic runs a fabulous blog for astrology and psychic students.
Price: Free sample readings, an in-depth six-month prediction is $59
Want a little more guidance? Check out our crash course on numerology or this guide to connecting with a clairvoyant online. We can also show you where to go for accurate tarot readings or online palm readings, and what sites to use for a reliable psychic love reading.
MORE BAZAAR DEALS:
The Daily Dot may receive a payment in connection with purchases of products or services featured in this article. Click here to learn more.