When a team of anonymous developers launched Popcorn Time earlier this year, it went off like a bomb inside the movie business. Sure, dedicated pirates have been able to find virtually anything they wanted online for years. But they first had to navigate through a maze of sketchy-looking websites, confusing bittorrent clients, and files that didn't work in every player.
Popcorn Time's innovation was making the act of pirating a movie so simple your grandparents could do it—that's what made it the ?Netflix of pirated movies."
But Popcorn Time came with some significant limitations. For example, it only lets users find movies. Oh, and was also shut down almost immediately—although a second group of anonymous programmers used Popcorn Time's open-source code to re-lanch the service a few weeks later.
There's a new program called Zona, created by a Russian developer, that takes the ease of using Popcorn Time and expands it to all kinds of media.
Like Popcorn Time, Zona allows its users to select from a variety of the recently released and classic films.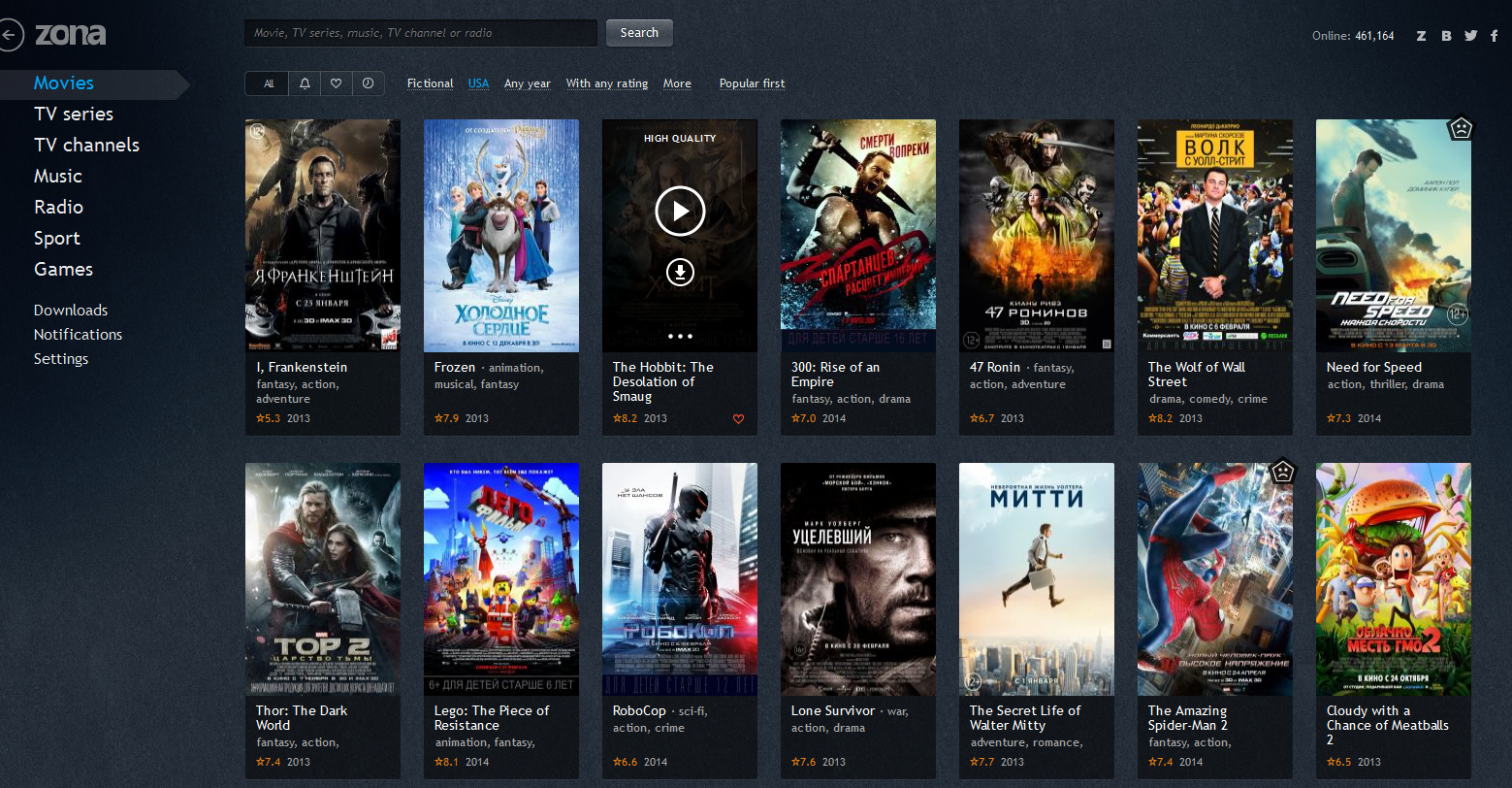 As you can see, a lot of the movie posters are in Russian, but figuring out which movie to watch is pretty easy, and the search function is in English.
Unlike Popcorn Time, which is a true streaming service, Zona actually downloads each movie to your computer. The lag between clicking on a title and being able to actually watch can stretch up to a few minutes—although it's typically quicker than how long it takes to download something in its entirety on a traditional torrent site.
Zona adds additional to the pages of individual movies, such as each film's IMDB aggregate critic rating and a list of remakes and spinoffs.
Zona plays all the content directly inside the app itself. Videos are displayed inside of pop-up window that can be resized or maximized to full screen.
Where Zona really improves over Popcorn Time is in its variety of content and organization. One of the things it does is let you search by actor. Let's say you want to solve the unsolvable question of whether Nicolas Cage is a good actor or a bad actor. It's possible to pull up a page with every Nicolas Cage flick—from Ghost Rider to The Wicker Man—and have an impromptu movie marathon.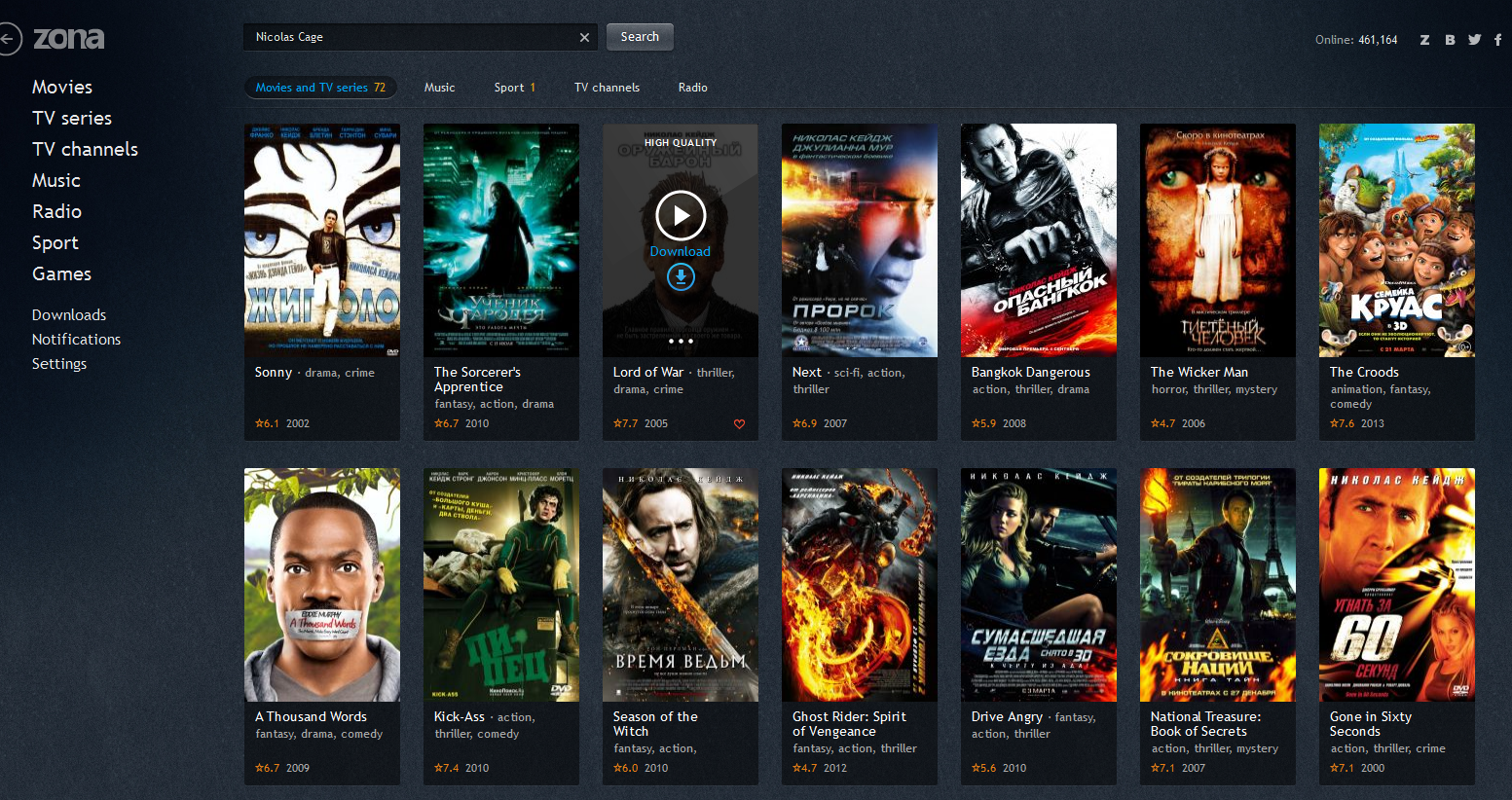 Also unlike Popcorn Time, Zona also lets you watch TV. Do you want to have every episode of the Simpsons instantly at your fingertips? You can do that.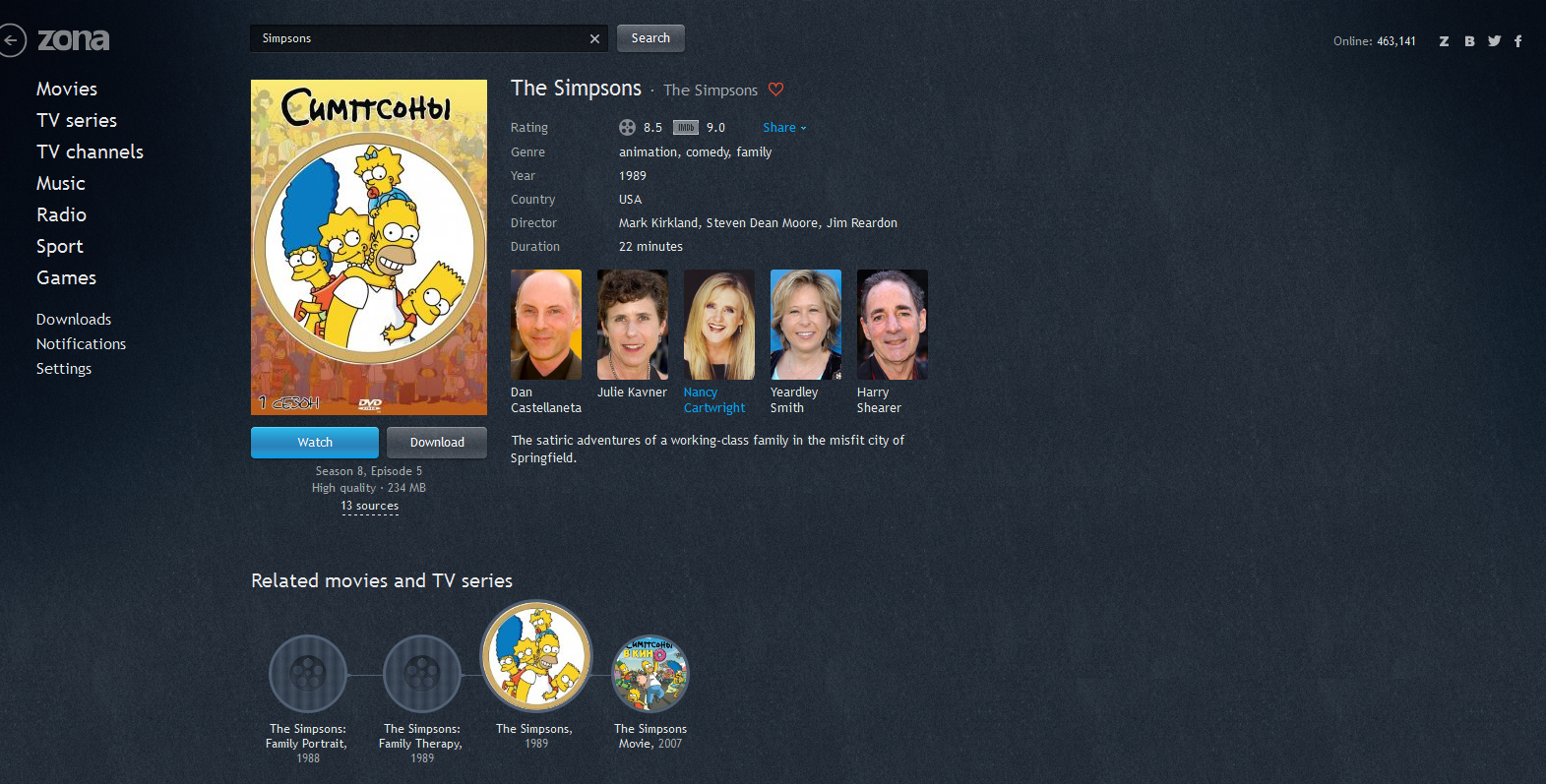 In addition, the program lets you stream live TV from around the world. Do you feel like watching what's happening on Cartoon Network or CNN International right now? You can do that, too.
It also has links to streaming sports events. Let's say you're interested in watching the UEFA Champions League soccer match happening this afternoon, you can not only stream it directly when it starts but also set up an alert to notify you when it starts.
There's also music. If you sign up with a VK account (VK is the Russian version of Facebook) you can instantly stream nearly any song imaginable.
The program is free to download, although it does have integrated advertisement for things like an online casino, and it produces the occasional pop-up ad. It also comes in the form of an Android app.
As ComputerWorld points out, there are a handful of antivirus apps that flag Zona's installer as dangerous, but the vasy majority do not. And the app's creators alims to have security gruantees from online security heavyweights like Norton, Kasperky and AVG. (That said, it's always better to be prudent with cybersecurity.)
While Zona may seem like a panacea for people who want near-instant access to the world's entertainment for free, no matter what content restrictions are in place where they live, its also abetting highly illegal copyright infringement on a grand scale. So, you know, fair warning.
H/T TorrentFreak | Photo by Jon Åslund/Wikimedia Commons (CC BY 2.5)