Rep. Ted Yoho (R-Fla.) offered what he called an "apology" to Rep. Alexandria Ocasio-Cortez (D-N.Y.) on the House floor Wednesday, following reports he aggressively confronted her, calling her "disgusting" and a "fucking bitch" earlier in the week.
According to the Hill, the encounter happened on the U.S. Capitol steps Monday, with Yoho approaching Ocasio-Cortez about comments she has made on the relationship between poverty, unemployment, the pandemic, and crime in New York City.
Along with calling her "disgusting," the congressman told his colleague she is "out of [her] freaking mind." Ocasio-Cortez responded that he was being "rude." After the two continued on their separate ways, Yoho was overheard saying, "Fucking bitch."
Quote-tweeting the Hill's report, Ocasio-Cortez addressed the incident Tuesday, writing, "I never spoke to Rep. Yoho before he decided to accost me on the steps of the nation's Capitol yesterday. Believe it or not, I usually get along fine w/ my GOP colleagues. We know how to check our legislative sparring at the committee door. But hey, "b*tches" get stuff done."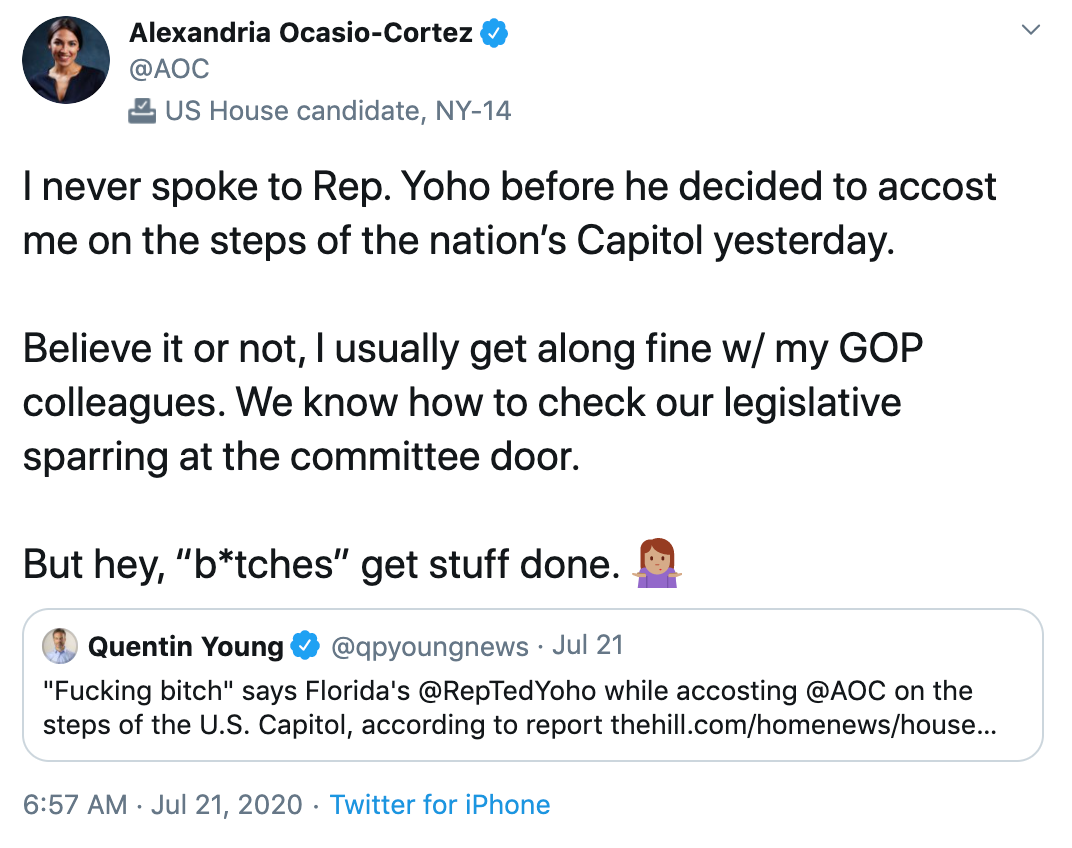 On Wednesday, after reportedly meeting with House Majority Leader Kevin McCarthy (R-Calif.) to discuss the comments, Rep. Yoho offered his statement.
"I rise today to apologize for the abrupt manner of the conversation I had with my colleague from New York," Yoho said. "It is true that we disagree on policies and visions for America but that does not mean we should be disrespectful."
He then mentioned how being "married for 45 years with two daughters" has made him "very cognizant of his language," denying that he said the "offensive, name-calling words attributed to me by the press" to his "colleagues."
"If they were construed that way, I apologize for their misunderstanding," he added before springing into a monologue about himself and his values.
"I cannot apologize for my passion or for loving my God, my family, and my country," Yoho said, concluding his apology with a refusal to apologize.
Once again, the congresswoman from New York turned to Twitter to respond.
"Republican responds to calling a colleague 'disgusting' & a 'f—ing b*tch' w/ 'I cannot apologize for my passion' and blaming others. I will not teach my nieces and young people watching that this an apology, and what they should learn to accept. Yoho is refusing responsibility," she tweeted.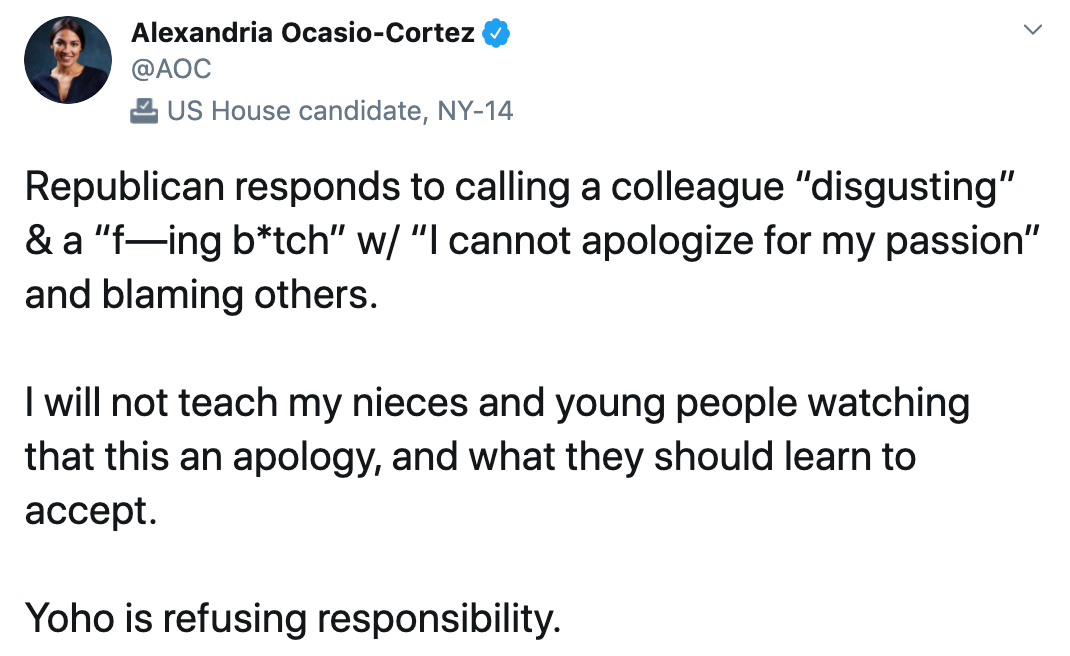 In subsequent tweets, Ocasio-Cortez noted that Yoho "does not apologize or name any action he did," didn't accept responsibility, and lied about the nature of the interaction.
"He didn't even say my name," she added.
READ MORE: