Yo, the new app that is only capable of sending the word "yo" to other users, just got a whole lot more powerful thanks to IFTTT. IFTTT is a platform that connects various apps and Web services in unique ways. And now thanks to IFTTT, you can now use Yo to turn on your home's air conditioning, send a tweet, place a fake call to your phone, or shut off your Philips Hue connected lightbulbs.
IFTTT, which stands for "If This Then That," acts as a middleman between the Yo app and a variety of other services like social networks and smart home apps. These custom commands are called "recipes," and to use any of the available connectivity options, you'll need to sign up for an IFTTT account and apply the recipe of your choice. Once you have the connection set up, a simple message to the IFTTT account using your Yo app will perform the desired action.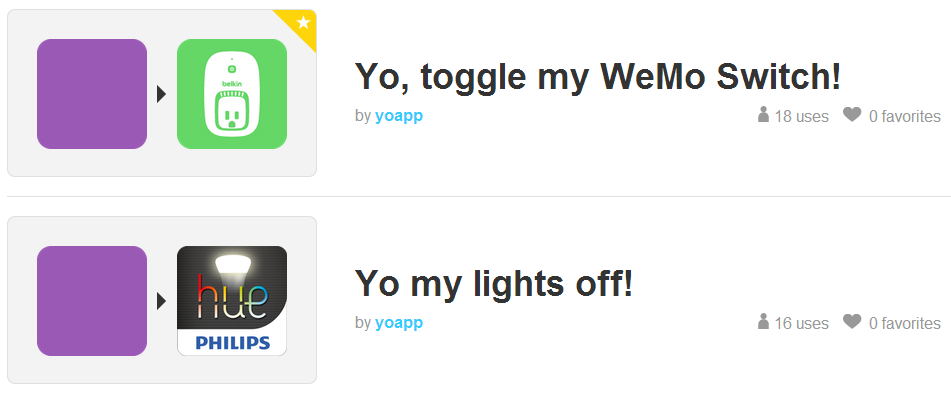 Some of the recipes are pretty pointless, like using Yo to send a tweet or a text message. You could easily do it just as fast on your own, but the option to have Yo initiate a fake phone call—great for ending an awkward conversation, by the way—sounds more useful.
While your Yo app now has a bit of added functionality, there's a catch: Since Yo is only capable of sending a single command, you'll need to pick one of connections to use. Sorry: You can't use Yo to turn on your air conditioning and send a group Yo. Still, it's a pretty interesting use of the otherwise pointless app.  
H/T The Verge | Photo by See-ming Lee 李思明 SML/Flickr (CC By 2.0)