Actor William Jackson Harper (Chidi Anagonye in The Good Place) shared a "disturbing experience" with Trump administration censorship on Monday after U.S. military academies objected to a planned screening of Spike Lee's movie Malcolm X.
The academies were concerned about violating Trump's misleadingly titled Executive Order Combating Race and Sex Stereotyping. In fact, the executive order discourages the idea that the U.S. "is fundamentally racist or sexist."
Harper discussed his experiences in a Twitter thread, illustrating the alarming fallout of Trump's executive order. He's the son of a U.S. marine and wanted to use his public profile to help the charity Arts in the Armed Forces. The plan was to arrange a virtual movie screening for military cadets, followed by an educational Q&A session. Harper offered three potential movies: American Honey, Citizen Kane, and Malcolm X. The charity selected Malcolm X.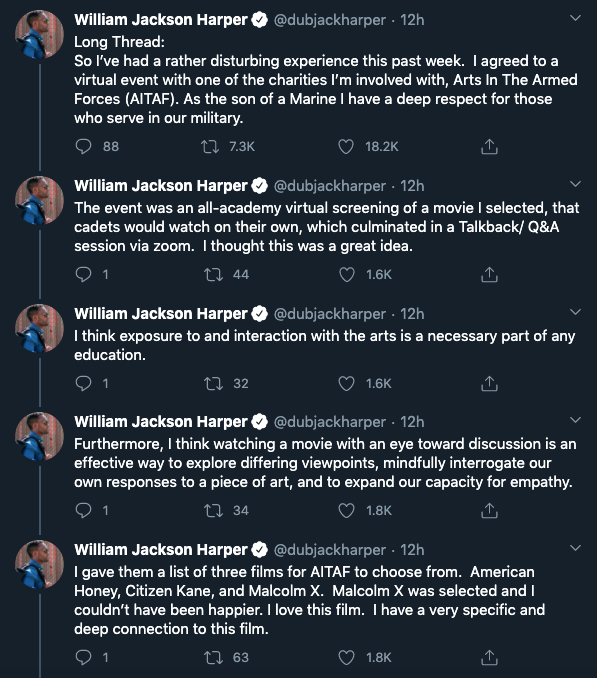 Released in 1992, Malcolm X is a biopic starring Denzel Washington and directed by Spike Lee, one of the most beloved living filmmakers in America. It's a wide-reaching drama that covers Malcolm X's personal life, his conversion to Islam, and his participation in the civil rights movement. The film was critically acclaimed at the time, and is still considered one of the best biopics ever made. It should not have been a controversial choice.
But according to Harper, there were concerns that Malcolm X offered an unhelpful view of American history to military cadets. Two days before the virtual screening, two of the academies pulled out. Harper said this was directly due to Trump's executive order, which bans federal and military institutions from acknowledging the idea of systemic racism in America.
As Harper put it: "This executive order denies the very real experiences of so many minorities in this country. This executive order is rooted in the fictitious idea that the scourges of racism and sexism are essentially over, and that the poisonous fallout from centuries discrimination [sic] isn't real."
Three of the four academies eventually chose to participate, and the virtual screening went ahead. But one academy stayed away, maintaining the same concerns that screening Malcolm X would violate the White House's view of American values.
The Executive Order on Combating Race and Sex Stereotyping hasn't received much media coverage yet, but it was only published on Sept. 22. And this particular incident only came to light because a well-known actor chose to publicize it on social media.
A controversy over a movie screening may not seem like a big deal, but it clearly shows the chilling effect of this executive order. The order is more directly aimed at workplace diversity training, blocking any kind of education involving "the pernicious and false belief that America is an irredeemably racist and sexist country." It ties into a recent memo where Trump asked for federal agencies to stop offering employee training sessions about white privilege or critical race theory. This has already led to situations like the Education Department scrutinizing employee activities in search of "anti-American propaganda" and re-evaluating diversity workshops and unconscious bias training.
It's an obvious example of censorship: government suppression of ideas that don't align with the president's viewpoint.
---
Today's top stories