On Wednesday we wondered if someone at U.S. Central Command, or even top Afghanistan commander Gen. John Allen, might be lurking Wikipedia and making sarcastic jabs at Jill Kelley, the woman with whom Allen allegedly exchanged a good 20,000 pages of emails.
A reader then tipped us off to the likely identity of the mystery Wikipedia editor. And while it's someone with a serious connection to U.S. Central Command (CENTCOM), it's certainly not Gen. Allen.
The more likely editor? U.S. intelligence agent Hans Sembach. He's an image analyst in the United States Navy who works out of the Tampa headquarters of CENTCOM. An IP address that can be tied back to his online handle (hsembach) and email address matches the one used to an edit made on the Arcadia University page on Wikipedia. That's where someone jokingly referred to Kelley—a fixture in military social circles in Tampa—as an "amateur ambassador." Sembach, or someone using the same IP address, also edited the page of Gen. Allen on June 2, 2011. Former Raw Story Executive Editor Ron Brynaert tipped us to his identity on Thursday.
You can view the screen grabs that trace Sembach's user ID to the IP address below.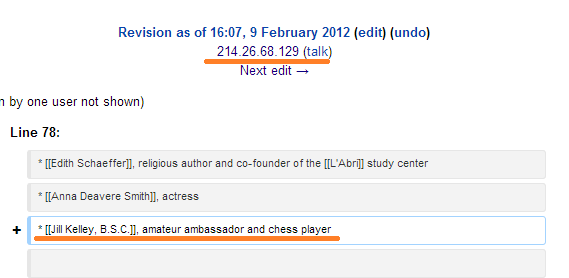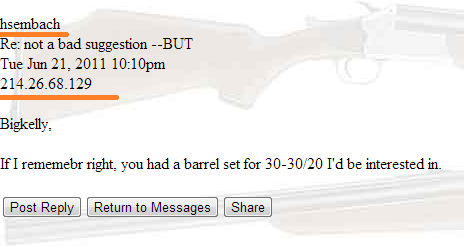 Jill Kelley's surprise appearance on Wikipedia was one of the weirder turns in the labyrinthine love tryst turned national security scandal that began to unravel after the FBI uncovered an affair between former CIA Director Gen. David Petraeus and his biographer, Paula Broadwell.
We can't be certain Sembach added the line to the encyclopedia: An IP address isn't exactly a fingerprint, and can only identify an individual computer or network, not the person using it. We reached out to Sembach for comment Thursday but didn't hear back by time of publication. Regardless, it doesn't appear he had anything to do with the affairs between Petraeus, Broadwell, and Kelley.
What the edit does tell us is that Kelley's behavior at Tampa made her stick out enough to people at CENTCOM that they were trolling her on Wikipedia.
And that adds to the central question surrounding Kelley's role in the whole Petraeus affair. Why were both generals Allen and Petraeus, two key members of America's security apparatus, so close to her? Both wrote letters to support Kelley's twin sister—a woman one judge described as having "severe personal deficits in the areas of honesty and integrity—in a nasty custody battle. And Allen, of course, also sent Kelley thousands of emails, some of which one official said were the "equivalent of phone sex over email."
Photo via United States Department of Defense/Wikimedia Commons