Several official Twitter accounts affiliated with WikiLeaks, its legal teams, and its public relations efforts were reported frozen and suddenly inaccessible on Thursday by the transparency organization's editor-in-chief Kristinn Hrafnsson.
Hrafnsson flagged the situation publicly via his own Twitter account, explaining that the accounts "cannot be accessed and new tweets posted."
WikiLeaks and @AssangeDefence twitter accounts down for more then 24 hrs now. No explanations from the company. We need some answers @jack, @kcoleman, @MikeConvertino

— Kristinn Hrafnsson (@khrafnsson) December 20, 2018
These accounts are locked @wikileaks @assangedefence @wltaskforce @assangelegal and cannot be accessed. They also seem to have been shadow banned. Should we be worried in these critical times?

— Kristinn Hrafnsson (@khrafnsson) December 20, 2018
In addition to being locked out, both @wikileaks and @wltaskforce were failing to appear in the platform's 'search all' drop-down results.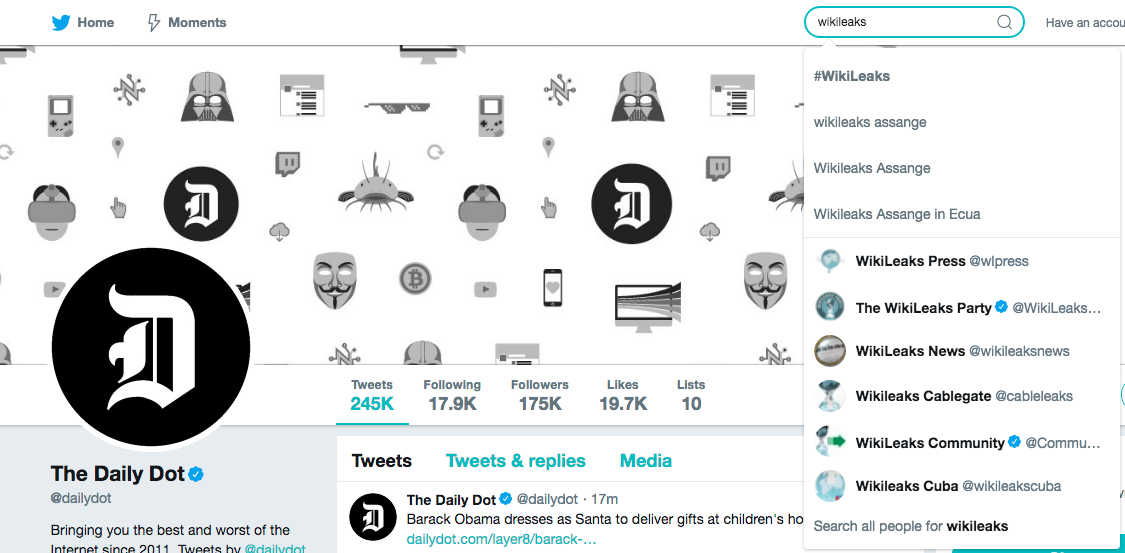 According to Hrafnsson, the organization attempted to reach out to Twitter but so far has received no response or explanation for what is happening.
The Daily Dot contacted Twitter for comment. A representative told the Daily Dot that the company was "looking into it."
A similar search issue was experienced by Rep. Matt Gaetz (R-Fla.) in July, whose two accounts failed to appear in the function's drop-down results. At the time, conservatives accused Twitter of shadowbanning the congressman—a charge the company denied entirely.
Some believe that Rep. Gaetz fell victim to Twitter's new ranking behavior and search algorithms, thought to be part of an overall plan announced in May to tackle "troll-like behavior" on the platform.
For WikiLeaks supporters, however, algorithms do not explain why several official and legal accounts were frozen out and completely inaccessible to their owners.
.@jack what criteria is used by your "algorithm" (lol) to shadowban an account that's been locked down for weeks&hasn't tweeted anything: @AssangeDefence, lock a news account @wikileaks, a legal account @assangelegal & an account that challenges #fakenews @wltaskforce #Unity4J

— Kitty Hundal⏳#RebelGirl & #DarkWebIntellectual (@kittyhundal) December 20, 2018
This is a coordinated attack to take Julian @AssangeDefence out over the Christmas break. Or leave him in the embassy to starve.

— Chris Lonsdale⏳ (@kungfu_mandarin) December 20, 2018
Hey @jack @TwitterSupport

That all 4 of @wikileaks, @assangedefence, @assangelegal & @wltaskforce are unable to access their own accounts at the same time is very worrying given Julian #Assange's precarious situation.

LIFT THE #SHADOWBAN #UNLOCKACCTS!!! We see you!!#Unity4J

— ⏳Plucille⏳ (@Plucille54) December 20, 2018
The issue occurred the same time that two sympathetic German lawmakers visited WikiLeaks founder Julian Assange in the Ecuadorian embassy in London—where he has resided in asylum since 2012 to avoid extradition to the U.S.—to discuss a "humanitarian solution" to his situation.
It also comes as supporters grow apprehensive at rumors Ecuador will evict him before New Year.
Update 7:28am CT, Dec. 21: WikiLeaks administrators regained control of and access to the locked accounts late Thursday. In a message issued through its official Twitter account, the transparency organization thanked Twitter CEO Jack Dorsey for resolving the issue and said that the problem was the result of "a denial of service attack had been run against several WikiLeaks and Assange legal accounts to trigger looping security lockouts."
Our twitter account @WikiLeaks is now unlocked. Thanks to those who made a fuss and for @Jack and others responding to the problem. It appears that a denial of service attack had been run against several WikiLeaks and Assange legal accounts to trigger looping security lockouts. https://t.co/0JQOILmk9I

— WikiLeaks (@wikileaks) December 21, 2018